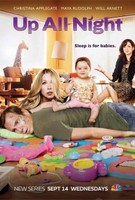 TV Info
---
Episode Premiere
April 05, 2012

Distributor
NBC

Genre
Comedy

Show Period
2011 - 2013

Production Company
Broadway Video Television, Universal Media Studios


Cast and Crew
---
Director
Michael Blieden
Screenwriter
Erica Rivinoja
Main Cast
Additional Cast
Synopsis
---
"Hey there, business lady," Chris says to Reagan over video chat. Reagan is in a hotel room on a business trip, and Chris uses the opportunity to start some Skype sex by unbuttoning his shirt. As Chris starts playfully playing with his chest, Luke suddenly walks into Reagan's room holding two beers and interrupting Chris' mojo. "You guys about to get compu-sexy in here?" Luke asks as he notices Chris' nipple. As Chris quickly signs off from the chat, the green-eyed monster of jealousy starts to overtake him.
Reagan arrives back to The Ava Show offices to find Ava working out on an elliptical while drinking a milkshake. "I'm carbo-loading," Ava tell Reagan; it's for her 10k race against literacy. "FOR literacy," Reagan quickly corrects her. Ava is excited for the race; she's now in the best shape of her life and feels her ability to finish the run will greatly inspire her audience. Missy enters and tells them that Ava's rival, Shayna, will also be running the race in a challenge to see if she can cross the finish line first. "That former fatty wants to show me up at my own game," Ava screams. She's going into full fight mode and hiring Gideon Kirk, trainer to the stars, to help her beat Shayna at her own game!
Chris is at home having a play date with Reed, Terry and their kids while Reagan heads out to a business dinner with Luke. Chris admits to Terry and Reed that he's really bothered by all the extra time Reagan is spending with Luke; "It's making me a little uncomfortable." Reed advises that he needs to have an open conversation with Reagan about how he truly feels. He had one with his wife at couple's therapy and it worked wonders, although he did fail to be explicit that she should not have sex with her co-workers, but he feels that's his mistake. Reed admits his wife's affair was painful, but he's on so many antidepressants right now that all his emotions have been dulled.
Ava feverishly works with trainer Gideon Kirk as she only has one day to train for the 10k. He tries to motivate her, but it seems even one push-up is out of reach. "Look at your buttocks; they're not like globes." Gideon tells Ava. "You should've seen Phil Donahue in the '80s. HIS buttocks were like globes." Ava then finds out Gideon is also training Shayna, and she's in the best shape of her life; Ava has no chance against her.
As Reagan and Luke laugh and talk over a business dinner, we find Chris and Reed hiding behind menus at the restaurant spying on them. From Chris' perspective, it seems like Luke is completely into Reagan. Later at the house, Reagan arrives home and shows Chris that Luke bought her a present. Chris starts mumbling insults about Luke until he finally tells Reagan that Luke's in love with her. "You are craze balls," Reagan replies to Chris about his jealously, but Chris is adamant in his belief and forbids Reagan from ever seeing Luke again. Reagan laughs at Chris' paranoid delusion as she leaves the room.
Shayna enters Ava's house looking her finest in a tight dress and high heels. "I can pick up a Kennedy half dollar with my buns," she proudly tells Ava. They are meeting to size each other up, but Ava's real devilish plan is to serve all of Shayna's favorite foods to fatten her up before tomorrow's race. However, the plan backfires when Shayna has the same idea and pulls out a bottle of Ava's favorite food, wine. Soon both ladies lose their impulse control and indulge in binge eating and drinking. Then Ava's doorbell rings revealing her Plan B, featuring Shayna's other great weakness... silver fox Asian men. Before long, everyone is drinking, eating and pillow fighting into the morning hours.
The next morning at the 10k race starting line, Luke walks out of the port-o-potty to find a jealous Chris waiting for him. Chris tries to act tough and macho in front of Luke but just ends up awkwardly talking about the size of his nipples. Then as Reagan runs up, Chris grabs her and starts blatantly making out with his wife so Luke understands she is his property. Feeling Chris is acting strange, Luke says he'll see them during the race and walks away. "Only if I'm running backwards!" Chris yells back at Luke in a last ditch effort to sound macho.
"Is this the finish line?" a hungover Ava asks Reagan as she stumbles up to starting line. "You reek of every kind of alcohol," Reagan tells Ava as she learns about her night of debauchery with Shayna. Reagan warns Ava that she needs to pull herself together because there are cameras everywhere documenting the race for an inspirational episode of "Ava." As the race starts, the crowd quickly runs past Ava and Shayna who can hardly muster a slow jog. Soon they are huffing and puffing their way to last place, as the only thing behind them is an ambulance on standby to catch them when they collapse.
During the race, Chris tries to keep pace with Luke who seems to be running effortlessly. He tries to mimics everything that Luke does to prove he's better, but exhaustion overtakes his body. After the race, Reagan finds Chris wrapped in a silver foil blanket embarrassingly exhausted. "I guess that means I'm his now," Reagan jokes as Chris quickly apologizes for his behavior. He doesn't know what came over him, but it just proves he's still madly in love with her after all this time. Then they see Luke walk up to a beautiful blonde and realize that's his girlfriend and Chris really had no reason to be jealous. "I can't believe I was worried! Look at who he dates! THAT's his level," Chris exclaims as he fawns over Luke's beautiful bombshell.
Ava and Shayna limp to the finish line exhausted. They plead with Reagan to put them out of their misery; they can't go any further. Then they see a young girl holding a sign that reads; "Go Ava! Go Shayna!" They got into the race to inspire people, and they'll have to muster all the energy left in their bodies to finish it. Reagan then points out that she put a hair and makeup tent behind the trees so the ladies can look their best when they cross the finish line. Suddenly a beast awakens inside the ladies as they race with all their might to the tent. Soon, Ava and Shayna cross the finish line arm in arm, looking beautiful and confident.
At a late-night work conference call, Reagan apologizes to Luke for Chris' awkward behavior. They both share a long awkward laugh as she tells Luke that Chris thought he had a crush on her. Soon the laugh turns into an awkward silence as Reagan realizes Luke really does have a crush on her. Later that night as Reagan gets into bed with Chris, she tells him about the awkward moment, and Chris jumps up in excitement. He's psyched because he was right, which he never usually is, and throws that fact back into Reagan's face. "We just have to desexualize ourselves when we're out in the world," Reagan says as they realize the effect their hotness has on other people.