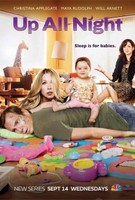 TV Info
---
Episode Premiere
February 16, 2012

Distributor
NBC

Genre
Comedy

Show Period
2011 - 2013

Production Company
Broadway Video Television, Universal Media Studios


Cast and Crew
---
Main Cast
Additional Cast
Synopsis
---
With an angelic chime from an online website, Ava has just successfully become an ordained minister. "I can marry people, bury people... grant wishes!" "You're not a genie, honey," Reagan corrects her. Ava will be officiating the wedding of her former Sound LLC bandmate Amanda. Reagan is disappointed that she can't go to the wedding; she's not ready to travel with Amy on a plane for five hours. Ava is excited to go with Kevin, although she's dreading all the relationship questions people will ask about them. Ava loves Kevin, but she never wants to get married. To make sure it's the perfect wedding, Ava needs the perfect outfit. Ava claps her hands, and Missy walks out as a human mannequin wearing an outrageous dress. "You don't think it's a little breasty?" Reagan asks. "Yes," Ava excitedly agrees. "Oh, you mean in a bad way."
Reagan and Chris have a play date with their annoying neighbors Terry and Gene. "Look at those little monkeys. Do I hear wedding bells?" Gene jokes about Amy and their son Roger. Reagan begrudgingly smiles through her teeth, "I know you're kidding, but why put that out there?" Chris and Reagan tell Gene and Terry that they were invited to a wedding, but they've decided not to go because it'll be too much trouble to fly with the baby. Terry and Gene completely agree with their logic, "You're just like us." Reagan is taken aback by that statement; they are nothing like Terry and Gene. Reagan is now determined to prove Terry and Gene wrong; they can definitely brave the airport with Amy. "I love that you haven't given up," Chris says to Reagan as he embraces her. "I'll never give up," Reagan says with authority as she looks at Terry and Gene.
"So the key is to keep Amy happy and awake 'til we get her on the plane," Chris confirms with Reagan as he carefully navigates his dangerously overloaded cart to the check-in counter. He smiles at Sharon who works the counter at the airline check-in desk, but his smile soon fades when he learns Reagan is not seated next to him on the plane. "Our baby plan is contingent on us sitting together," Reagan pointedly tells Sharon, but there's nothing she can do; the plane is fully booked. Reagan refuses to give up. She talks back to Sharon and demands to be seated with Chris so her baby can have a happy flight. Sharon hands them their tickets with a contentious smile; there is nothing she can do. In defiance, Reagan walks away, undoing multiple pole straps rather then following the proper line.
At the hotel, Ava talks to Amanda when Kevin walks up to introduce himself. Amanda freaks out when she sees how hot Kevin is. "I hear wedding bells..." Amanda cheerful sings. Kevin tells Ava and Amanda how excited he is to meet the other half of Sound LLC; he loves their hit song "Baby Back It Up, parentheses, Into My Face." Ava and Amanda suddenly get quiet; they will never sing that song again. It seems that their biggest hit has some "unfortunate jive-assery" when it comes to figuring out who should get proper writing credit. Ava and Amanda start to bicker bitterly about who wrote certain parts of the song until Kevin quickly changes the subject.
Ava and Kevin unpack in their hotel room as they read the welcome basket card, "To Mr. and Mrs. Kevin Alexander." Ava quickly confirms with Kevin that neither one of them has any inkling of marriage on their mind. "Never, ever. Ever, ever, ever. Never. Period," Kevin quickly repeats. Later, Ava franticly calls Reagan from the hotel bathroom phone. She freaks out that Kevin never wants to get married again. Reagan is confused; she thought Ava never wanted to get married too. "But in my mind, it was only 'never.' He said, 'never, never, never, never, ever.'" Reagan tells her to relax; she'll be there soon. Ava calms herself as she pours a bottle of water in the toilet to give the illusion to Kevin that she really relieved herself.
Reagan and Chris impatiently wait in the long airport security line. Amy is crying, and they are forced to feed her a bottle, throwing off their whole schedule. Chris starts practicing some wedding toast ideas to Reagan's dismay. He tries a Michael Keaton impression from "Beetlejuice" but fails horribly as other people in line look at him awkwardly. Suddenly, Reagan smells poop; they have to change Amy, but they can't leave the line. Chris grabs a grey plastic bin and places Amy inside to change her as people in line give them the evil eye. "Relax, you guys. It's just little baby poop. It's cute."
Amy cries as Reagan and Chris go through the security metal detector. A security woman tells Reagan that they need to go through her bag, but Reagan begs her to please let them through, "Please... It's so past her nap time... we need to stay on schedule." Security sternly tells Reagan to back away, as they find a bottle of skin cream larger than 3.4 ounces. Reagan yells out, asking if anyone would like some hand lotion because it's really expensive, and she doesn't want to waste any before it's thrown away. Growing more impatient by the second, Reagan continues to plead with security to let them go so Amy can stay on schedule. "I've got a ticking time bomb here!" Suddenly everyone freezes; an awkward beat passes until Chris softly asks security which private room they should be escorted into.
"See, no bomb. Just a little poop-splosion," Reagan tells the security guard as they get a private thorough check. Later as they walk to their gate, Reagan yells at Chris for not having her back. He was constantly apologizing to security instead of standing up for her. She stands up for all his irrational behavior, but it's never the other way around. At the wedding hall, Kevin walks up to Ava and tells her that he's noticed she's upset about their wedding conversation. Ava reluctantly tells him that she's on the same page with him, but "never, never, never...?" Kevin confides that he's steadfast on that belief, but then Ava surprisingly admits that it might be a problem for her. Kevin quickly backs away, knowing that she's busy setting up, as he kisses her on the cheek and disappears.
Amy cries as Reagan and Chris try to find their seats on the airplane. "Of course on my last shift there would be a cranky baby on the flight," a flight attendant groans as she walks past them. Suddenly, Chris speaks up to everyone on the plane. He stands up for Amy's crying, telling them that she's nervous for her first flight, and he asks everyone for their patience. "She's just a baby. And my wife has had a really tough day. She's way out of her comfort zone and has handled it like a champ." He then says if everyone could just be cool, beers and bloodys are on him. Soon everyone is calling the flight attendant for free drinks as Reagan smiles proudly at her husband. Later during the flight, Reagan thanks Chris for having her back as they decide to send a joke photo to Gene and Terry of them reaching the mile-high club in the lavatory.
It's the wedding day as Ava proudly officiates the vows for Amanda and her fiance. Later, Chris holds the room's attention as he finishes his toast. Unfortunately, he does his awkward Michael Keaton impression to the confused guests until Reagan stands up, supporting him, and tells everyone what he was doing. On the other side of the table, Kevin and Ava make up. They have a good thing going between them and mutually agree to "never say never." Soon Ava and Amanda take the stage for a Sound LLC reunion and sing "Back It Up" to the cheers of the crowd. As Chris and Reagan dance with Amy in their arms, they smile at each other knowing that they successfully braved the airport and won.