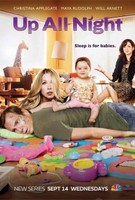 TV Info
---
Episode Premiere
February 02, 2012

Distributor
NBC

Genre
Comedy

Show Period
2011 - 2013

Production Company
Broadway Video Television, Universal Media Studios


Cast and Crew
---
Director
Beth McCarthy-Miller
Screenwriter
Brian Rowe
Main Cast
Additional Cast
Synopsis
---
Reagan and Chris tour Little Nudge Preschool. They have started to look at preschools for Amy, and Little Nudge is the most prestigious one around. They are enthralled by the school's amenities; the entire playroom floor is made up of Tempur-Pedic. Gail, the administrator, tells them the waiting list for Little Nudge is already two years long. Chris wonders if they should just send Amy to the preschool near their house; it's nice and normal. Reagan wants the best for Amy, and data shows that of Little Nudge Preschool graduates attend Ivy league universities. Chris is mesmerized by the possibility of Amy attending Harvard and dating a vice president's son. Gail warns them the admission process is very rigorous, but when Reagan learns about the school's upcoming charity auction, she jumps at the chance to run it in order to make a good impression.
Reagan is on the phone haggling extravagant donations for the preschool auction when Chris walks in checking out his own muscles. He's heading to the airport to pick up his brother, Casey, and he lifted weights beforehand to get "yoked up." Reagan calls out Chris' unhealthy competitive streak with his brother. Every time they're together, they constantly try to one-up each other like two teenagers; she hopes their relationship can mature past a push-up contest. Chris and Casey haven't seen each other in a year, and Reagan thinks this would be the perfect time for them to grow closer. Chris agrees; his priorities have changed because of Amy. Reagan sniffs him and asks, "Are you wearing cologne?" Chris embarrassingly nods, "It's bear musk."
Reagan walks to her office to find the charity auction items have begun to arrive. Her room is filled with expensive items such as Tiffany jewelry boxes, a Moped and oversized bottles of wine. Ava walks in excited to see such glamorous gifts. Reagan blindsides Ava by telling her that she needs to host the auction. Ava is less than thrilled. She doesn't do auctions; she'll write a check instead. Later, Reagan surprises Ava in her office with Amy. She uses Amy's "lethal cuteness" to seduce Ava into being the auctioneer at the event. "That coo is my kryptonite." Ava finally relents as Amy smiles at her.
Chris picks up his brother Casey at the airport. Casey is a successful world banker dressed in a fine suit and a charming smile as he successfully hits on a flight attendant. As soon as Chris and Casey see each other, they revert back to competitive teenagers by comparing their workout regiment. Casey is in town for business and will also be meeting Amy for the first time. In the car, Chris nods along to pop country music on the radio but quickly changes the channel when Casey make fun of it. Casey asks Chris if he's made partner at the law firm yet. Chris is hesitant to tell the truth about his quitting to be a stay-at-home-dad, so he lies and says the law firm is great. Casey finds in the car a weird harness contraption with fancy straps and starts ragging on Chris that he's into some kinky sex with Reagan. Chris quickly corrects him; it's a baby Bjorn for carrying Amy, not a sex toy. Casey awkwardly looks at the Bjorn, not sure what to do with it.
At dinner, Reagan, Chris and Casey sip on expensive wine that Casey brought with him. Reagan asks Casey what he thinks about his brother's big life change. Casey doesn't know what she's talking about as Chris silently motions to Reagan to change the subject. Luckily, Casey receives a phone call from work and walks outside. Chris whispers to Reagan that he lied to Casey about becoming a partner at the law firm. Reagan is furious; they need to lose their machismo attitude and just be honest with each other. Later, Reagan is cleaning when she accidently overhears Casey pleading with someone on the phone. When he hangs up, Casey tries to play it off, but Reagan can tell something is wrong. Casey sadly admits that he's been unemployed for a year. He came to Los Angeles for a job interview, but it just fell though. He pleads with Reagan not to tell. "If Chris thinks I'm a loser, then I don't even know who I am anymore." Reagan reluctantly agrees.
It's the night of the charity auction, and Missy congratulates Reagan on all her work. Missy is shocked by how nice the preschool is. In Oakland where Missy grew up, every school had metal detectors, even the preschools. "Youngs be strapped with the sharpest shives." Ava arrives at the charity event drunk, but she promises Reagan it will help loosen up her auction tongue. Later, Ava commands the auction like a star while Reagan walks up to parents, prodding them to bid as much money as they can. Gail is ecstatic about how well the auction is turning out. Reagan uses the moment to talk up Amy and how great of an addition she'll be to the school. Gail nods in agreement but is really focused on the star power of Ava.
At the auction tables, Chris and Casey read over one of the offerings, guitar lessons from Poison's lead guitarist, C.C. DeVille. They begin a bidding war over the item, not willing to let one buy it as a gift for the other. Later, Ava opens up for bid a surfing vacation in Australia. Not willing to let the other get it, Chris and Casey bid up the price to $10,000 until Reagan drags them both outside. She demands that they start telling each other the truth. Reluctantly, Chris tells Casey that he quit the firm to stay at home with Amy, while Casey admits that he's been unemployed for a year. The two brothers look at each other for the first time without any masculine barrier or sibling jealousy. They head out to the school basketball court and bond over how their lives have changed in the past year while playing a friendly game of hoops.
Gail walks up to Reagan with a school shirt for Amy; Little Nudge Academy will be happy to have her and Reagan as part of the school. Reagan is ecstatic. Gail hints that Reagan should bring over all her celebrity friends. Ava overhears the conversation and advises Reagan that maybe Amy should go to a school where the child's the star instead of celebrities. Reagan nods in agreement; she just wanted what was best for Amy. Ava understands, but any place can be the best place as long as it has caring parents who love their child. Reagan looks at the Little Nudge shirt one last time, then leaves it on a chair and walks away.
The next day, Chris and Reagan walk past a small, homely preschool down the street from their house. The school has a tire swing in the front playground, and Chris rushes to try it out. As Reagan happily pushes him around, they notice teachers and students quizzically watching them. Embarrassed at being caught, Reagan and Chris quickly walk away.