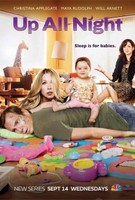 TV Info
---
Episode Premiere
January 19, 2012

Distributor
NBC

Genre
Comedy

Show Period
2011 - 2013

Production Company
Broadway Video Television, Universal Media Studios


Cast and Crew
---
Director
Michael Blieden
Screenwriter
Caroline Williams
Main Cast
Additional Cast
Synopsis
---
Ava excitedly practices Tae Kwan Do to get ready for her martial arts segment on the show. Reagan has planned several segments to follow Ava as she progress from belt to belt. Missy worriedly points their attention to the television where they see "Shayna," a rival talk show, airing the exact martial arts topic! Reagan is furious; she feels Shayna always steals their good ideas, even their catchphrases. Shayna was a former guest on Ava that had her morbidly obese life turned around and is now an up-beat skinny talk show host. Reagan is determined to put an end to Shayna's show topic poaching.
Reagan rushes home from work to watch the series finale of "Friday Night Lights" with Chris. Their schedules have delayed them from watching the show together, but now they are both on the couch and ready to view. As the show begins, Reagan falls asleep. Chris hits stop in frustration. The next day at home, Chris and Amy are having a play date with Laura, an average mom, and her son. Chris and Laura get along perfectly as they gossip about playground parents. Laura sees the "FNL" DVD and they both relate to not being able to watch the finale because their spouses always fall asleep. Suddenly Laura has an idea... she seductively walks up to the DVD player and tells Chris they should watch it right now without their spouses. Chris is hesitant; he believes marriage has a sacred trust not to watch TV shows without the other. Laura tells Chris to "be cool"; their spouses will never know. She "accidently" hits play and they're both happily mesmerized.
Reagan and Ava meet a boisterous Shayna for drinks. Reagan is pulled into a big hug with the southern belle. To Reagan's dismay, Ava tells Shayna how much she misses her. Shayna gleefully talks about how well her talk show is doing, but Reagan fights back, saying they gave Shayna her start and now they're being stabbed in the back by her poaching their ideas. Shayna assures them the duplicate karate show idea was a total coincidence and offers dinner at LA's hottest restaurant as a peace offering. Ava and Reagan excitedly accept the offer.
Reagan arrives home from dinner excited to watch "FNL." Chris awkwardly watches it with her, pretending to see it for the first time. Luckily, the phone rings and allows him to leave. Reagan grows curious as she listens to Chris laugh and share private jokes on the phone. Chris nonchalantly tells Reagan it's just Laura, one of the playgroup moms. The next day, Reagan tells Ava how Chris was laughing on the phone with another woman. Ava warns Reagan that her husband could be "emotionally cheating" with Laura. Reagan tries to hide her jealously, but she quickly rushes home to spy on the playgroup.
Reagan walks into the playgroup and seeks out a beautiful buxom mother she mistakenly assumes is Laura. Reagan seductively holds onto Chris as she introduces herself, leaving no doubt that Chris is her man. Chris then introduces Reagan to the real Laura, and she is immediately relieved. Instead of a desperate housewife, Laura is a mild-mannered slob. They decide to have a barbeque with their spouses so everyone can meet. Later at the barbeque, Chris and Laura laugh at their own private jokes while Reagan feels left out. Laura accidently tells Reagan that Chris and she watched the finale of "FNL." Reagan is taken aback by the TV betrayal, but then accidently reveals she went to the popular restaurant that Chris had always wanted to try. Laura and her husband are stuck in the middle as Reagan and Chris continue fight.
At The Ava Show, Missy runs in screaming that Shayna stole another one of their ideas, a salsa dance themed episode. Reagan finds a disappointed Ava all ready to go in an extravagant salsa dance outfit. Reagan can't figure out how Shayna learns all their ideas, but then Ava confesses she accidently told them to her. Reagan confronts Shayna at the studio parking lot, and things get testy as they both confess their dislike for the other but their love for Ava. Later as The Ava Show is taping, Shayna surprisingly walks on the set. She admits to Ava that if it weren't for Ava, she would still be fat and trapped in a trailer, and she just wanted to say "thank you." As the audience applauds, Ava and Shayna lovingly one up each other with their shows tag lines.
Back at home, Reagan and Chris apologize to each other for all the lying. Reagan admits she felt left out of Chris' life and wants to make sure she'll always be his best friend. Chris tells her not to worry; it's natural for couples to have their own things but still love each other. They will just have to make "their things" even more special. Reagan seductively asks what type of "their things" he's talking about. Chris suggests playing catch with a football, completely missing the sex signs. The next day, Reagan and Chris playfully toss a football together.