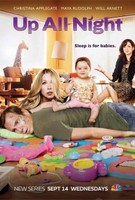 TV Info
---
Episode Premiere
January 12, 2012

Distributor
NBC

Genre
Comedy

Show Period
2011 - 2013

Production Company
Broadway Video Television, Universal Media Studios


Cast and Crew
---
Director
Beth McCarthy-Miller
Screenwriter
Erica Rivinoja
Main Cast
Additional Cast
Synopsis
---
New Year's Eve 2002: Reagan and Chris find an instant as they meet each other for the first time. Ava drunkenly stumbles in and takes over the conversation. Flash forward to New Year's Eve 2005: Reagan and Chris are now married, and as they're about to kiss, Ava stumbles over drunk, ruining the moment. New Year's Eve 2010: Reagan is now pregnant and has a revelation about New Year's. "When you can't drink, it really sucks!" Ava once again stumbles over intoxicated; some people never change.
Chris tells Reagan he can't find any babysitters for the upcoming New Year's Eve. Reagan wonders how people with children handle the holiday. Chris jokes that they're prisoners, so they better make the most of it. Reagan decides to invite Ava and Kevin over for an old-fashioned game night. Chris quickly brainstorms other ideas, desperately trying to avoid game night. He's worried Reagan's ultra-competitive streak will come out, and the night won't be fun and casual. Reagan tells him not to worry, but Chris has his doubts.
Kevin enters Ava's office to find her wearing a tiara and holding a scepter. She's having photos taken after being named Grand Marshall of the Pacific Palisades New Year's Parade. Kevin confides in Missy that he's sometimes intimidated by Ava; he's worried he can't live up to her standards. Missy tells Kevin not to fret about it. Ava is excited for Reagan's low-key New Year's Eve party plans. Missy also agrees to come; she'll bring her new boyfriend.
It's New Year's Eve, and Reagan has no luck finding any of her board games. Chris plays coy, not wanting to reveal his inner relief. Ava and Kevin arrive with a backpack full of fireworks to set off at midnight. Chris is ecstatic about the fireworks, but then his smile fades as Reagan finds her Trivial Pursuit game. Seems they were "accidently" placed in a wrongly labeled box. Missy enters with her new boyfriend, Isaac; everyone is pleasantly surprised to meet a charming heartthrob with a British accent. However, Missy is less than thrilled with her date; everything he does seems to annoy her.
Reagan intently keeps the Trivial Pursuit game going. Chris is embarrassed as he watches Reagan lambast Missy's date for not knowing a correct answer. It's Reagan and Chris' turn for the win. Reagan threatens Chris, "If you get this wrong, I'm going to kill you." Luckily for Chris, he knows the answer, and Reagan celebrates the victory by taunting the other teams. Later, Kevin asks Chris if he thinks Ava is embarrassed to be with him.
Missy leaves the party as her relationship with Isaac falls apart in front of the others. Reagan and Chris play the game "Rock Band," but when Chris fails a level, Reagan yells at him for not being good enough. Later, Kevin confronts Ava about how she seems to be embarrassed by him. He walks out of the party; Ava tracks him down outside. Kevin tells her he's concerned that she she's embarrassed by his blue collar sensibilities. He gives examples: she takes others to movie premieres and parades but never him. Ava emotionally admits she keeps him away because all her past relationships have broken up in the public eye. She really cares for Kevin and just didn't want the same fate to happen to them.
Reagan and Chris begin to list on a whiteboard all the embarrassing traits the other one has. Reagan writes Chris' tendency to fill awkward silences and his Borat impression. Chris lists Reagan's mispronunciation of certain words and being too competitive. Later, the list has overtaken the board. Then Missy rushes in and makes up with Isaac. Missy realizes she was focusing on everything Isaac did that made her crazy and paying no attention to the good things he did. Reagan and Chris look back at the board and start erasing the embarrassing traits. They realize the foibles that embarrass them are also the traits they fell in love with. As the clock strikes midnight, the couples make up and start lighting fireworks.