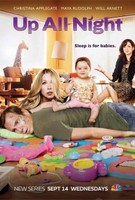 TV Info
---
Episode Premiere
November 23, 2011

Distributor
NBC

Genre
Comedy

Show Period
2011 - 2013

Production Company
Broadway Video Television, Universal Media Studios


Cast and Crew
---
Director
Bob Berlinger
Screenwriter
David Iserson, Brian Rowe
Main Cast
Additional Cast
Synopsis
---
Ava shows Kevin and McKenna her workplace. Kevin is enthusiastic but McKenna's impossible to impress. Suddenly, Ava discovers a huge leak. Kevin says it's so bad that the show will be shut down for a week.
Reagan enjoys her day off with Chris and Amy as they stroll around the block. She's momentarily bugged by her neighbor Len's lawn; it's full of weeds and poorly-maintained. When they get home, Reagan makes another annoying discovery: Chris uses a junk drawer in the kitchen that desperately needs to be organized. Reagan offers to clean it, but Chris says he likes it that way. When Chris leaves, Reagan can't help herself. She's got to organize it. Meanwhile, Chris has drinks with his colleague Dave and can't help but look through some of Dave's depositions.
A discouraged Ava visits Reagan at her home. Ava claims that no matter what she does, McKenna just won't warm up to her. Reagan urges Ava to realize that having a new mother figure in her life must be hard for McKenna. When Ava continues complaining, Reagan offers to join Ava, Kevin and McKenna for lunch. Maybe Reagan can help Ava and McKenna become friends.
Reagan shows Chris some of the changes she's made around the house. She's refolded the laundry and tackled the dreaded junk drawer. Chris is clearly peeved at her Type-A behavior. The next day, Kevin, McKenna, Ava, Chris and Reagan come together for tea. Reagan notes that McKenna has a music recital and volunteers Ava for the job of mentoring McKenna. Maybe Ava's R&B diva past will help her connect with McKenna after all.
Ava confesses to McKenna that she likes Kevin. McKenna says she already knew. Relieved, Ava can now focus on helping the girl prepare for her recital. Meanwhile, Reagan's cleaning has gotten out of control. She's even trimming Len's weeds, much to his dismay. Later, Chris returns to find that Reagan's turning into a Type-A nightmare. Len's furious about his newly-trimmed yard.
McKenna tells Ava that she's terrified of going onstage. Ava consoles McKenna by showing a YouTube clip of Ava performing for the President. She can barely remember the words to "Luck Be a Lady" and is just generally terrible. Ava tells McKenna not to worry; no matter how badly she does, she can't be any worse than this Ava clip. They bond over Ava's embarrassing moment.
Chris finally stands up to Reagan, telling her she's got to stop organizing, cleaning and making him (and the neighbors!) insane. The house is his turf, and he needs it to reflect his style. Reagan finally hears Chris and walks over to the newly-organized junk drawer and casually makes a mess of it. At the recital, McKenna must follow a group of mega-talented dancers. She's very nervous but goes up and sings "Luck Be a Lady." By the end, McKenna's beaming, having conquered her fear.