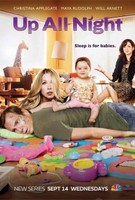 TV Info
---
Episode Premiere
November 09, 2011

Distributor
NBC

Genre
Comedy

Show Period
2011 - 2013

Production Company
Broadway Video Television, Universal Media Studios


Cast and Crew
---
Director
Jay Chandrasekhar
Screenwriter
Caroline Williams
Main Cast
Additional Cast
Synopsis
---
Reagan and Chris try to find the time to get intimate, but with their hectic parenting and work schedules, it seems impossible. For that reason, Reagan surprises Chris with a night away; babysitter Patricia will watch Amy while Reagan and Chris stay overnight at the Beverly Hilton. Meanwhile, at the Ava Show, sexy and suave club owner Julian flirts with Ava while Reagan watches in horror. Ava didn't tell Reagan about Julian because even she can tell he's kind of gross.
Later Ava tells Reagan that she's sick of dating guys like Julian. She just wants to meet someone regular and normal. Just then Patricia texts Reagan; she can't babysit because she got food poisoning. Ava offers to babysit, claiming it's the first time in forever that she has no plans. Against her better judgment, Reagan agrees. Later, Reagan convinces Chris it's a good idea to let Ava babysit. Reagan says Ava even learned "baby CPR" just in case. Plus, if Ava needs some help she can always contact Kevin, the kind neighbor on their emergency contact list.
When Chris and Reagan arrive at the Beverly Hilton, Ava texts them to ask where Amy likes to hide. The freaked parents are about to drive back home when - fortunately - Ava says she's found Amy and all is well. Moments later, Chris and Reagan check in. They ask for a private room and the key to the minibar. They're intent on having some fun.
Ava goes on a walk with Amy and bumps into Kevin, a sweet single dad with a nice sense of humor, and his daughter McKenna. He's on Reagan and Chris' contact list but Ava still demands that he prove he knows Amy. Ava playfully shows off that she knows everything about baby CPR. Meanwhile at the Beverly Hilton, Reagan's anxious to get it on with Chris, while he wants to take it slow. They compromise by going to a school dance in the lobby. They share a romantic moment on the dance floor.
At Reagan's house, Ava finds she can't seem to unbuckle Amy from her high chair. Ava calls Kevin and McKenna over to help and then proceeds to cross-examine McKenna about her father. Ava learns that Kevin and his wife are divorced. Meanwhile, Chris and Reagan continue to bond at the school dance. They even request their song - "Sabotage" by the Beastie Boys!
Back at their hotel room, Chris and Reagan try to get hot and heavy, but they keep thinking of parent stuff - like Amy and her adorable socks. Then they decide to get his and hers "chocolate" massages but it's still not doing the trick. Chris calls Ava for an Amy update but she doesn't pick up. Worried, Chris and Reagan return home to spy on Ava. Turns out, Ava has just put Amy to sleep and she's flirting with Kevin over wine. They're about to kiss when they hear rustling in the bushes. Reagan and Chris escape in the nick of time. Then Reagan and Chris kiss under the starry sky.
Chris and Reagan wake up in their hotel room feeling blissful. They've finally had eight hours of uninterrupted sleep! Meanwhile, after meeting Kevin, Ava finally has the courage to dump Julian. He immediately flirts with Missy instead.