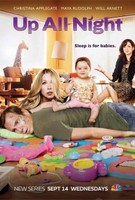 TV Info
---
Episode Premiere
October 12, 2011

Distributor
NBC

Genre
Comedy

Show Period
2011 - 2013

Production Company
Broadway Video Television, Universal Media Studios


Cast and Crew
---
Director
Troy Miller
Screenwriter
Erica Rivinoja
Main Cast
Additional Cast
Michael Hitchcock
Missi Pyle
Synopsis
---
Reagan and Chris bring eight-month-old Amy to a baby gym class. Unfortunately, although Mr. Bob thinks Amy's doing great, he criticizes Chris and Reagan's peek-a-boos for being too aggressive.
Ava tells Reagan and Missy that Manic Man-Day (formerly the Dangles), the premiere '80s transvestite band, is playing later that night. Reagan agrees to check them out but says she can only stay for one drink. Later, Reagan races to the baby class but arrives late. Reagan doesn't have the dance moves down and forgets to take her shoes off. Another mother makes passive-aggressive comments about how well Reagan's managing even though she's a working mother.
Reagan watches Manic Man-Day with Ava but has to bow out early to take care of Amy. Reagan tells Ava it's nothing personal, she's just evolving. Ava's left feeling lonely, even though she does have a cute bartender serving her drinks. She calls him Stefano, not caring that that's not his name.
Ava tells Reagan she's giving a speech at the Soho House for a hot designer. Reagan offers to help write the speech, knowing that the speechwriter will get to join in the festivities. Ava, still mad about the fact that Reagan ditched her the night before, gives the job to Missy instead. That'll teach Reagan to leave Ava dancing alone to "Walk Like an Egyptian."
Reagan prepares for Amy's baby class with a big book of nursery rhymes. Chris tells Reagan that he and Mr. Bob already have a system. Reagan asks if Chris thinks she's going to embarrass him. Chris stumbles over his words and doesn't know what to say. Later, Reagan proves to be a baby class star when she ad-libs another verse to the "Itsy Bitsy Spider." Even Mr. Bob is impressed.
Ava checks on the progress of the speech Missy's writing for her. Missy's overwhelmed by Ava's crazy, nuanced demands. Later, Mr. Bob takes a personal call and leaves Chris in charge of the class. He decides the gang should play with the parachute. Meanwhile, Kayla's mom continues taking passive-aggressive jabs at Reagan, implying that Amy's not crawling yet because Reagan's too focused on her day job. Reagan gets so upset Mr. Bob kicks her out of the class.
Ava and Missy celebrate Ava's successful speech. Ava forces Missy to admit that she didn't write that speech - Reagan did. It's even more poignant considering how mean Ava's been to Reagan. Later, Chris sees Reagan trying to teach Amy to crawl. Clearly, Kayla's mother really got to Reagan. Reagan wonders aloud if her being a working mom is stunting Amy's growth. Chris tells her that Amy - and Reagan - are both doing just fine.
Ava apologizes for giving Reagan a hard time about leaving the Manic Man-day show. Later, Reagan gives Kayla's mom some tips on how to fix her stroller. Her advice doesn't work, and together, they take their rage out on the stroller, kicking it until they feel better. That night Ava sings one of her favorite Bangles songs.