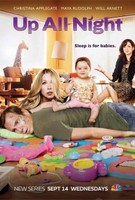 TV Info
---
Episode Premiere
October 05, 2011

Distributor
NBC

Genre
Comedy

Show Period
2011 - 2013

Production Company
Broadway Video Television, Universal Media Studios


Cast and Crew
---
Director
James Griffiths
Screenwriter
Emily Spivey
Main Cast
Synopsis
---
Reagan and Chris excitedly prepare for a trip to the beach in their convertible. Between inexpertly inserting the baby seat and trying unsuccessfully to stow a stroller, they soon realize that their car is not baby friendly at all.
Chris proposes that Reagan needs a new car. Though she loves speeding around in her convertible with her sunglasses on, it's time to get a baby friendly vehicle. Reagan insists she can't give up on her car because it makes her feel like Suzanne Somers or some fabulous mob boss' wife. At the Ava Show, Missy makes the mistake of showing Ava that she's listed in a tabloid as one of the Top 10 Celebrity Dropouts. Ava insists she got her GED and that the only reason she dropped out was that she was embarking on her R&B singing career.
An insecure Ava argues that she's well read. When Missy tells Ava she's just finished a book called Default: The Collapse of the American Economy, Ava decides to book the author. Reagan warns Ava that Chris just read that book and it's a little dry, but Ava insists on her new show idea. That night, Reagan impulsively purchases baby cowboy boots for Amy online. She's a lot less eager to spend money when Chris urges her to buy a family friendly van. She bids on a hideous van as a joke and is horrified to find that she actually won.
The owner of the '70s van, Pete Littlebear, tells Reagan and Chris all about its colorful and strange history. Two of Pete's kids were born in that van. As soon as Pete leaves, Reagan and Chris drive the car to a dealership, hoping to trade it in for something a little less embarrassing. Even though Chris is wearing his "negotiating suit," he and Reagan end up test-driving a conservative van - the same one Gene and Terry own. Later, Reagan checks to see if Ava's read Default. She's horrified to find that Ava's partying in Vegas instead.
The night before Ava's big interview, she visits Reagan and Chris in a state of panic. She has no idea what Default is about and is feeling more insecure about her intelligence than ever. Chris offers to help her understand the book. Using items from around the house, Chris explains the mortgage crisis. The next day, after a rough start, Ava brilliantly discusses the mortgage crisis with the book's author.
Backstage, Reagan congratulates Ava on handling the interview so well. Ava however is very concerned that the show isn't engaging the audience at all. When the show comes back from commercial break, Ava begins an emotional line of questioning about the bullying and abuse the author endured as a child. The gripping exchange rivets the crowd. Outside, Reagan discovers that Chris has given the conservative van a cool paint job and installed a tape deck where they can blast '80s rap! In the car, little Amy's in a car seat wearing her new cowboy boots.
Reagan pulls up next to a stranger in her new car. She's wearing her sexy sunglasses and lets him know that she might be a spy. She speeds off into the afternoon sun.