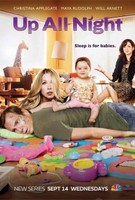 TV Info
---
Episode Premiere
September 28, 2011

Distributor
NBC

Genre
Comedy

Show Period
2011 - 2013

Production Company
Broadway Video Television, Universal Media Studios


Cast and Crew
---
Director
Joe Russo
Screenwriter
Tim McAuliffe
Main Cast
Synopsis
---
Reagan comes home from a long day at work to find that Chris has prepared a romantic Italian dinner. While Chris plays some salsa music, Reagan puts her hair up and slips into something more comfortable - in this case, a pair of casual sweats. She then proceeds to devour the entire plate of pasta while staining her sweatshirt. When she smiles at Chris with basil in her teeth, he can't bring himself to tell her that she's kind of ruining the moment.
At the playground, Chris tells his friend Reed that though Reagan dresses up for work, at home it's hair up and maternity jeans. Chris is concerned that Reagan's beginning to "sacrifice on the sexiness." Reed tells Chris to lead by example; if he wants Reagan to sexy, he's got to lead the way. Meanwhile, on the Ava Show, Ava learns that her ex, Benjamin "B-Ro" Roth, is getting married. The news sends Ava into a meltdown.
Reed critiques Chris' nerdy style and offers helpful fashion tips, like how to find the right boxer briefs. Meanwhile, Ava yells at Reagan for playing a critical role in her breakup with B-Ro. After all, Reagan told Ava to break it off a million times and eventually booked B-Ro on an Asian tour with Lisa Stansfield. In a rage, Ava goes home mid-show.
Dressed in stylish clothes, Chris tries to get Reagan to notice his new sexy look. Reagan appreciates his outfit until she realizes he's actually just trying to get her to dress in sexier clothes, too. Offended, Reagan yells, "I had your baby!" She defends her right to wear something comfortable after a long day at work. Chris apologizes, but Reagan's not willing to drop it.
The next day at breakfast, Reagan enters the kitchen wearing formal wear. It's clear she's still not over last night's fight. Later, at the playground, Chris tells Reed he blew it and totally offended Reagan. Back at the office, Reagan finally stands up to Ava. Reagan tells Ava that she was right to break her and B-Ro up - after all, he was a cheat! Ava says that perhaps B-Ro has changed. Reagan decides there's only one way to find out: she calls B-Ro and invites him to drinks.
At lunch, Reagan and Ava discover that B-Ro is a changed man. He's cleaned up, quit the music business and is heavily involved in church. He even founded a school in Kenya. But once B-Ro accuses Ava of being uptight with money, all hell breaks loose. The former lovers get into a fight on the street, captured on YouTube of course! Ava realizes Reagan was right about B-Ro and gifts her with a thong to wear for Chris. "He's one of the good ones," Ava says, regarding Chris.
Reagan comes home to an apologetic Chris. Without Reagan, Chris explains, he'd be a law school dropout with a mustache and no baby Amy. To reward him, Reagan changes into her sweats, but this time she's wearing a thong underneath!