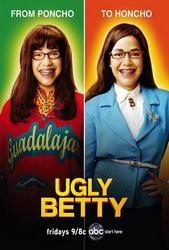 TV Info
---
Episode Premiere
April 14, 2010

Distributor
ABC

Genre
Drama, Comedy

Show Period
2006 - 2010

Production Company
Touchstone Television, ABC


Cast and Crew
---
Director
Victor Nelli, Jr.
Screenwriter
Silvio Horta
Main Cast
Additional Cast
Synopsis
---
Wilhelmina has survived the shooting, but is in a coma. The fashion world is sure that it was her long-standing enemy, Claire, who shot her. Wilhelmina awakens in the hospital to see Connor who tells her, "I can't live without you." Willie promises Connor she's a "changed woman," and then proves it by refusing a pay-off from Claire to lie that Tyler wasn't the shooter.
Betty hasn't yet told Daniel she's taken the job in London. "He gave me my start. I owe him everything," she tells Hilda. She's about to tell Daniel but then he asks her to write his bio for the 100th issue of Mode, and tells her, "There's no way I could have done this issue without you. We make a good team."
Daniel finally finds out Betty is leaving and takes the news surprisingly well. A little too well, as he then flips out when she needs him to sign a form releasing her from a contract and burns it instead! He tells her he needs to think about it, but if he stalls too long, she could lose the job in London! Claire realizes what this is about, asking Daniel, "Are you sure this isn't about more than Betty's editing skills?" and suggests that he has feelings for her. "If you are having such a hard time with her leaving, you need to give her a reason to stay."
Daniel offers Betty a promotion to full editor, declaring, "I can't live without you," but she decides to take the job in London anyway.
Bobby and Justin want to move to Manhattan, but Hilda frets that she can't, since with Betty gone, they'll be leaving Papi all alone. But turns out, Papi's going to be just fine: "Don't you think I'm tired of sharing one bathroom with the three of you? I want my daughters and my grandson to live the life they want to."
Willie holds a press conference and announces that it wasn't Claire who shot her. "It was... me." She lies that she shot herself cleaning her gun. "There was no drama that night, just a foolish mistake." Claire doesn't know how to thank her and Willie tells her she didn't do it for her. "We're good, as good as you and I can be," Willie says.
At Betty's farewell party at Mode, Daniel doesn't show and Claire tells Betty her theory why. Betty doesn't believe her, but we know it's true! Justin encourages Marc to go talk to Troy. Marc takes his advice and it looks like he and Troy are back together. We can't believe it when Willie congratulates Betty, "I never thought I'd say this, but you've got big balls, Betty Suarez." She also gets a heartfelt farewell hug from Marc and Amanda.
Marc tells Amanda that Spencer is her father and she's afraid he'll reject her, but Spencer tells Amanda he already knows she's his daughter, that's why he hired her as his stylist. "I wanted to make sure I wasn't intruding," and she tearfully tells him, "I've been waiting years for you to intrude."
Daniel tells Wilhelmina he's stepping down as editor of Mode. "What are you going to do?" she asks. "I'm going to start over," he says. We're not at all surprised to see Daniel show up in London. He tells Betty, "I think I'm going to stay around here for a while. Maybe take you to dinner tonight, if you're free." "I would love that,' she says. And then she smiles as she tells him if he needs a job, "I'm looking for a new assistant." "Maybe I'll submit my resume," he says.