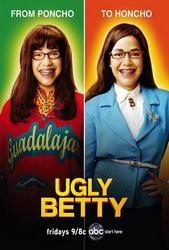 TV Info
---
Episode Premiere
March 31, 2010

Distributor
ABC

Genre
Drama, Comedy

Show Period
2006 - 2010

Production Company
Touchstone Television, ABC


Cast and Crew
---
Director
Mark Worthington
Screenwriter
David Grubstick, Sheila Lawrence
Main Cast
Additional Cast
Synopsis
---
Betty is having no luck planning the perfect bachelorette party for Hilda, who wants something "fun and exciting, with travel." She correctly guesses that Daniel's going to London Fashion Week just to avoid Tyler and suggests he send someone in his place, then realizes it's the perfect way to give Hilda the party she wants!
Bobby thinks he's done something to alienate Justin when he prefers walking to school with Austin than getting a ride with him. Hilda suggests he and Justin bond that weekend. Austin wants to go on a "real date" with Justin, but agrees to reschedule when Bobby insists on having "guy time" with his future in-laws.
Claire vowed to Cal that she'd never tell Tyler who his father was. Instead, she's fed Tyler lies it was someone she met in a rehab center and will never be able to track him down. Tyler goes to an AA meeting, where he confesses, "I've actually been slipping up a little. Things can get a little dark when I drink." We're appalled to see Willie at the same meeting, especially when the unknowing Tyler agrees to let her be his sponsor. Willie invites Tyler over for tea, where she finds out that he has no clue who his father really is. Willie suggests that the Meades will offer to buy him out, then makes it happen by advising Daniel to pay off Tyler.
Hilda, Betty and Amanda arrive in London where they have a heartfelt reunion with Christina, whose fashion career is really taking off. At Hilda's bachelor party, she orders a soused Betty to flash a guy at the bar and it ends up being her old beau, Gio, who's there on a layover. Gio tells Betty she looks great and when she chides him for flirting with her, he insists he's not: He's engaged! He's disappointed she's still at Mode and that she's not writing about things she cares about like she does in her blog. She tells him she's interviewing for her own fashion column, thanks to a contact she made in London. Gio scolds her, "What was supposed to become a stepping stone has become your path. You seem like you're scared to focus on what you really care about." She tells him he doesn't know her at all, but we can see his words have gotten to her.
Daniel takes Tyler out on the town and mentions how he never liked Tyler's father, Cal Hartley. "But I'm sure Claire told you all about that," he says. Tyler immediately calls Willie to tell her, "I think Claire might have lied to me." Tyler is tempted to drink and Willie, devious diva that she is, tells him that "slip-ups are inevitable" and sure enough, Tyler gives into temptation. Tyler is completely drunk when Daniel hands him a big check, per Willie's suggestion. Tyler punches Daniel and lands in jail. Claire asks Daniel what started the fight and she's horrified that Tyler knows she lied about his father. Tyler tells Willie, who bailed him out of jail, "You were right. They tried to buy me off." He vows to take what they owe him: his share in Meade publications.
The next day, Betty nails her interview. When she's offered the job, she realizes, "Fashion is not my dream," and turns the job down. She's completely forgotten that she drunkenly invited Henry to be her date at Hilda's wedding!
Bobby scores tickets to go see Beyonce, but Justin is already going with Austin. Bobby doesn't understand when Justin tells him, "I can't go," until he sees Justin and Austin kissing on the stoop. "Please don't tell anyone," Justin begs him. "Not even my mom." "This is just between us," Bobby promises.