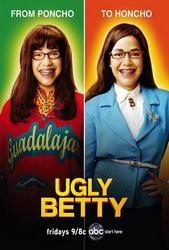 TV Info
---
Episode Premiere
March 24, 2010

Distributor
ABC

Genre
Drama, Comedy

Show Period
2006 - 2010

Production Company
Touchstone Television, ABC


Cast and Crew
---
Director
Paul Holahan
Screenwriter
Henry Alonso Myers, Chris Black
Main Cast
Additional Cast
Neal Bledsoe
Halley Feiffer
Ryan McGinnis
Kathy Najimy
Synopsis
---
The big day is here: Betty is finally getting her braces off! Except that a fire alarm goes off at Dr. Frankel's office and she has to go back to work with braces still intact.
Amanda is falling hard for Tyler and Marc advises her to tell Daniel before he hears it from someone else. Daniel doesn't take it well, saying, "How can you do this to me? He's my half-brother. Don't you see how messed up this is?"
Daniel's already having a rough day: His cover shoot for the Million-Dollar Bra from Eve's Seduction has hit a snag: The bra's been booked to fly to Cairo when they're supposed to be photographing it! There's no point in appealing to Eve herself as the woman is famous for never smiling, let alone giving anyone a break.
Betty rushes to the Guggenheim to talk Eve's assistant, who happens to be a friend of hers, into helping her out. But she falls and before she loses consciousness, wishes she'd been born with perfect teeth. Voila, she wakes up in an alternate reality where she not only has perfect teeth, she has the perfect life! She's rich, gorgeous, and a managing editor at Mode -- and she's dating Derek Jeter! Her tour guide through her perfect life is none other than Dr. Frankel, who shows her that perfect teeth have also made her just as bitchy as Wilhelmina. "How can having perfect teeth change me this much?" Betty laments when she learns she's been plotting with Wilhelmina to overthrow Daniel. Wilhelmina sabotages the photo shoot by stealing the bra, which she puts on under her blouse.
Betty wishes, "I want my old life back." She comes to and everything is back to normal -- but she still has to salvage the bra photo shoot. Except in this reality, the bra is missing again! Betty rips off Wilhelmina's blouse to reveal the Million-Dollar bra, but it's not there. She turns around to find herself face to face with the bejeweled brassiere -- and her braces get hopelessly hooked! Eve, the woman who never smiles, burst into laughter at the sight! "Since you've cheered me up, I will allow you to have the bra for two hours," she declares.
Daniel asks if there's an orthodontist in the house and there's Dr. Frankel! She can't separate the bra and Betty without taking off Betty's braces. Finally! Betty smiles in wonder at having her braces off and and Daniel tells her, "Betty, you look great."
Daniel apologizes to Amanda:"You can date whoever you want, that's what casual means, right?" She hugs him, which doesn't make Tyler happy. When Amanda tells him that Daniel's given them his blessing to date, Tyler bristles at the thought he needs Daniel's permission. Amanda suggests that all three of them take a time out to sort out their issues.
Marc asks Wilhelmina if the bra scheduling snafu was her work and she tells him she had nothing to do with it. "This shoot is an A-cup. My plan for the Meades, double-D." She introduces herself to Tyler and seems far too interested when he tells her he doesn't drink.
Betty goes home to celebrate with her family, where they throw her a party with all the food she couldn't eat for four years, like popcorn and candy apples. The day ends on a high note for Justin, too: Austin, who's been avoiding him ever since their kiss, is at the door!