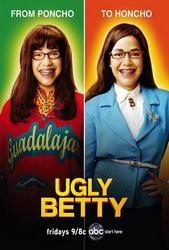 TV Info
---
Episode Premiere
March 17, 2010

Distributor
ABC

Genre
Drama, Comedy

Show Period
2006 - 2010

Production Company
Touchstone Television, ABC


Cast and Crew
---
Director
Andy Wolk
Screenwriter
Abraham Higginbotham, David Grubstick
Main Cast
Additional Cast
Carol Kane
Dana Ivey
Ryan McGinnis
Jordan Baker
Michael Genet
Synopsis
---
Daniel is still stewing about Tyler. "He's not my brother. My only brother is my sister, Alexis," he insists. Amanda, meanwhile, is continuing to sleep with Daniel while seeing Tyler, platonically so far, on the side. "I've known Daniel for years and I really care for him. But on the other hand, Tyler's a model, so it's kind of even," she tells Marc.
Wilhelmina collapses from a perforated ulcer, forcing her to give up control of that month's issue. She tries to call the shots from her hospital bed but her doctor warns Marc and Amanda that she needs her rest. Marc's solution: Up her morphine drip without asking.
Betty pitches a profile of hot young playwright Zachary Boule, whose new play is all about "reinvention" and who used to date a Gossip Girl. Daniel tells her she should just ask him out if she likes him. She assures Daniel her interests are purely professional. But on the interview, when Zachary urges her to "live in the moment" she kisses him! She's mortified but he doesn't mind. In fact, he asks her out! She's reluctant until he promises they'll keep their relationship a secret. She fears the worst when Daniel catches her kissing Zachary good night in her lobby, but he points out that he's there to see Amanda, "So I'm not one to pass judgment."
Betty tells Zach they don't need to sneak around anymore. In fact, she can be his date to his premiere tonight. He's already taking his mother, so she surprises him at the play -- and is dismayed to see he's brought a hot girl as his date. Zach says it was all his manager's idea. "I have a reputation that involves being seen with hot girls," he tells her. He still wants to see her, only secretly. He wants her to do what she feels like, so we applaud when she punches him! She's upset that she'll always just be seen as "a dork with braces and glasses." Hilda advises her to "let that go" and "come up with a whole new story for yourself." Betty decides to take the plunge and finally get her braces off.
Justin and his friend Austin both like the same girl, Lily. When Justin invites Lily over to watch a movie, Justin is disappointed when she brings Austin along. They're all in the same acting class and Justin is freaking out that he has to kiss Lily in a scene because they haven't rehearsed it. The scene goes so well that Austin is jealous and kisses Lily backstage. Austin tells Justin that the onstage kiss looked "intense" and before you know it, the two boys are kissing! We want to cheer, until Austin says, "I'm sorry," and walks away. The next day, Justin is crestfallen to learn that Austin has dropped acting.
Wilhelmina gets a wake-up call from her hospital roomie, who tells her, "I used to be you. You're a high-strung Type-A bitch who doesn't give a damn about anything but her career. One day your precious job is going to be gone." Wilhelmina tells Marc, "I had an epiphany last night." We think she might be about to quit Mode, but she tells him, "I know what i want and it's not Mode. It's Meade. I want the whole damn company."