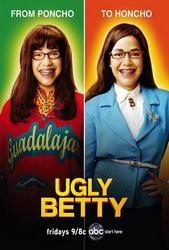 TV Info
---
Episode Premiere
March 10, 2010

Distributor
ABC

Genre
Drama, Comedy

Show Period
2006 - 2010

Production Company
Touchstone Television, ABC


Cast and Crew
---
Director
John Terlesky
Screenwriter
Erika Johnson
Main Cast
Additional Cast
Lainie Kazan
Brian Stokes Mitchell
Rich Sommer
Alec Mapa
Neal Bledsoe
Nestor Serrano
Adam Rodriguez as Bobby Talercio
Synopsis
---
After the fire, the entire Suarez family is living in Betty's apartment and ruining everything. The Lady Gaga video she shows to Wilhelmina and two clients ends up being a video of Justin lip-synching! She's forced to date Jimmy, the annoying fireman who claims he can speed up the insurance payment, to get her family out from underfoot.
Wilhelmina bumps into an old flame, Don, and we can't believe that she used to be known as "Wanda!" And we're as incredulous as Marc that she claims to be the same "sweet girl" she used to be. She and Betty both end up at the same bar on their dates. Wilhelmina lies that Betty is her "friend," so Don insists she and Jimmy share their table. Betty seizes the opportunity of Wilhelmina's playing nice to get Justin re-invited to the Lady Gaga photo shoot. Finally, Wilhelmina can't take the charade any more and blurts out, "I'm a bitch, I'm a stone cold bitch! Everything you've read about me is true." Turns out the sex was so hot, Don's fine with that! We laugh when the two start making out, right at the table.
Justin admits to Marc that he started the fire: He was smoking to impress an acting buddy. Marc is ready to hear a confession of young love, but not that Justin's crushing on a girl named Lily! Meanwhile, Ignacio is sure that he's responsible, since he lied about hiring a professional electrician to work on the chandelier. Hilda asks Bobby if he burned down the salon for the insurance money and he's furious when she keeps insinuating that his family is in the mafia. He decides it's time Hilda meets his parents to clear up her suspicions about them, but the evening is a disaster. Every other word out of his parents' mouths seems to confirm Hilda's fears that they're mobbed-up. Hilda finally accuses them of the fire, leading to a round-robin of confessions as Ignacio and Justin admit they're probably to blame. Jimmy returns to apologize to Betty and to tell them the official findings: Someone left a curling iron on. Betty realizes she's to blame: "Oh my God, it was me!"
Daniel is enjoying his "no strings" relationship with Amanda, but he's annoyed by the constant presence of Tyler, who's been hired as an in-house model at Mode. Marc shows Daniel a gossip item about how Claire's been seen all over town with Tyler. Everyone thinks he's her boy toy! Daniel orders Tyler to stay away from his mother and Claire is forced to admit who Tyler is. Daniel feels betrayed, since this whole time he'd always taken his mother's side over his father's. "I spent my whole life thinking you were the victim. You're just as screwed up as he was!" Daniel calls Amanda, hoping for some company, but she can't make it. She's out with Tyler!
Somehow, Bobby smoothes things over between his parents and Hilda. Good thing, because he's proposing! "I've been carrying this around a couple of weeks. I lost you a long time ago, I don't want that to happen again. Hilda Suarez, I love you. Will you marry me?"