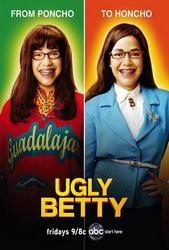 TV Info
---
Episode Premiere
February 10, 2010

Distributor
ABC

Genre
Drama, Comedy

Show Period
2006 - 2010

Production Company
Touchstone Television, ABC


Cast and Crew
---
Director
John Scott
Screenwriter
Brian Tanen
Main Cast
Additional Cast
Synopsis
---
No one takes Betty's fashion taste seriously, so when she decides that unknown designer Marisa is a find, she asks Marc to help her present the designs to Wilhelmina.
Meanwhile, when new roomie Helen ruins one of Amanda's dresses, Amanda is astonished when Helen whips up a stylish new dress on the spot. The two decide to launch their own fashion line. Amanda pressures Betty and Marc to present her, instead of Marisa, to Wilhelmina. Betty tells Amanda she's just not ready yet, but Marc claims he loved her work, making Betty the bad guy.
Wilhelmina likes Marisa's designs and approves her as one of Mode's "Designers to Watch." But then Marc takes all the credit. "The whole point of this was to prove to Wilhelmina that I have taste," Betty complains.
Daniel has banned male models from the show and the only way around it is for Wilhelmina to flatter him into thinking that a designer wants him to model. Daniel immediately starts practicing his runway walk. Claire's other son, Tyler, meanwhile, has shown up in New York. Before he can find her, Wilhelmina spots him and decides he'd be perfect for the Mode show! "I'm not a model," he tells her. "You are now," she says. As Daniel and Tyler are both being fitted, the tailor declares that the "final suit" would look better on Tyler. We can see that Daniel already resents Tyler, who's got a better build, better metabolism and a date with the model Daniel was hitting on.
Hilda complains to Bobby that her salon is turning into a money pit. "Sometimes I wish that it would get struck by lightning and I could collect the insurance money." We can see where this is going, especially when Ignacio starts futzing with the wiring to install his prize new chandelier.
Before the show, Marisa turns to Betty for her help, since she was the one who found her. They press her clothes and leave them in the salon, where they're singed by the fire that we totally knew was going to break out. Amanda insists that the dresses can still work and are maybe even better now. When Wilhelmina finds them doing some additional singeing backstage, Marc blabs that it's all Betty's fault and that he didn't even discover Marisa. But since Wilhelmina likes the dresses better this way, it's all worked out perfectly.
It looks like Amanda's fashion line is over before it's begun, as Helen is marrying some guy who's about to be deported. "Maybe you're a stylist," Betty suggests. "I am a stylist," Amanda declares. "Rachel Zoe can suck it, there's a new skinny bitch in town." Marc apologizes for "getting carried away" and we have to laugh when Wilhelmina takes credit for discovering Marisa.
Claire is shocked to see Tyler about to hit the runway. After the show, Tyler finds her and asks about that huge tip she left him. "Are you my mother?" She breaks down in tears as she admits she is. She offers to put him up at a hotel until they can talk. "I'm glad I don't have to see that guy again," Daniel mutters and we wonder how Claire's ever going to break the news to him!
Back at the Suarez's we wonder, along with Hilda, if Bobby was to blame for the salon fire. Or was it the faulty wiring? Or maybe was it Justin's new bad habit... smoking?