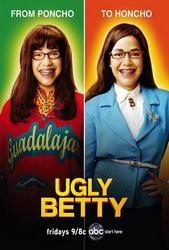 TV Info
---
Episode Premiere
February 03, 2010

Distributor
ABC

Genre
Drama, Comedy

Show Period
2006 - 2010

Production Company
Touchstone Television, ABC


Cast and Crew
---
Director
Victor Nelli, Jr.
Screenwriter
Gail Lerner
Main Cast
Additional Cast
Kristen Johnston as Helen
Chris Williams
Carlos Leon
Patricia Velasquez
Anjelah Johnson
Danielle DiVecchio
RuPaul Charles
Ali Ahn
Candi Shell
Jeff Hiller
Justin Bond
Hedda Lettuce
Varla Jean Merman
Synopsis
---
Betty is thrilled to have gotten a "Blobby" from the Black and Latino Organization of Bloggers and asks Daniel to present it to her.
Wilhelmina is horrified to find that a drag queen, called Wilhediva Hater is doing a cabaret version of her! Wilhelmina goes to see the show, where she is insulted to find Marc and Claire in the audience. "I will not be mocked by some low-rent drag queen," she announces and tells the impersonator, "Do it one more time and I will sue your fake ass off."
Daniel lands a photo shoot and exclusive interview with film director Diego Rodriguez. Betty's a huge fan who's seen all of his movies, but Daniel wants to do the interview himself, until Wilhelmina points out he's never seen a single Diego movie.
Amanda is upset that she's the only one at Mode who's never been promoted, so she talks Daniel into making her his assistant. To fill the receptionist spot, she calls on her old clubbing buddy Helen, who's so awful Amanda has no choice but to fire her. To lessen the sting, she asks her to move in, to Marc's horror!
When the "Bettyhead" from the BLOB shows up to interview Betty, Daniel embarrasses Betty by recalling how gauche and clueless she was when she first started at Mode.
"No one thought she'd last a day," he says, while Betty cringes. " If she'd be an editor today, I would have laughed you out of the room. To me, she'll always be my sweet little assistant."
Betty complains to Hilda, who reminds her all that was true and that maybe she's just being sensitive. But then, at the interview with Diego, Daniel tries to steal Betty's research book and present himself as a Diego expert. Betty decides to expose him as a newbie who's only watched the nude scenes. Daniel is furious at her for making him look bad and calls her "Bettyheads, "a tiny band of cat-loving weirdos."
The drag queen goes to Mode to beg Wilhelmina not to shut down the show but when Daniel can't seem to tell them apart, Wilhelmina hires "Wilheldiva" to impersonate her at all the charity events she gets dragged into. "I'd rather be hated than inconvenienced," she explains.
Ignacio urges Betty not to tell Daniel off, since he's her boss, so Betty vents against, without using names, on her blog. Of course, everyone quickly identifies Daniel as the jerk in question and Daniel chews her out: "I know you think you and your award are the center of the universe, but you have to wake up. It's not a big deal." She tells him not to bother presenting her with the award if that's how he feels. BLOB asks Wilhelmina to do it instead and she agrees, because she can send her impersonator.
Amanda tells Daniel off for being threatened by Betty's success. He realizes she's right and rushes to the Blobby Awards. He admits to the audience that Betty "intimidates the hell out of me" and that "she's done more in three and a half years than I've done in my entire life." The BLOBBERS were preparing to throw burritos at Daniel, but Betty ends up on the receiving end of most of them when she unwisely calls her fans "misfits and weirdos."
Through a mix-up, Wilhelmina is forced to put on her own "farewell" drag show as Wilhediva Hater! She brings down the house with a cover of "Maneater." She has such a good time that she gives the drag queen permission to continue the show -- and she's negotiated a raise! "And I may take one of those nights," she says as we smile to see Wilhelmina being nice (and having fun) for once.