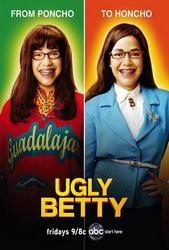 TV Info
---
Episode Premiere
January 20, 2010

Distributor
ABC

Genre
Drama, Comedy

Show Period
2006 - 2010

Production Company
Touchstone Television, ABC


Cast and Crew
---
Director
John Putch
Screenwriter
Cara DiPaolo
Main Cast
Additional Cast
Frank Whaley
Minglie Chan
Ryan Spahn
Tovah Feldshuh
Chip Zien
Sherry Skinker
Adam Rodriguez as Bobby Talercio
Synopsis
---
Marc is sick of balancing work for Wilhelmina and Daniel so when Amanda offers to help: "Why don't you let me work some of my manipulative magic on Mommy and Daddy Mode?" he gives her the go-ahead.
Betty plans a karaoke party to help bond with her neighbors but after she unknowingly lets two burglars (who'd claimed to have lost their keys) into the building, they all turn on her. To make it up to them, she asks her landlord to install electronic locks.
Marc's laptop was among the items stolen and he freaks out. One of this lost projects: His application for a senior editor position. Betty offers to help him recreate the project, but it's the same night as her karaoke party and the neighbors tell her she owes them! When she finally gets the karaoke machine started, she causes a blackout! Even worse, because of the electronic locks, no one can get out of the building!
Even though Bobby has pledged to be there for every step of Hilda's pregnancy, Ignacio tells her, "Can't you see that this Bobby character's not reliable?" She replies, "You're wrong. Bobby and I are going to be a family so you better get used to it."
Amanda tricks Daniel and Wilhelmina into taking a meeting with a couples counselor. After Wilhelmina storms out, the therapist tells Daniel that he's pinpointed the problem: Sexual tension! He advises Daniel to find a way to defuse it. We have to laugh when Daniel suddenly sees every move Wilhelmina makes as a come-on. We can't wait to see what happens when the blackout strands them both in an elevator. Daniel decides to kiss her, earning himself a punch to the face. After they agree there's no sexual tension, they decide that they can't keep sharing Marc.
Ignacio was watching a scary movie when the lights went out, so when Bobby comes in, he attacks him with a frying pan! Ignacio tells Bobby he's not fooling him with "this good guy routine." Bobby counters that that's exactly what Ignacio is worried about, because it'll mean that his family won't turn to Ignacio for help. Ignacio calls Betty to see if she's okay and when she says she could use someone who can pick a lock, Bobby talks her through the procedure. Ignacio admits that Bobby's been great, saying, "I guess I got a little jealous."
Meanwhile Betty and Marc journey to the office where they find Wilhelmina's note for him to order flowers and champagne for the new editor. We feel awful for Marc, but we're so happy when he learns he's the new fashion editor!
The whole family goes to Hilda's ultrasound and we're crushed when she's told the baby has no heartbeat. And we might tear up a little when Bobby tells her, "Baby, or no baby, we're still going to be a family."