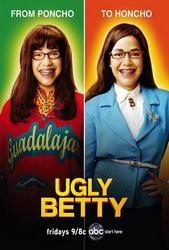 TV Info
---
Episode Premiere
January 06, 2010

Distributor
ABC

Genre
Drama, Comedy

Show Period
2006 - 2010

Production Company
Touchstone Television, ABC


Cast and Crew
---
Director
S.J. Clarkson
Screenwriter
David Grubstick, Chris Black
Main Cast
Additional Cast
Christine Ebersole
David Rasche
Alec Mapa
Nadia Dajani
Matt Newton
Nathanael Maini
Adam Rodriguez as Bobby Talercio
Synopsis
---
Now that they're back together, Matt and Betty are spending every waking moment together and Betty is feeling smothered. To get some space, she decides it's time to reignite his love of painting. She talks a gallery owner into checking out Matt's work at his storage unit, but she finds his paintings "uninspired." When Matt unexpectedly shows up, Betty shoves the gallery owner into the unit, where she does find some paintings she loves. "Great!" yells, Betty, who gives her permission to exhibit them, sight unseen.
Hilda still hasn't told anyone about the baby. As she tells Betty, "It's one thing to date a bad boy, it's another thing to raise a kid with one." She's worried that the rumors about Bobby being "connected" are true, but Betty encourages her to give Bobby a chance. When Bobby shows up with a huge TV, Ignacio is sure it's stolen and warns her, "Bobby's a thug, he always was and he always will be."
After Wilhelmina and Daniel force Denise out, Claire is furious that Daniel teamed up with her arch rival, and that they want to buy out Cal. Claire assures Daniel that Cal is a "good man," but when Tyler's adoption papers mysteriously turn up on Cal's desk (courtesy of Wilhelmina, who wormed it out of Amanda), she's not prepared for Cal's fury. We gasp when he worries that he'll have to give the kid a "cut" and wishes she'd just had an abortion. Claire tells him, "I want you out of this company and out of my life." He still won't take the buyout until she threatens to tell Tyler who his father is, including his net worth.
Betty tells everyone about Matt's exhibit, but the surprise is on her as well: The paintings are all from their post-breakup period and portray her as various man-eating monsters. Matt is horrified and walks out. She tries to explain that she just wanted to give him back his passion for painting. Matt tells her, "Maybe the problem isn't that I don't have enough passion, it's that you don't feel it enough." To prove she's passionate, Betty shows Matt entries in her diary that are about him, including a sonnet he inspired. He admits he needs to find a better balance in his life, so he's quitting Mode.
Outside the gallery, Hilda sees Bobby giving a cop money and she accuses him of bribery as well as stealing the TV. In earshot of Ignacio, we cringe when she blurts out that she's pregnant. Ignacio drops his glass and Bobby walks away without saying a word. But we're so happy when Bobby shows up with a gift for the baby -- and a receipt!
Meanwhile, Marc is trying to ditch Troy, his adoring one-night-stand from the Bahamas, who now considers him his boyfriend. Just as Marc is about to tell him to buzz off, Troy tells him, 'My first time out, I hit the jackpot. I'm just really lucky." Marc postpones the breakup, telling Amanda, "Don't judge. He worships me."