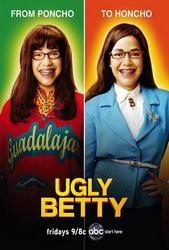 TV Info
---
Episode Premiere
December 11, 2009

Distributor
ABC

Genre
Drama, Comedy

Show Period
2006 - 2010

Production Company
Touchstone Television, ABC


Cast and Crew
---
Director
David Dworetsky
Screenwriter
Gail Lerner
Main Cast
Additional Cast
Synopsis
---
Ignacio is busy cooking for a Hanukkah/Christmas celebration (he's inviting his new girlfriend, who is Jewish), but the fried food makes both both Hilda and Betty queasy. They both head to the pharmacy to pick up a pregnancy kit, just narrowly missing each other, and Ignacio! The pharmacist hopes for the best for Hilda, but Hilda says, "This is one test I never fail."
Both women race home to take the test, but, in their rush, end up both thinking that the test with the positive result is theirs! There's no time to talk about it, though, company is here! And we can't believe it when Ignacio's date ends up being the woman from the pharmacy! She gamely pretends not to recognize the girls, but we can practically cut the tension with a knife, especially when Archie and Matt show up. Followed by Bobby, who nearly gives Hilda and Betty a heart attack when he says, "Who wants a baby?" (He's brought a replacement for the baby Jesus figure he stole from Ignacio's creche years ago.)
Hilda and Betty realize that only one of their tests is positive. As they try to figure out what to do next, Matt bursts into the bathroom and asks Betty, "Are you pregnant?" Hilda makes herself scarce while Matt confesses that, even though he and Betty agreed to a no-pressure, no-expectations relationship, he'd be thrilled if she were pregnant. Betty, however, is freaking out about ruining her career. Matt runs to get another pregnancy test and we grimace when he accidentally drops it for the entire group to see. D'oh! Betty takes it again and is relieved that it's negative, which means that Hilda is the one who's pregnant. As Hilda tries to figure out a way to break up with Archie, we're relieved (and a little sad) that Archie ends things himself. She's been so busy avoiding him since her tryst with Bobby, he got the message already. Bobby says he'll stop hanging around since it obviously makes Hilda nervous, but, without telling him about the test, she says he's welcome to drive Justin to school any time. And Betty tells Matt she also daydreams about their future together.
Wilhelmina is too busy making her daily conjugal (but very secret) visit to Connor in jail to get her spot back at Mode. While she's gone, Cal hires Denise, a hotshot Hollywood producer to replace her, ignoring all of Daniel's suggestions. Marc is ready to take the new editor down, Wilhelmina style, but Daniel tells him, "Denise isn't the problem, Cal is. As soon as the FBI finds out where Connor hid the money, we'll buy him out, fire Denise. No need for crazy schemes." With the FBI reporting that there's no money left, they have no choice but to turn to Wilhelmina to get the truth out of Connor. We can't believe they've played right into her hands!
Claire journeys, incognito, to South Dakota to meet Tyler, the son she gave up for adoption. She finds him tending bar and strikes up a conversation. They chat for hours and he gives her tips on what local spots she should visit. She's convinced he's happy where he is and decides not to tell him who she is. But with the $2,000 tip she leaves him, she's also left behind the letter from the adoption agency, the one addressed to her at Mode!