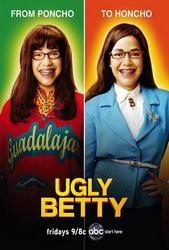 TV Info
---
Episode Premiere
December 04, 2009

Distributor
ABC

Genre
Drama, Comedy

Show Period
2006 - 2010

Production Company
Touchstone Television, ABC


Cast and Crew
---
Director
Victor Nelli, Jr.
Screenwriter
Sheila Lawrence
Main Cast
Additional Cast
Synopsis
---
Wilhelmina's last Mode photo shoot is set for the Bahamas and everyone is clamoring to go. Betty thanks Matt for helping rescue Daniel, telling him, "You're a good friend." So we groan when Matt invites Amanda instead. Betty has no idea -- until she catches them flirting in the elevator. "We're just getting coffee, coworker coffee, not 'I want to sleep with you' coffee," lies Amanda. Betty presses Marc for the truth and we're stunned when he spills everything: "Amanda has wanted to tap Matt for a while now... and they're probably going to hook up in the Bahamas."
Betty is furious and realizes (duh!) that she still has feelings for Matt. The last thing she wants to do now is go to the Bahamas but when Wilhelmina orders her to go, she has no choice! Justin tells her his idol Shakira will be there, under the alias, "Miss Lumpkin," and begs her to get an autograph.
In the Bahamas, Betty has her hands full corralling the models -- and trying to avoid Amanda and Matt, who are both alarmed to see her there. We laugh when Betty accepts Amanda's waterslide challenge for Matt's heart, but after Amanda admits Matt's not just another millionaire to her, we admire Betty's ability to let go.
When Wilhelmina learns that a rival has been named Editor in Chief of Isabella magazine, she disappears to brood on the beach alone. We gasp as Connor emerges from the surf, slow-motion James Bond style! He's alive! He and Wilhelmina waste no time reigniting their affair and she agrees to go away with him, after all, she's got nothing else left!
Back at home, Hilda is miffed when Archie refuses to go the Bahamas. So when Bobby stops by unexpectedly, we're not surprised when he and Hilda end up in bed together.
Matt and Amanda's first kiss is, surprisingly, lukewarm. We can't believe Amanda could be so selfless when she tells him, "If you still have feelings for Betty, now would be a really good time to tell her." And we whoop when Matt goes to plant a huge kiss on Betty!
Daniel decides to try to get back to his pre-cult self, even if that self was a "manslut." Marc, who's having no success finding gay men in the Bahamas, helps Daniel land a pretty blonde -- but Daniel's hookup is a fizzle! So we think it's kind of sweet when he and Amanda, who's blue after giving up Matt, end up together for some therapeutic sex.
After the models take off to Cuba, Betty saves the day by asking Shakira (whom she totally recognized, thanks to Justin) to be their cover star.
And bad news for Connor: Someone's tipped off the feds! There's no time for him and Wilhelmina to make their escape, so he forces her to pretend she's the one who turned him in. Now that her position is secure at Mode, all seems back to normal, except that Marc tells her he's taken a job as Daniel's assistant!