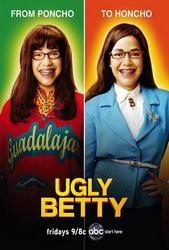 TV Info
---
Episode Premiere
November 27, 2009

Distributor
ABC

Genre
Drama, Comedy

Show Period
2006 - 2010

Production Company
Touchstone Television, ABC


Cast and Crew
---
Director
John Fortenberry
Screenwriter
Chris Black
Main Cast
Additional Cast
Synopsis
---
When Daniel brings the Community of the Phoenix into Mode staff meetings, Claire and Betty realize it's time to rescue him! Betty proposes doing an article on the group and Daniel agrees. Of course, she's really trying to learn their secrets, as Bennett, their leader, guesses. He rattles Betty by talking about her late mother, but she manages to catch a glimpse of the room that's only for the "Level 7" members.
Marc happens to overhear Nico plotting with Castelar! He tells Wilhelmina, who confronts Nico. But we have to hand it to Nico for her quick-thinking lie, that, without enough money for Castelar, she agreed to "sweeten the deal" by romancing him as well. We can't believe it when Wili accepts Nico's explanation and orders Marc to get out.
Matt freaks out when Amanda mentions Bennett: He calls to warn Claire that he was once part of a different group led by Bennett that also promised to reunite people with their dead loved ones. "By the time you get to Level 7, they have you on some really strong stuff. It got really scary. Someone died," Matt tells Betty and Claire, who are understandably alarmed, especially since Daniel is planning to go to Level 7 tonight!
While Matt barges into the Phoenix headquarters to create a distraction, Amanda, Betty and Claire sneak in to find Daniel. We laugh when Amanda and Claire end up stuck in a grief counseling session, but are moved when Amanda says she no longer hates Claire for killing her mother. Whew, that was therapeutic!
Meanwhile, Betty searches for Daniel, but he's not there. Matt (who's been arrested for disturbing the peace), advises them to look at Molly's apartment. Amanda stays behind to bail Matt out -- with Claire's money, of course!
Betty and Claire arrive at Molly's place just as Molly appears to Daniel. We're relieved and a bit choked up when Betty speaks through "Molly" to tell Daniel that this isn't real, and that he's got to let her go. Daniel realizes it's time to say goodbye to Molly, so he gives her a goodbye kiss, which we know is really with Betty! Daniel tries to talk Natalie out of going with Bennett, but she won't listen to him.
Wili opens her home safe in front of Nico to reveal a diamond necklace she'd sworn never to sell, but now the time has come. We're not surprised that she's laid a trap for Nico. Now that she knows the combination, Wili catches her opening up the safe, but the necklace is gone. "There never was a murder, was there?" Wili guesses correctly.
"I thought you'd be proud of me, because after all you did to screw me up, I'm still my mother's daughter," Nico says of her deception. Wili tells her she never wants to see her again.
We wonder how long the truce between Amanda and Claire will last. Like, Amanda keeping Claire's secret about the son she gave up for adoption.
Together, Betty and Daniel pack up Molly's apartment and she confesses that they did kiss. "Sort of. You kissed me around the eyebrow. I'm a lot shorter than Molly," she laughs and we're so glad everything is back to normal!