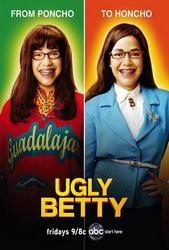 TV Info
---
Episode Premiere
November 06, 2009

Distributor
ABC

Genre
Drama, Comedy

Show Period
2006 - 2010

Production Company
Touchstone Television, ABC


Cast and Crew
---
Director
Paul Holahan
Screenwriter
Cara DiPaolo
Main Cast
Additional Cast
Synopsis
---
Wilhelmina is being honored for charitable work for Tibetan orphans, which she knows nothing about as it was only a tax deduction dreamed up by her accountant! And now she has to host the whole shebang!
Betty is thrilled to get an invite and decides to ask Matt to be her plus-one. But just when we think he's going to ask her, he says he's bringing a date. We were worried it would be Amanda, and it is!
Daniel hires Natalie as his new assistant and now she's constantly at his side, even on a supposedly solo lunch with Betty. Betty asks Daniel to be her plus-one, but he's already asked Natalie.
Castelar, the private detective, shows Wilhelmina and Nico a photograph of a bloody handprint: The blood, he says, is Johnathan's and the print is Nico's! But he's not interested in justice: he wants a payoff!
Willy asks Marc to dig up dirt on the detective, leveling with him that she needs the money to save Nico, who murdered her boyfriend. He finds Castelar (who is married) with a dominatrix, but it's the wrong Castelar! Now Wilhelmina has no idea who's blackmailing her. But we do! We're shocked to see it's her own daughter, who's in cahoots with "Castelar," who is really the very-much-alive Jonathan!
Amanda feels bad about going with Matt, so she tries to set Betty up with a date by placing an ad on Craigslist for guys who are into "plus-size chicas!"
We gasp along with Daniel when he finds Claire and Cal kissing! But it gets worse when he learns that their affair is nothing new. He tells Natalie about it and she classifies everyone at Mode as a source of drama. Claire asks Betty to intercede but Daniel doesn't want to talk to her. Betty is shocked when Daniel echoes Natalie, telling Betty, "I don't need this drama in my life!'"
Betty decides to go to the party, even if she doesn't have a date or a dress. Justin offers to alter one of Hilda's, boasting, "This is my Project Runway moment!" And wow, we can't believe how good Betty looks in Hilda's tiger-print dress!
At the party, Nico tells her mother she's turning herself in. "No daughter of mine is going to prison. I'll have him killed," Wilhelmina says. In her speech to her guests, Wilhelmina sends a covert message to Nico: "I will not rest until I've raised enough money for all those children, because that's what I would do for my own child."
Amanda is about to confess to Betty that she's Matt's plus-one when we see Matt enter with someone else entirely! Matt tells Amanda that he thought it wasn't fair that the support staff didn't get invited, so he had six plus-ones! Matt compliments Betty on her dress and she admits she's there alone. We're so proud of her and can see Matt is, too, when she hits the dance floor by herself.
Betty makes peace with Natalie by telling her she's happy Daniel has found someone he can trust. But we can see Natalie's a bad influence!
Cal thinks that Claire had their love child aborted, but we know better! Claire decides it's time to find their son, whom she she gave up for adoption.