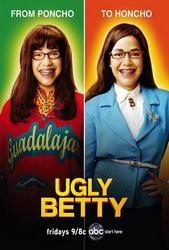 TV Info
---
Episode Premiere
October 30, 2009

Distributor
ABC

Genre
Drama, Comedy

Show Period
2006 - 2010

Production Company
Touchstone Television, ABC


Cast and Crew
---
Director
Wendey Stanzler
Screenwriter
Brian Tanen
Main Cast
Additional Cast
Synopsis
---
Betty is slammed with work and asks Wilhelmina for an assistant. Unluckily for both her and Marc, Willy assigns Marc, who's been asking too many probing questions about Nico's boyfriend. Marc can't stop sniping that Betty got the promotion over him, so the two of them march into Daniel's office to hear why he chose Betty. Wihelmina tells them the blunt truth, it was a coin toss! Marc immediately begins calling Betty "Tails," and insists that she's not better than him, just luckier.
Of course, he finds a way to make Betty's day worse by suggesting that, for her feature on the 10 worst jobs in New York, she actually do the jobs and wear the humiliating outfits, the worst of which is a hot dog suit! But we cheer when she finally acts like an editor and tells him to don the matching bun outfit: "Suit up, because I'm the boss, and you're the bun." He complains that he turned down a job at Vogue, just as the man he was going to work for walks by! Considering that Marc's been so awful to her all day, we're doubly proud of Betty for convincing the Vogue editor that she's Marc's assistant, not the other way around. She even shares her byline with Marc. We can't believe it when he goes to hug her in thanks, but laugh when he stops himself, just in time.
We can see Daniel's acting like his old, pre-Molly self when he hires a statuesque new assistant who introduces herself as "Lexie, like sexy." She ends up being terrible at the job, but after he accidentally touches her on the breast and Claire tells him, "If you grabbed, grazed or looked at that boob, you cannot fire her!" or they'll get sued.
Daniel agrees to go with Natalie to a guru who preaches an "elevated relationship" with the people they've lost. Daniel is skeptical that "honesty heals, but the guru urges him to be honest just when he thinks he shouldn't. Daniel goes back to the office and tells Lexie that he only hired her because she was hot. While Claire gasps in horror, he tells her she's a terrible assistant and that she should really be a model. Claire can't believe it when Lexie is thrilled at the idea and neither can we!
We want to scream "No!" when Hilda texts a topless picture of herself to Archie, and sure enough, it goes out to his whole mailing list! He's furious until the sexy photo boosts his rating. We love him for telling the public, "The voters will have to accept the fact that my girlfriend is sexy."