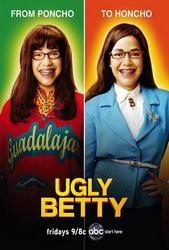 TV Info
---
Episode Premiere
October 23, 2009

Distributor
ABC

Genre
Drama, Comedy

Show Period
2006 - 2010

Production Company
Touchstone Television, ABC


Cast and Crew
---
Director
Victor Nelli, Jr.
Screenwriter
Abraham Higginbotham
Main Cast
Additional Cast
Synopsis
---
Betty's job is in jeopardy after the UN fiasco, so we're relieved when a huge fashion scoop lands in her lap: A big-name designer is switching from Dolce & Gabbana to Gucci! She talks the designer, Evan York, into meeting her for dinner and giving her an exclusive. and picks her father's restaurant, Frankie's, as the perfect venue.
Unfortunately, Marc, who's still fuming over not getting promoted himself, gets wind of her plans and vows to sabotage her comeback. He doesn't know who she's meeting, but he knows when and where. Wilhelmina (who's in Bermuda on Connor's trail) advises him to look for Betty's Achilles heel, which we all know is Matt. "That psychedelic misfit toy is living my dream," Marc tells Amanda, so she agrees to give Matt some much-needed fashion advice. Matt agrees to take the advice (over dinner at Frankie's, natch) seeing as Wilhelmina just called him a fashion ignoramus. Marc's plan to ruin Betty's dinner works all too well: She's so distracted by seeing Matt with Amanda that Evan leaves in disgust. And gives the exclusive to Elle!
Betty chews out Matt, saying how hard she's worked for her promotion and that he's ruining it all. We remember why we used to like Matt when he admits, "You're right, I am awful to you. I can't stand seeing you so happy when I'm in so much pain." Along with Betty, we say, "Aha!" when he admits he still has hopes of fixing their relationship! But while we're smiling over the shy grins Matt and Betty are now exchanging at work, we're thinking that Amanda might have designs on Matt herself. After all, she did advise Betty to "move on" rather than give Matt a second chance.
Meanwhile, Connor surprises Willy in Bermuda and tells her he still wants her to go away with him! "I may be a crook, but my feelings for you were real," he insists. He plants a kiss on her and leaves with a smug smile. We can't help but notice that she doesn't mention the incident to Marc, who thinks Bermuda was a dead end!
Daniel's been skipping all meetings of the support group he's supposed to be attending, but finally is talked into going by Betty. He's about to bail again when he's shamed into staying by Natalie, a woman whose boyfriend OD'd two months ago. She gives him some great advice that he clearly needs: "When you lose someone, you should do one thing every day that makes you feel totally alive," so they sneak up to a rooftop pool and dive in together!
We admit we're saps, but we cry when she convinces Daniel to talk to his dead wife. He admits to Molly, "I've been so angry, because I didn't want you to think I didn't care." We can see that Natalie (who's heavily made-up and tattooed) is so not Daniel's type, but right now she seems really good for him. The next day at work, Daniel is actually smiling and even tells Claire, "I feel a little more alive today."