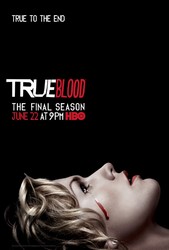 TV Info
---
Episode Premiere
September 11, 2011

Distributor
HBO

Genre
Drama

Show Period
2008 - 2014

Production Company
Your Face Goes Here Entertainment


Cast and Crew
---
Director
Scott Winant
Screenwriter
Raelle Tucker
Main Cast
Additional Cast
Synopsis
---
Marnie takes hold of Lafayette's body and uses it to gain Jesus' magic and then kill him. Lafarnie then takes off to get revenge on Eric and Bill, ultimately binding them with silver to a pyre in order to burn them to death. As Eric and Bill burn, Holly, Sookie and Tara chant a spell and call upon the spirits of the dead to help them. Marnie's sister and Gran show up. Gran pulls Marnie's spirit out of Lafayette's mouth, then they have a come to Jesus moment with Marnie's spirit and "Ghost Whisperer" her off to the other side. Um, that was weird and really kind of a stupid add-on to last week's conclusion.
Lafayette ends up being alright (physically), which is good because he's one of the best characters and killing him off would be unacceptable. He can't really deal with killing Jesus, but Jesus appears to him to say goodbye and that he forgives him.
Over at Merlotte's, Tommy is laid to rest and Sookie gets her job back. Terry's marine buddy Scott Foley also comes to town - surely for nefarious purposes. And after the spell that brings the dead spirits around is cast, Rene shows up to tell Arlene that Terry is bad news and she should run away from him.
Jason confesses to Hoyt about what he did with Jessica and gets punched and kicked for his troubles, which - what were you expecting, Jay? That night, Little Jessica Riding Hood shows up and she and Jason have mad sex on the couch. She just wants to be friends with benefits and he reluctantly agrees. When she leaves, Vampire Reverend Newlin shows up.
Meanwhile, in Boring Love Quadrilateral Land, Alcide has thrown his hat in the Sookie ring. Oh, what is a girl to do with all these beastly men clamoring for her affections? Well, she feeds Eric and Bill at the same time after their crispy critter debacle and then chooses neither of them. But Debbie comes for Sookie with a shotgun and as Tara leaps to save Sookie, she gets shot in the head. So Sookie awesomely gets the gun and blows Debbie's brains all over the kitchen stove.
And finally, Nan shows up for Eric and Bill, offering them a spot to come over to her rebellion against the AVL and the Authority. But as Nan starts threatening Sookie, Eric and Bill quickly dispatch her guards and Nan herself. Well done, fellas.