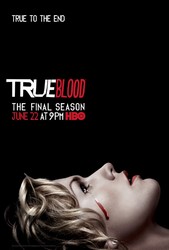 TV Info
---
Episode Premiere
August 21, 2011

Distributor
HBO

Genre
Drama

Show Period
2008 - 2014

Production Company
Your Face Goes Here Entertainment


Cast and Crew
---
Director
Romeo Tirone
Screenwriter
Brian Buckner
Main Cast
Synopsis
---
Sookie got shot, and now she wants to have a threesome -- or something like that. In an extended dream sequence, she explores the possibility that maybe she doesn't have to choose between Eric and Bill. As usual, Alcide comes in a distant third in the Sookie Sweepstakes, but he was kind of busy this week, what with screwing up Tommy and Debbie's lives and all.
Sam, ever the optimist, decides that he, Luna and Emma need to escape from stalkery Marcus, the head werewolf and Luna's ex, with a little camping trip. It's all very sweet and sun-dappled. Sam even (secretly) shifts into a bunny so Emma can pat one.
Marcus is the jealous type, so while his ex and daughter are running their fingers through Sam's hair, he's decided it's time to scare off the competition, in hopes that Sam will drop Luna like a hot potato. Sam is camping, so Marcus gives the message to Tommy that he wants to talk to his big brother. Obviously, since Tommy is a petulant mouthbreather, he decides instead to shift into his brother and go see the were-bully himself. It's kind of sweet actually, especially considering his earlier claim that he was on his way out of town, presumably his penance for derailing Sam and Luna's courtship.
Sam Trammell's Tommy-doing-Sam voice is really terrific, but it doesn't end well for Tommy. He gets the stuffing beat out of him by a pack of werewolves, much to the chagrin of Alcide, who was present because Marcus asked him to tag along and look menacing.
Hoyt asks Jason to return a bunch of stuff to Jessica in a box that he has not-so-lovingly labeled "For You, Monster." Jason is hesitant to comply since her blood mojo is still making him all tingly in his bathing suit area and he doesn't want to betray his best friend. In this case, though, the thought doesn't count, because as soon as he lays eyes on his ginger siren, his walnut-sized brain - and other things - are no match for Jessie's fang-tastic pheromones, and by episode's end, the cutest couple in all of Bon Temps is scrumping in the bed of a pickup. But don't quote me on that last part; as Jason would say, I'm just "parrot-phrasing."
Lafayette no longer thinks he is a Creole woman named Mavis who likes to sing lullabies in French to Mikey, who she thinks is her child. It's interesting that this week's episode pairs Andy and Debbie, two characters with very little in common, other than their respective struggles with V addiction. Andy uses right before the face-off with Lafayette/Mavis at Hoyt's house, leaving him almost completely incapacitated by hallucinations. Fortunately, Jason and Jesus are able to coax Mavis from the house and, then, Mavis from Lafayette.
Debbie, on the other hand, has fallen off the wagon, which is more troubling, considering her murderous past that included one hell of a chip on her shoulder about Sookie, the woman for whom her fiance abandons her periodically. So far, though she seems assuaged by Sookie's reassurances of Alcide's love for her, enough at least to help Sookie stop Bill's planned assassination.
It's a perfect place for Antonia to flex her witchly muscles. She has a devious master plan: Eric, who she has compelled, will kill King Bill at the festival in an orchestrated display of mayhem, co-starring Eric's fellow Louisiana vampire sheriffs. If she is successful, it will play out live on television and will recall Russell Edgington's deboning of a news anchor, the very event that Nan Bouvier Flanagan is hoping to make people forget with this event.
The sheriffs do their thing, offing in one fell swoop much of King Bill's security detail, and just as Eric heads toward the dais, the screen fades to black.