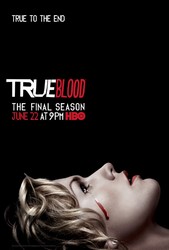 TV Info
---
Episode Premiere
August 14, 2011

Distributor
HBO

Genre
Drama

Show Period
2008 - 2014

Production Company
Your Face Goes Here Entertainment


Cast and Crew
---
Director
Daniel Minahan
Screenwriter
Alan Ball
Main Cast
Synopsis
---
Summoned by Antonia's kill-every-vampire-within-a-nearby-radius spell, Jessica is about to walk into the sun and meet the truth death. Luckily, Jason is nearby, having been alerted to the situation via the blood he exchanged with her earlier.
Bill, ever the practical king, asks Jason to overlook the fact that Jessica killed a human guard in her attempt to meet the sun. Jason agrees, in exchange for Bill's silence about the guard Jason himself injured on his way in. In a sweet and funny bit, Jason tenderly tells Jessica to think about good things as he re-chains her with silver, like hot summer days and barbequing.
Sam heads over to Luna's to see if he can do some damage-control after Tommy's episode. We'll add the following to our list of Lines That Would Be Laugh-Out-Loud Absurd If Not For the Show's Context: "I can forgive him for killing our folks, but I can't forgive him for what he did to you." Luna is smitten.
essica tells Hoyt that she's not cut out for a relationship, causing him to dissolve into tears and say alarming things like, "If I can't have you I don't want to be alive. I'll die without you, I will." To which Jessica responds, "Then die!" and smashes his head in. She races to Jason, who's sitting in his truck and is all too eager to experience the delights of a night with her. Thankfully, it's a dream sequence and Hoyt is left unharmed. But when she actually does break up with him later in the show, Hoyt, far from crying for pity, is instead on the warpath. In a savage line about virgins not heard since "Clueless," Hoyt tells her he deserves someone who's not going to be a virgin for eternity.
Antonia isn't impressed that only one vampire died, though Tara seems to be. She seems to be heading on a Fellowship of the Sun trajectory, but given that she was held hostage by Franklin and almost made a vampire bride for eternity, we can sort of get where she's coming from. Bill phones up and proposes a meeting. After some flattery, Antonia agrees.
Tommy is back to his old ways and has stolen makeup and clothes to approximate Maxine Fortenberry. Draped in her skin, he meets with Paul McClatchy about selling her land. In a supreme comedic performance by Fortenberry, she orders two Miller tallboys with two shots of tequila and hot sauce. "Really?" Arlene asks. After some haggling, Tommy agrees to the total sum of $5,700 for the entire plot. In other words, he's just sold off Fortenberry's land and house without her knowledge. Joke's on him, though: Forgetting the effects of skin-walking, Tommy falls to the ground, vomits and passes out in the woods after he gets his check.
Finally, the battle scene. Both Bill and Antonia have brought backup. After Antonia spurns his offer of a peaceful resolution, both supernatural sides let loose. It appears as though Pam will finally get to rip Tara's head off but Bill forbids it. "You know why," he tells Tara. Pam is not pleased. While Antonia casts yet another spell on Eric, forcing him to kneel before her and retract his fangs, Sookie is shot in the stomach and slumps next to a gravestone. Bill can't help her because he's just been silvered.