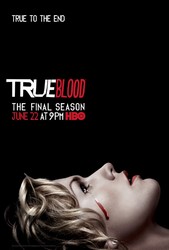 TV Info
---
Episode Premiere
July 31, 2011

Distributor
HBO

Genre
Drama

Show Period
2008 - 2014

Production Company
Your Face Goes Here Entertainment


Cast and Crew
---
Director
Jeremy Podeswa
Screenwriter
Raelle Tucker
Main Cast
Synopsis
---
Eric and Sookie have taken their make out inside, but it doesn't last long before Bill bursts in and breaks it up like the love-hating fangblocker that he is. Eric, learning that Bill is his king, kneels contritely and calls him "my liege." Bill registers extreme surprise; he and Sookie commence spatting."If you ever loved me, you won't hurt him," she whines.
Sookie pleads with Bill not to hurt him but it's "vampire business" and he tells Sookie to butt out. In the basement prison, Eric sees Pam with her face peeling off and blood coming out of her eyes. Not her best day. She tells Eric he's a Viking vampire and shouldn't bow to Bill Compton or anyone else but he's skeptical. He doesn't want his old life back. He's changed. Bill proudly reports that he has Sheriff Northman and the witch in custody. He requests a warrant to impose the true death on Eric.
Arlene and Terry wake up to flames engulfing their bedroom. Baby Mikey is missing and Arlene actually seems concerned. Terry makes a move to run in the burning house and save him when the house explodes. She sees her children safe and sound in the front yard.
Jesus and Lafayette are eating some food that does not look like tacos. Jesus asks the abuelos for protections. His less than warm-and-fuzzy grandfather tells him he'll need to make a sacrifice in order to get his help. Tara's girlfriend comes banging at her door.
Sookie calls Jason for help with Bill. She seems like a pretty bad sister to ask for Jason's help without knowing he's been serially raped by a bunch of were-panthers and who knows what will happen to him with the coming full moon.He tells Sookie the whole story and getting bit by his psycho ex-girlfriend, Crystal. He advises Sookie to get out quick because he doesn't know what will happen when his inner cat comes out.
Eric kneels before King Bill and admits to consorting with his human. He admits to being a Barbarian thug who disrespected authority before his memory was erased. He accepts his sentence of the true death, asks for some relief for Pam and tells him to tell Sookie.
Bill set Eric free so he can run to Sookie and they can make out in the woods. Eric and Sookie are rolling around in the woods at night under a full moon.