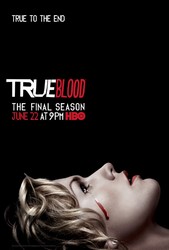 TV Info
---
Episode Premiere
July 03, 2011

Distributor
HBO

Genre
Drama

Show Period
2008 - 2014

Production Company
Your Face Goes Here Entertainment


Cast and Crew
---
Director
Scott Winant
Screenwriter
Brian Buckner
Main Cast
Additional Cast
Synopsis
---
Eric decides to make himself at home in Sookie's house. He fixes a broken door, stocks the fridge and builds himself a hide-a-away for the day time. Sookie is a little annoyed with Eric's presence and decides to head over to Bill's office, where she finds him fangbanging his assistant, Katerina. The moment she walks in, Bill stops what he's doing and she has to watch him pull himself together...
She tells him about Eric trying to take advantage of her and how she's still hurt by his betrayal. Sookie then goes onto to ask how he got the crown and we get a sweet flashback to the 1980's! Bill is in London and he's decked out like a punk rocker. Nan Flanagan is spotted asking Bill to join the AVL.
Bill calls Eric into his office to tell him about the witches that are taking over Bon Temps. They argue and flashback again to the night of Bill and Sophie-Ann's fight to the death. Sophie-Ann takes Bill down and a fleet of AVL officers appear out of nowhere and and gun her with wooden bullets and she explodes.
In Hotshot, Jason wakes up to find Timbo licking his head. He discovers that he's been tied to the bed and asks Timbo to free him but Felton comes into the room. Crystal and her brother-lover are back in town, and they want to have a threesome with Jason.
Felton has Crystal on V, so she tries to seduce Jason, even though he's still thinking about Timbo licking his head. It's Crystal's job to procreate with a werepanther, but Felton is "shooting blanks" so they have to turn Jason into a panther by biting him and have group sex in order to have werepanther babies.
Andy shows up in Hotshot to get some V. Looks like he is using again!
As Hoyt, Jessica and Pam leave Fangtasia, Hoyt gets angry at a protesting group of Fellowship of The Sun Worshippers and ends up getting beat up. Jessica offers to help him heal with her vamp blood but he tells her he doesn't need it.
Jessica gets so upset and runs off to Fangtasia to get with the guy who was flirting with her the night before.
Sookie walks in on Jessica draining him in the bathroom and Jess tells her that Bill is heartbroken.
We spot Sam acting especially happy because of his new friend, Luna. She comes to visit him at Merlotte's but Tommy doesn't seem very happy to see her. He follows Sam to a shifter meeting and overhears Luna tell everyone that she's a skin-walker, the Native American version of shifters that can change into any animal, even humans.
Sam finds Tommy down, and they have a conversation about their relationship.
Marnie now wants to bring people back from the dead. During a coven meeting, she is about to announce who she will be necromancing next when Eric interrupts. Eric love-bites Marnie and threatens to kill Tara and in response, the coven starts chanting in Latin. Lala joins in and things really start to heat up.
Lala's abilities allow Marnie to be possessed by something seriously scary. She casts a spell and her face turns into a gorgeous woman and fireballs spew from her eyes. Eric runs out of the coven as quickly as he can!
Sookie's driving back home when she sees a half-naked Eric, who has no idea who she is or who he is. The only thing that resembles who he was is that he comments on how good Sookie smells.