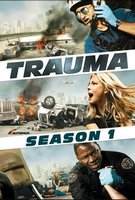 TV Info
---
Episode Premiere
April 12, 2010

Distributor
NBC

Genre
Drama

Show Period
2009 - 2010

Production Company
Universal Media Studios, Film 44


Cast and Crew
---
Director
Michael Waxman
Screenwriter
David Schulner
Main Cast
Additional Cast
Richard Kind
Scottie Thompson
Synopsis
---
Marisa has a sex dream about Rabbit, until he wakes her up and she is shaken back to reality. In the helicopter Rabbit talks about Dr. Joe being fired, but Marisa is freaked out about her dream and wants as little contact as possible with Rabbit. Glenn and the rest of the trauma team wonder who is taking Dr. Joe's place and Nancy knows, because it's her father, Dr. Carnahan. Dr. Carnahan takes Nancy aside and asks for the paramedics to respect him and says he's glad she's working with him in the hospital.
A local news van follows a cop chase, but they've forgotten to take the satellite tower down from the van and it causes them to crash. Glenn and Nancy are first to arrive on the scene and tend to the news crew. The cameraman has been thrown through the windshield while the driver, Doug, is conscious. Rabbit takes the cameraman and Nancy takes the newswoman into the ambulance.
Boone and Tyler arrive on call at an upscale apartment to visit a regular patient, who believes he is dying (again). Boone tells Ira that he is not dying today, even though Ira feels like he can't breathe. Ira still wants a ride to the hospital and Tyler complies, since Ira is, after all, their "frequent flier." At the hospital Marisa continues to act weird around Rabbit because of her dream, so she decides to ask Tyler if he's ever had a sex dream about Boone. Tyler tells her not to worry about it; it's only natural to have those kinds of dreams about your partner.
Nancy brings the newswoman to the hospital. Dr. Carnahan stops her because her paperwork is incomplete; he orders Nancy to get the information correct before she continues on her route. Boone and Tyler answer a call at an Islamic temple because a woman, Ayesha, is having fainting spells, but her husband Farooq doesn't want the paramedics to touch her during the prayer. His daughter Salma explains this to Boone and Tyler, so they wait. Meanwhile, back at the hospital, Glenn can't believe that Dr. Carnahan is being so hard on Nancy, but she's used to it.
Rabbit visits Ira, who still believes he's dying. Rabbit checks him out and tells him he seems fine. Rabbit tells Ira that he and Nancy are together, and invites Ira out for a drink, but Ira declines because he thinks he is going to be dead. Dr. Carnahan calls Rabbit over to scold him for talking to patients -- and Rabbit thinks Dr. Carnahan is being hard on him because he's dating Nancy. Apparently, Dr. Carnahan had no idea that Rabbit and Nancy were romantically involved -- until now.
En route to deliver an injured construction worker to the hospital, Marisa tells Rabbit about her sex dream. Tyler and Boone wait for the Islamic prayer to end, but are called in because Ayesha has stopped breathing. Farooq is having a hard time watching the paramedics work on his wife but Tyler and Boone try to respect the religious boundaries by keeping Ayesha's skin covered. Tyler tells Salma that her mother has been having seizures, not fainting spells.
Ira is back at home and makes another phone call for paramedics to check on him. This time Glenn and Nancy come to help him; Ira still thinks he's dying and wants to go to the hospital. Glenn softly scolds the man for calling paramedics when there really isn't an emergency. Rabbit tells Marisa to forget about the dream and move on because it's getting in the way of the work -- and she lets him know that the dream sex was horrible anyway.
At the hospital, Dr. Carnahan is gets on Diana's case about not reading a patients' chart correctly. Glenn observes this and doesn't think it's fair for Dr. Carnahan to treat the hospital employees this way. Boone takes Ayesha to the hospital and Farooq and Salma watch in horror as the doctors work on her. Boone and Tyler quickly usher them aside.
Glenn talks to Diana, who is upset over her interaction with Dr. Carnahan. Glenn tells Diana to stand up to Dr. Carnahan, but she doesn't think she can. A man is kicked in the face by a horse and Rabbit picks him up. On the way to the hospital, Dr. Carnahan orders Rabbit to use a device that Rabbit says they no longer use because it's caused complications in the past. Dr. Carnahan orders Rabbit to keep the patient's airways clear.
Boone and Tyler talk to Dr. Carnahan about Ayesha; the treatment at the hospital is not consistent with her beliefs. Dr. Carnahan doesn't quite understand what the paramedics want. Tyler and Boone want Ayesha to be treated in a private room where she can get proper care without disrespecting her religion. Tyler says that if the hospital doesn't comply with this, they could be dealing with a lawsuit. Dr. Carnahan doesn't seem to care and walks away.
Later that night, Ira is watching television, reading books and playing games on the computer. He calls 911, but decides not to ask for an ambulance. Unfortunately this time he actually needs one; he coughs up blood, passes out on the floor and dies before being able to call back. Rabbit delivers the patient who was kicked in the face to the hospital and Nancy watches as her father struggles to find the patient's vocal cords. When Dr. Carnahan orders the wrong procedure, Diana stands up to him and so does Nancy.
Nancy says the patient needs a retrograde intubation; Dr. Carnahan doesn't know how to do that, but Diana does -- she's done it once before on a cadaver. Dr. Carnahan orders her to do the procedure. Nancy rushes to help, and although her father orders to leave, she stands by to watch. Diana is successful and Dr. Carnahan tells her "good job." Meanwhile Farooq thanks Boone for helping his wife and respecting their religion.
Marisa assures Rabbit it was only a dream, so it doesn't matter if he was "bad" in bed. Then she confesses: it was an amazing sex dream. Rabbit is satisfied with this answer. Later that night, Ira Finkle's body is taken in and all the paramedics decide to meet for a drink.
Nancy speaks with her father and tells him he is treading on everyone's toes and that he froze on that patient. Dr. Carnahan says he is disappointed in Nancy for dating Rabbit, but Nancy tells him he doesn't get to choose when he wants to be a father and when he wants to be her boss. Nancy is upset because she kept her mouth shut all day out of respect for him. She leaves him with an ultimatum: start treating her like a professional or they can't work together. Dr. Carnahan doesn't think they'll be able to work together because she'll always be his little girl.