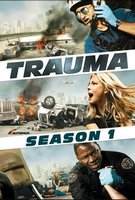 TV Info
---
Episode Premiere
April 05, 2010

Distributor
NBC

Genre
Drama

Show Period
2009 - 2010

Production Company
Universal Media Studios, Film 44


Cast and Crew
---
Director
Michael Waxman
Screenwriter
Randy Huggins
Main Cast
Additional Cast
Scottie Thompson
Steven Anthony Jones
Synopsis
---
A cheerleader at a high school basketball game takes a nasty spill and Nancy and Glenn are called to the scene. The girl's neck is severely fractured; Nancy calls Dr. Joe for assistance and asks his permission to do a rapid sequence intubation. Dr. Joe replies that she's the medic on scene and use her best judgment. Nancy does the intubation and safely brings the girl, Jasmine, to the hospital. Diana doesn't like when she hears Nancy's over-stepped her bounds again, but she might have just saved the young girl's life.
Tyler's toying around with his guitar when Boone crashes his party of one. His place is being fumigated for termites and he needs a place to stay. Boone meets Tyler's friend, Asher. Boone crashes on the couch while Asher and Tyler abscond to the bedroom and pretend to have sex to make Boone uncomfortable -- which works. Meanwhile at the hospital, Dr. Joe tells Jasmine's mother about her daughter's status; Jasmine's injury is serious and the worst that can happen is complete paralysis. As of now, she is doing well and they should hope for the best.
Rabbit and Marisa come to the aid of an older man, Vaughn, who underwent surgery for nasal polyps, but did not continue to take his antibiotics because his son ran out of money for the prescriptions. Rabbit believes the man has an infectious disease. Vaughn throws up blood and some gets in Marisa's eye -- she immediately takes the precautionary steps to disinfect herself. Rabbit says the nursing home's administration may get a call from the hospital to be put under quarantine because of Vaughn's infectious disease.
Rabbit and Marisa take Vaughn to the hospital, he most likely has a severe case of meningitis. Diana tells Rabbit and Marisa that she is going to have to quarantine them. Later, Diana checks in on Jasmine, who doesn't think she is going to be able to walk again, but Diana tries to tell her to think positively. Then she realizes Jasmine is in spinal shock and needs nerve surgery right away. She pages Dr. Joe.
Rabbit, in quarantine with Marisa, is surprised at how calm she is about possibly having meningitis. As he walks her through what bacterial meningitis does to the body, they see a bloody Vaughn being rolled away on a stretcher. Dr. Joe delivers bad news to Jasmine's mother: Jasmine is going to be paralyzed from the neck down. Mom isn't happy with this news, and wants to put the blame on someone -- like the paramedics who were at the scene. She decides to get a lawyer.
Tyler teases Boone about being uncomfortable with Asher the night before. Boone doesn't want Tyler to have any sex at all while he's there, but Tyler's not going to adhere to that request (just to press Boone's buttons). At a local strip club a man accidently gets kicked in the head during a pole dance. Tyler, as head medic, takes care of the man, while Boone observes the temptations around him. Tyler tells the man he has a blood clot and should come to the hospital, but the man doesn't want his wife to know he got a nosebleed at a strip club, so he decides to get in his car and crash it into a mailbox as a cover-up.
At the hospital, Glenn and Nancy are summoned because of what happened to Jasmine. When Nancy rushes off to talk to Dr. Joe, he won't discuss anything with her. Glenn asks Diana about it too; she tells him the hospital is being sued by the state because the medics made a mistake -- and she is involved because of Nancy. Glenn takes Nancy's side and he and Diana get into a fight about the boundaries between hospitals and medics.
Dr. Joe tells Rabbit and Marisa that Vaughn has died and Rabbit's test was negative, but that Marisa's test was inconclusive. This means they have to test again. Meanwhile Nancy is upset over the summons and she makes it clear to Glenn that she doesn't want to talk to him about it. Glenn thinks they did the right thing, but Nancy just wants to be left alone.
Captain Basra confronts Nancy about her procedure and she decides to contact her union representative before she answers any questions. Captain Basra tells her the hospital will settle out of court but if Nancy did anything outside of protocol, the hospital will use her as a scapegoat. Nancy's career is on the line here and it looks like playing doctor in the field has finally caught up with her.
Tyler tries to tell Boone that what happened at the apartment was a joke, but Boone is upset. Tyler is always trying to joke around with him and doesn't respect him as a partner. In the hospital, Rabbit keeps Marisa company while she's under quarantine; now Marisa is paranoid that she's been infected. She feels alone, but Rabbit says he'll be with her until the end, because they're a team.
In a boardroom, Nancy is questioned by a number of hospital attorneys about the situation with Jasmine. Nancy stands up for herself; she is a licensed MD and can perform certain procedures in the field. When asked how many times she went out of the scope of practice, Nancy says she doesn't know; she only did it when it was deemed necessary. When asked about Rabbit's approaches to protocol, Nancy does not comment.
Rabbit continues to keep Marisa company and she tells him she is scared; she doesn't want to die. Marisa asks Rabbit to pray with her. In the board meeting, Dr. Carnahan (Nancy's father) excuses himself from the meeting because it concerns his daughter, but admits that over the past three years Dr. Joe has developed a blind spot when it comes to the paramedics, Nancy being one of them. Once Dr. Carnahan leaves, it becomes obvious that Dr. Joe is not only being questioned about his dealings with Nancy, but with Rabbit as well. Dr. Joe feels like he is being put through a professional lynching and will not sit to be part of it. Either way, he has been suspended and is no longer allowed to practice medicine at the hospital, at least for the time being.
Diana tells Rabbit and Marisa the good news: she's not infected. Marisa's ecstatic and even hugs Rabbit. Back at Tyler's place, Boone comes in and apologizes for yelling at Tyler earlier. Everything is forgiven and the guys hang out to watch some hockey. When Asher's wife comes in the room, Boone is shocked and realizes that Tyler was indeed playing a prank on him the other night.
Glenn and Diana make up after their fight over a nice dinner and Dr. Joe treats them to a fancy bottle of wine. However, Dr. Joe seems to be bitter and drunk and leaves the two to enjoy their dinner. He then goes o see Nancy at her apartment and he says she screwed him; it's her fault he got fired. Rabbit arrives just in time to interrupt Joe's diatribe. Confused and upset, he tells Dr. Joe to go home.