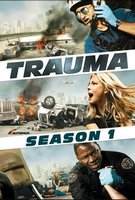 TV Info
---
Episode Premiere
November 23, 2009

Distributor
NBC

Genre
Drama

Show Period
2009 - 2010

Production Company
Universal Media Studios, Film 44


Cast and Crew
---
Director
Eric Laneuville
Screenwriter
Peter Noah
Main Cast
Additional Cast
Matt Barr as Troy Carnahan
Ryan Michelle Bathe
Scottie Thompson
Synopsis
---
Boone is determined to make a great Thanksgiving dinner tonight, so much so he takes Tyler with him to pick out a live turkey. Boone thinks this is the first Thanksgiving he is actually going to be able to be there for his family. However, when push comes to shove, Boone can't buy a real live turkey. Tyler tells Boone that if he really wants to impress Sela with a turkey dinner to make her a Turducken, a famous Cajun dish. Boone thinks that sounds more like chicken incest.
Nancy visits with her father, brother and stepmother and lets them know that she's off her shift at three and that she won't be bringing anyone this year. Marisa talks to her cousin Vivian, who is coming out for Thanksgiving and thinks that Rabbit would get along with her. Marisa tries to invite Rabbit along for dinner, but he says he already has plans.
While a wife is setting the table for Thanksgiving, her husband readies the turkey fryer. As the man dips the frozen turkey in the hot oil, he misses the warning label: NEVER INSERT FROZEN POULTRY INTO HOT OIL. Frozen turkey plus hot oil equals disaster in this equation! The second the frozen turkey hits the hot oil, a massive explosion sends the man flying into the air.
Tyler and Boone tend to the burned husband as the worried wife looks on. The man has suffered full thickness burns and possible fourth-degree burns to his muscles, bone and tendons. Rabbit arrives just in time and Tyler assures the wife that her husband will be okay. Afterwards, Boone realizes that Tyler is trying to avoid going home because he doesn't want to come out to his parents.
The turkey fryer accident isn't the first one Diana has seen at the hospital today. Rabbit tries to flirt with Diana, but she isn't in the mood: she misses her family and would much rather be with them than at the hospital today. Bluntly, Diana tells Rabbit to back off. Meanwhile, Glenn and Nancy bring in a homeless person and she teaches Glenn what a dirt bag index is.
Nancy tells Rabbit she's spending Thanksgiving at her father's, while Rabbit admits that he's not spending the holidays with anyone special, but he's got options. Boone preps some food and Tyler decides it's best if he keeps his parents in the dark about his homosexuality. Boone tries to convince Tyler that it's for the better if he does. Tyler tries to practice his big speech to his parents with Boone -- but Boone ends up showing Tyler a better way to be honest.
It's a brotherly game of Thanksgiving touch football, until things get a little too rough for one of the players and he is knocked down on his knee and can't get up. Nancy and Glenn come to the aid; Nancy takes one look at the knee and assesses that the guy has dislocated his knee and may have torn his ACL. Back at the hospital Nancy and Glenn talk about what it's like to have brothers.
Marisa and Rabbit are en route to a heart attack and Rabbit sees that the victim is not okay for transport. Rabbit quickly gets the man stable enough to get in the helicopter. The man's girlfriend comes with them. Rabbit gets a lesson in soul mates when the victim's girlfriend tells them the man has to live because they haven't married yet. Rabbit might be having second thoughts about spending Thanksgiving alone. He tells Marisa he'll come to Thanksgiving with her and meet her cousin.
During a flight to Los Angeles, an airplane full of passengers on their way home for the holidays hits some major turbulence and a fire starts in one of their engines. The landing gear has stopped working and the airplane will have to make an emergency landing at Oakland airport. A wife tries to calm her husband down, as a mother sings to her baby. Just when the trauma team is about to call it a night, Captain Basra calls everyone to attention and tells them to get to the crash site. Looks like Tyler gets his wish after all, he doesn't have to go home.
The trauma team arrives at the crash site where injured passengers are being taken off the plane. Some people are on gurneys and other paramedics are placing people on the grass. Nancy calms down a wife who sees her husband laying on a black tarp, meaning he's dead. Nancy has to quickly sedate the young woman, who is suffering from shock from the crash combined with the knowledge that her husband has just been killed. Meanwhile, Boone and Tyler help an elderly woman, Margaret, who is a tough old broad with a few broken ribs, but who isn't in any pain.
The fire department brings over an infant baby who is missing its mother. Nancy and Rabbit volunteer to go in the plane to help the remaining passengers, one of them being the mother of the baby. Nancy is determined to bring this mother back to life; she does not want that baby to grow up an orphan. Rabbit and Nancy relentlessly shock the mother to get a pulse and they finally succeed. Rabbit tells Nancy, "Good job."
The crash site is getting cleaned up and Tyler talks to Margaret while taking her in the rig. Turns out, Margaret was on her way to Los Angeles to mend a fence with her daughter, whom she hasn't seen in six years. Tyler asks Margaret what happened between her and her daughter, turns out Margaret didn't approve of the guy her daughter was dating and they got married anyway. Tyler finally sees that maybe it's time he told his parents the truth about being gay.
The days' events have started to get to Rabbit, but Marisa tries to snap him out of it. Back at the hospital, Rabbit takes the new widow to Diana and tells her to keep an eye on her. Margaret is on the phone with her daughter, promising to find a way down to see her. The mother, Nicole, and her baby are safe at the hospital now, and Nancy breathes a sigh of relief.
Tyler has missed the flights, and now doesn't know what his Thanksgiving day plans are. On top of that, he doesn't know when he will tell his parents he's gay; he was ready to tell them today. Boone invites Tyler over to his house for Thanksgiving, calling him family. This makes Tyler smile and he realizes that he is the "gay white sheep" of Boone's family.
Marisa is ready to go and tells Rabbit that her cousin is ready to meet him. Rabbit tells Marisa he is not going to dinner tonight. It's not really his thing. Marisa, disappointed, tells Rabbit to enjoy himself, whatever he may be doing. As the rest of the trauma team talk to each other and gets ready to spend time with their families, Rabbit is left alone.
Diana checks on the young widow, giving her the dead husband's wedding ring. The widow reaches out to Diana and asks her to stay awhile. At Boone's house, Tyler is enjoying a great Thanksgiving dinner. He decides it's time to come out of the closet... to the Boone family. He even uses Boone's speech from earlier! Sela looks surprised, while Boone can only roll his eyes.
Nancy shares dinner with her family, but all they seem to talk about is surgery. In the meantime, Marisa is enjoying a warm and fun family dinner. Back at the hospital, Glenn brings Diana a turkey sandwich. Later that night, Nancy is talking to her brother when Rabbit appears out of nowhere. Nancy runs down, happy to see Rabbit, and invites him in to eat. All around San Francisco, the trauma team enjoy their own special dinners with friends and family. Rabbit and Nancy share a very intimate moment and kiss.