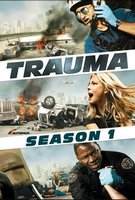 TV Info
---
Episode Premiere
November 16, 2009

Distributor
NBC

Genre
Drama

Show Period
2009 - 2010

Production Company
Universal Media Studios, Film 44


Cast and Crew
---
Director
John Behring
Screenwriter
Janet Tamaro
Main Cast
Additional Cast
Synopsis
---
Nancy has lunch with her brother Troy and her father, Dr. Lyndon Carnahan, for his birthday. Nancy's father lets her know he disapproves of her job and he worries about her. Troy thinks Nancy is only trying to piss off her father by being a paramedic, while Nancy believes Troy still sucks up to him.
A window washer, Roy, has an accident while washing the one of the windows on one of San Francisco's high rises. The scaffold breaks, sending Roy straight into a window. Roy desperately clings to the broken scaffold and yells for help. Rabbit and Marisa quickly respond to the 911 call. Rabbit finds out that Roy has a death grip on the scaffold and won't let go.
Rabbit finally gets Roy to let go of the scaffold. In the helicopter everything seems to be fine, but suddenly Roy goes into cardiac arrest. Rabbit contacts Dr. Joe to try and figure out what went wrong. Rabbit desperately works on Roy, but with only one minute away from the hospital, Roy could pass at any moment.
At the hospital, Roy passes away. Rabbit tells Marisa that sometimes that happens, and they can't do anything about it. Marisa tries to get Rabbit to open up about Roy, but that's not Rabbit's style. Marisa has had enough of Rabbit bottling his feelings and acting "too cool for school." Marisa can't even remember Roy's name.
Nancy comes in dressed up after her meal with her father and Glenn can't keep his eyes off of her. Captain Basra posts the new assignments and Tyler is relieved when he sees that Boone didn't request a new partner. Tyler has been clocking in a lot of overtime and Boone wants in on that action. When Boone tells Sela he is picking up a double shift, she isn't thrilled with the news. However, Captain Basra is thrilled that Boone will be working with Tyler on his double shift, because anyone else might not be able to handle it!
Nancy and Glenn prepare for their shift and Nancy finds Glenn's medical wish list in his little black book. Meanwhile, Tyler and Boone come to the aide of an unresponsive elderly woman, Hazel, who has passed out while trying to fit into an old dress. Tyler and Boone see that Hazel has gone into diabetic shock. It seems as though the two sisters have lived by themselves and are somewhat introverted.
Boone and Tyler are able to revive Hazel from her diabetic shock, but there is another pressing issue. Even though Hazel's sister Camilla thinks her sister is being dramatic, Hazel is on the brink of having a heart attack. Boone and Tyler have to rush her to the hospital before it's too late.
Boone talks to Camilla at the hospital, who seems a bit uncomfortable and worried about her sister. Dr. Joe takes a look at Hazel, a familiar patient. Boone tells Camilla that she needs to start taking better care of her sister now because she has diabetes. This convinces Camilla to finally ask for the help that the two women need to continue to live in their home.
Glenn keeps asking Nancy about who she went to lunch with, and confesses to Glenn that it was her dad. Tyler and Boone try to stay awake on their double shift by downing energy drinks and playing video games. Boone gives Sela a call, but she's asleep and so are their kids!
Nancy's father, Lyndon, is at the hospital to visit a family friend who had a heart attack. Nancy is covered in blood and Lyndon doesn't want to know how it happened. Diana runs into Glenn and he talks to her about Nancy. Glenn is surprised that Nancy's dad is the chief of staff at the hospital, meaning that Nancy is rich. Glenn starts to tell Diana his story about going to college in Pennsylvania and it turns out that Diana is from Allentown. They both decide to try and have a drink when they have free time -- which is never.
A drunk teenager hits a large wedding cruiser with his speed boat, causing a massive collision. Rabbit has to convince Marisa, who is still upset from Roy's death, to get on the call so she can make a difference. At the accident scene it is chaos. Nancy notices that the cruiser is sinking. Tons of wedding guests are in a panic and as Nancy starts to talk, she realizes that only one person speaks English.
While Glenn and Nancy tend to the Hungarian injured guests, Rabbit and Marisa hurry their way there and see a body in the water. Rabbit dives in to save one of the wedding guests. Once inside the helicopter, the man, Tiborc, tries to tell Rabbit something important, but Rabbit can't understand a word he is saying. Tiborc freaks out and tries to take control of the helicopter. Marisa, left with no choice, points a gun in his face and stabilizes the chopper.
Rabbit is able to get a translator for Tiborc through the radio and it turns out that his wife, Petronya, is on the boat. Glenn and Tyler run down and see the wife, who is pregnant and who has been knocked down. Tyler and Glen quickly move Petronya off of the cruiser and into the helicopter. The wife is going into labor on the way to the hospital and Rabbit tries to get her to stop pushing, but she won't. The baby is breeched and Rabbit needs to turn it around quickly before it dies. Rabbit delivers a baby boy, but he isn't breathing.
Finally, Rabbit gets the baby to breathe and everyone in the helicopter is relieved. Tiborc and Petronya decide to name the baby "Rabbit." Back at the hospital Diana congratulates Rabbit on his save; baby Rabbit is doing just fine.
Boone finishes up his first double shift in six years. At home, Boone is hopped up from his energy drink and decides to wake up his son to play video games; Sela does not approve! Nancy checks in on her father's friend and finds out that he coded during surgery. Nancy watches on as Lyndon consoles the family.
Marisa tells Rabbit that she is glad they made a difference tonight. Rabbit talks to Marisa about Roy, who died in the helicopter this morning, and how the baby that was born tonight is named Rabbit. Rabbit makes sure Marisa doesn't forget that they saved the baby's life.
Nancy talks to her father outside the hospital about the loss of his friend. Nancy says that she only gets 10 minutes with her patients and Lyndon thinks maybe she's the lucky one. "It's a hell of a family business." Meanwhile, Glenn and Diana bond over some beers against San Francisco's beautiful skyline.