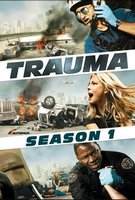 TV Info
---
Episode Premiere
October 26, 2009

Distributor
NBC

Genre
Drama

Show Period
2009 - 2010

Production Company
Universal Media Studios, Film 44


Cast and Crew
---
Director
Jean DeSegonzac
Screenwriter
David Schulner
Main Cast
Additional Cast
Scottie Thompson
Ryan Michelle Bathe
Synopsis
---
Tyler and Nancy reminisce about Terry through a zombie video game. Tyler teaches Nancy how to play. Meanwhile three teenagers wreak havoc in a neighborhood. One prank goes horribly wrong when the boys throw phosphorous in a bird bath. Phil, one of the boys, falls to the ground and can't breathe.
Tyler and Boone respond to the trauma, but Tyler is mad with Boone for not pulling his weight with the cleaning duties in the rig. On their way to the scene, a maniac wearing a neck brace screams at Tyler and Boone for charging $2,000 for an ambulance ride. The paramedics ignore the maniac and assist Phil, the young boy, who is badly burned. The teenager's throat begins to close up and right when Tyler and Boone stabilize the kid, the angry man beats the ambulance over and over again with a bat. Happy Halloween!
Nancy desperately tries to switch shifts to try and not work Halloween. Captain Basra assigns everyone their neighborhoods. Tyler and Boone are assigned to the Castro, or as Boone likes to refer to it, "Fancy Town." Meanwhile, Rabbit and Marisa are in the helicopter and Rabbit is totally excited for Halloween night -- as he should be. Their first patient is college female covered in body paint as a mermaid. Dr. Joe orders Rabbit to get rid of the paint; basically Rabbit must give a naked coed a sponge bath to save her life.
A divorced father and mother get ready to take their son, Jonah, who is dressed up as a Lost Boy, out trick or treating. However, the couple can't stop arguing. At the hospital, Diana is dressed as a fairy princess. Rabbit tries to hit on her, but Diana isn't having any of it.
Boone shows discomfort when his children trick or treat at a gay couple's home. When Boone tries to talk to Tyler about his problems with homosexuals, Tyler is dismissive.
The divorced mother and father continue to bicker as Jonah trick or treats. But they suddenly realize that Jonah is missing. The little boy ran off into the streets alone and was hit by a car. Rabbit and Marisa immediately airlift Jonah, who is in pain and in bad shape.
In the Castro, Kurt's Costume Shop is throwing a huge party. Tyler and Boone assist a "Sarah Palin," who is a black man dressed in drag. Boone is having a hard time being sympathetic or caring to this particular patient. Tyler doesn't help Boone out and talks to Kurt, the owner of the costume shop, who tells him to keep the kids safe tonight.
At the hospital, the ER is hopping with Halloween-related injuries. Dr. Joe needs the nurses to separate the real blood from the fake blood! However, when Dr. Joe sees Diana's fairy princess costume, he scolds her for not taking her job seriously and tells her to change into her scrubs immediately. Nancy tries to console Diana by telling her not to cry. Diana finishes what she's doing and watches as Rabbit rolls in a half-conscious Jonah before going to change.
Tyler sees an ugly side of his partner when two gay costumed paramedics start to hit on Boone. One paramedic jokingly grazes Boone's face with his hand and Boone flips out, twisting the gay man's arm and shoving him against the ambulance. Tyler's sadly realizes that his partner may be homophobic.
Marisa and Rabbit are grounded due to bad weather, but Rabbit volunteers their services for ground duty. Rabbit and Marisa take Boone and Tyler's beat-up rig from earlier in the day. Marisa is not happy about this! Rabbit and Marisa go to their first call, an elderly couple, and the husband is suffering a heart attack. The talkative wife tries to be of assistance, but she becomes more of an annoyance, especially to Marisa.
The Halloween street party is still going on and Nancy and Glenn watch for any emergencies. Nancy hates working Halloween and when Glenn tries to sympathize, she gets even more annoyed. Glenn's boyish charms aren't working on Nancy tonight.
At the hospital, the ex-wife and husband bicker over their unconscious son, Jonah. Diana talks to them and tells them to stop bickering because it could affect Jonah's recovery.
In the Castro, the costume party is a huge hit, until the pyrotechnic show goes horribly wrong. A huge explosion sends the masses running out to the streets. Boone and Tyler immediately run to assist the hurt party-goers. Boone helps the gay man he earlier threw against the ambulance. This time, Boone is all business and only there to help. Meanwhile Rabbit and Marisa assist a woman with a head wound, and Rabbit is impressed with Marisa's actions.
Kurt's husband has been badly hurt and Tyler and Boone rush to his aid. Boone has to act quickly to save the man's life and Tyler nervously looks on. When Boone saves the husband's life, Tyler is relieved, but Boone is uncomfortable when he sees the men share affections.
Tyler and Boone have a heart-to-heart, in the biblical sense. Boone believes sin kills, like what happened in the Castro tonight. Tyler says that a place like San Francisco is a better choice than committing suicide, because people can't change who they are. Boone realizes Tyler is coming out to him. Boone doesn't respond and Tyler walks off, unsure if his being gay will completely change his friendship with Boone.
Dr. Joe asks Nancy's advice on Diana, and Nancy is a supporter. Jonah finally wakes up and asks for "Tink," he believes he saw Tinkerbell. Dr. Joe realizes that the little boy saw Diana when she was still dressed up as a fairy. After Dr. Joe has a small chat with Diana, Diana changes back into her costume and reads "Peter Pan" to Jonah.
At the end of their shift, Boone cleans out the rig. Tyler tries to tell him to go home. Boone is cold and Tyler isn't sure how to take it. There is a glimpse of hope in Boone's banter with Tyler, but there is a change between them now. Tyler wishes Boone a Happy Halloween.
Nancy pays her respects to Terry at his grave and wishes him a Happy Halloween, his favorite night of the year.