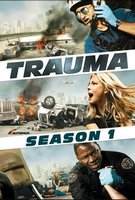 TV Info
---
Episode Premiere
October 12, 2009

Distributor
NBC

Genre
Drama

Show Period
2009 - 2010

Production Company
Universal Media Studios, Film 44


Cast and Crew
---
Director
Jeffrey Reiner
Screenwriter
Peter Noah
Main Cast
Additional Cast
Scottie Thompson
Ryan Michelle Bathe
Synopsis
---
Marisa comes across a bad car accident during her morning jog. She assists the victims; one man on a motorcycle is hurt more than the others: his eyes are popped out of his head! Marisa pops them back in. At work Glenn is impressed with Marisa's abilities, but Rabbit teases her.
Nancy tries to sneak off Brad's boat but he catches her. She can't change the way she is, but Brad convinces her to stay for a little longer. Meanwhile, Boone and Sela get close in bed, but they are still having trust issues in their marriage. Sela will not sleep with Boone without a condom.
Boone vents to Nancy and Tyler about having a tough time at home. Glenn, like a puppy, excitedly greets Nancy, but Nancy isn't as peppy. Tyler teases Nancy, who claims she is turning over a new leaf. It's already been 34 days and Nancy still hasn't slept with Glenn.
A family is getting ready for dinner when a car crashes into their house. Nancy and Glenn are the first on the scene. Everyone seems to be fine, and Nancy tends to the drunk driver. The family is missing their son, Todd, who slept through the accident. Something is wrong and Todd won't wake up. Nancy frantically tries to help the boy. Todd is passed out and his sister explains that Todd is on drugs. The drugs are reacting with his depression medication. Fortunately, Nancy is able to revive Todd. That drunk driver may have saved Todd's life.
Rabbit and Marisa play the waiting game. Rabbit thinks Marisa is itching for another accident and scolds her for being reckless earlier. A young skateboarder, Cory, gets in an accident and Marisa and Rabbit are called to the scene. Cory has a possible spinal cord injury and they need to get in him the helicopter right away. Cory can't feel his legs and Rabbit decides to put him in hypothermia to stop the swelling in his spine.
Cory arrives at the hospital and Rabbit gives him faith that things will be okay. Dr. Joe voices his disproval to Rabbit when he learns he gave the boy hypothermia to try and prevent permanent paralysis. Meanwhile, Glenn and Nancy assist a battered woman, Valencia, outside a bar. Valencia is more than happy that Glenn is helping her and hits on him. Nancy sends Valencia home. Glenn jokes about how being a single woman in San Francisco must be tough, which makes Nancy a bit depressed. Worried he hurt his partner's feelings, Glenn asks her out for a drink. Nancy declines and says that she's jaded.
Cory is still in surgery. Rabbit talks to Diana to check in and things are looking good. At the Rivergreen Consulting office building employees go about their usual business. A disgruntled man approaches the receptionist and suddenly pulls out a gun and begins shooting. The gunman goes on a bloody rampage and relentlessly shoots the employees.
The trauma team arrives along with the police force. Nancy and Glenn talk to the police captain to assess the situation. The trauma team cannot go in until the law secures the building. Nancy and Glenn set up triage and start helping the victims who escaped. One man has his thumb shot off. It is a tense scene as the S.W.A.T. team shows up and all available units respond to the call.
Tyler and Boone show up on the scene as Marisa and Rabbit stand by for orders. Rabbit is called in because he is has Tactical Certification -- he and Nancy are the only ones. The trauma team works hard to patch people up as haunting gun shots come from above. Rabbit and Nancy get geared up to go inside. They assist a young woman who was shot in the neck. They stabilize the victim and move on to the next. This isn't going to be easy.
Tyler and Boone continue to help people outside. Boone gets a phone call from Sela and he ignores it. He phone keeps ringing and then he gets a text from Sela. He texts her that he can't talk, and that's when he has a horrible realization: Sela is in the building with the shooter. Boone talks to Sela on the phone and he tries to calm her down. She begs for Boone to come get her. The gunman is coming and Sela has no choice but to hang up the phone and hide.
Boone talks to the police captain and tries to maneuver his way inside to save Sela. The captain can't do anything for Boone. Boone is not tactical certified. Boone can't believe it. Rabbit and the S.W.A.T. team look at the security videos of the people inside who were shot. The S.W.A.T. team leader gives the orders to enter. Tyler and Boone are helpless bystanders at this point. Rabbit and Nancy take flight in the police chopper to aid in the rescue.
Nancy and Rabbit follow the S.W.A.T. team. They enter the seventh floor and find dead bodies. Outside, Boone finally gets the okay to go inside and he and Tyler rush in. Boone and Tyler find a man suffering from an asthma attack. Tyler tends to him as Boone goes to find Sela. Boone runs up the stairs and keeps trying to call Sela. She is hidden under a desk and the gunman is getting closer and closer. The gunman then shoots into the desk where Sela and another coworker are hiding.
Sela tries to help the shot coworker. Boone finds her hidden under the desk and helps the shot man. Sela is hysterical. Boone calms her down and for the first time, Boone and Sela work together to save a man's life.
Nancy and Rabbit are told to stay put by the S.W.A.T. team but Nancy hears someone call out for help. She runs to the aid of the receptionist and the gunman tells her to stop. Nancy defies the gunman's command. The gunman doesn't hesitate and raises his weapon ready to shoot. Rabbit tries to stop him but the gunman shoots Rabbit! Right before the gunman can kill Nancy, the S.W.A.T. team shoots the gunman dead. Rabbit lives, thanks to a bulletproof vest, and Nancy runs to his side.
Things are calming down and Boone talks to Sela after the shooting. Sela is obviously upset. Boone suddenly realizes why she was at the building: she was talking to a lawyer. Meaning Sela may not want to work things out anymore in their marriage. This is all news to Boone.
Marisa is disappointed in her lack of action today. She complains to her mother and talks to Rabbit about him taking a bullet. Rabbit invites Marisa for a drink, but she would have rather been part of the battle.
12 have been left dead after the shooting. Tyler and Glenn play a game of pool and talk about the day's horrifying events. Tyler bonds with Glenn about different tragedies he has seen, like Hurricane Katrina. However, Glenn is still in a bit of shock.
Rabbit gets a video message at the bar from Cory. The kid is okay! Nancy and Rabbit share a drink, Rabbit a bit shaken up. Nancy thanks Rabbit for saving her life. Rabbit tells her that they are even, but Nancy still wants more. She kisses Rabbit passionately and thanks him one last time.