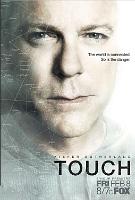 TV Info
---
Episode Premiere
April 26, 2013

Distributor
FOX

Genre
Drama

Show Period
2012 - 2013

Production Company
20th Century Fox Television, Chernin Entertainment


Cast and Crew
---
Director
Adam Kane
Screenwriter
Barry O'Brien
Main Cast
Additional Cast
Synopsis
---
Martin phones Trevor and tells him Guillermo's dead. He's decided it's a sign that Detective Lange, who investigated Guillermo's attack on BreakWire, is on this case too. He plans to tell Lange everything.
Martin hears a noise and sees two thugs sneaking into the house. He slips out the back with Jake and Amelia, and they go to Avram's apartment. Martin leaves Jake there while he takes Amelia to meet with the detective, instructing Avram not to let Jake go anywhere. Jake gives Martin the number 3021.
The sleep center doctor tells Aster Corps CEO Nicole Farington that one of their subjects, Marine Corps veteran Dr. Robert McCormick, has been reported missing by an old war buddy, Shane Stevens, who's created a website devoted to McCormick's disappearance. She says they need to finish the sequence and be done with this. But McCormick has regressed: he's not sleeping and suffers side effects from the drug. She orders the doctor to double the dose anyway.
Jake shows Avram the amulet he took from Guillermo. It's engraved with the Tree of Life, which Avram says symbolizes that the amulet's owner is the guardian of the 36. But in Guillermo's hands, it became an instrument of death. Jake has repeatedly written "3021" in his notebook. Avram searches the web and finds Shane's page on missing person No. 3021, Dr. McCormick, who miraculously saved five Marines in Afghanistan. Jake gets ready to leave, and Avram, believing the doctor is one of the 36, has no choice but to follow.
Detective Lange is somewhat skeptical, but he accepts the flash drive of evidence from Martin and records Amelia's recollection of the desert facility. He puts out an APB on Tony Rigby, who is soon apprehended trying to board bus No. 3021 to New York.
Jake and Avram meet with Shane, who becomes suspicious and leaves when Avram admits they don't actually know the doctor. Jake orchestrates a way to find McCormick at a nearby farmers' market - but he too refuses to hear Avram out.
Finding that Avram and Jake aren't at the apartment, Martin and Amelia search for them. Meanwhile, thanks to Aster Corps' cover-up, Martin's story unravels as Lange investigates. A police search outside the desert facility turns up a gun matching the one that killed Lucy . . . with Martin's prints on it. Officers pull him over and arrest him, but Amelia slips away. Martin's bail is set at $2 million.
Nicole tells Calvin that Martin's been arrested for murdering Lucy. Calvin secretly pays Martin's bail, explaining to Martin that he knows he didn't kill Lucy, and that he still wants revenge on Aster Corps for his mother's murder.
Martin and Amelia eventually find Jake and Avram, still trying to persuade McCormick. Angry that Avram let Jake go out, Martin drives away with the kids. Seconds later, thugs abduct Avram.
Nicole informs Calvin that she knows about his secret experiments with Amelia. He explains about his brother, William, but she knows about him too. She says Calvin's mind holds the key to everything. She wants the God Sequence and needs him to work harder than ever - then William can get his life back.
Back at Avram's apartment, Martin realizes he was wrong and calls his friend. But Avram can't answer the phone, because the thugs have locked him up.