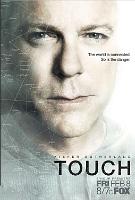 TV Info
---
Episode Premiere
March 29, 2013

Distributor
FOX

Genre
Drama

Show Period
2012 - 2013

Production Company
20th Century Fox Television, Chernin Entertainment


Cast and Crew
---
Director
Nelson McCormick
Screenwriter
Carol Barbee
Main Cast
Additional Cast
Synopsis
---
Alone, Amelia runs through the desert. In voiceover, Jake says that Einstein believed all of time existed at once. All moments are equally real, and equally accessible. If we know how.
Martin studies the paper Amelia gave Jake, a page from the file of Arthur Teller's first patient. But there's no name with the photograph. His old friend Avram arrives. He knows about the murders Guillermo Ortiz committed at BreakWire, and he wants to help protect Jake.
As Martin tells Avram about finding Amelia and sending her and Lucy away for a while, Jake writes "948" on the patient's page.
At BreakWire, Trevor shows Martin a breaking story: Tonight, California will perform its first execution in seven years. Amazingly, the criminal is Teller's patient, Philip Green, convicted of killing three people while robbing the antique shop where he worked.
For prison guard Mike O'Brien, participating in Green's execution is a sort of payback by proxy. His young son, Max, witnessed Mike's dad being murdered by a carjacker, who was never apprehended. But Mike's wife argues that killing someone will change him and further damage Max.
Green's lawyer tells Martin his client hasn't spoken to anyone since his arrest 15 years ago. Martin brings up the Teller Institute, and soon he's telling Green about Jake. The man shows Martin a photograph of his daughter at age 14. They've been estranged since his conviction. Martin promises to bring her to him.
Green's daughter, Dr. Kate Gordon, is a family therapist specializing in early childhood trauma. She tells Martin her father can do things, like decipher an ancient language just by looking at the patterns of the symbols. He told her he did kill those people, but he never explained why or even let her visit him.
Martin phones Avram, saying he believes Green is one of the 36. He learns that Green's three victims worked for Mobius, a division of Aster Corps. The antique shop's owner says Green took only a box containing his own small, homemade "machines," which he'd stored in the shop's safe.
At home, Jake opens the box and starts putting gears together. Avram realizes Green built a cipher, an algorithmic encryption tool. The wheels are engraved with numbers and symbols, used for creating and interpreting messages.
Martin informs Kate that her father was trying to protect her from Aster Corps, which wanted his cipher. She says he once told her it was a road map to finding 36 magical people who could save the world. But the key that activates it is missing. She agrees to see her dad.
At the prison gate, Mike encounters Martin and Kate - who helped his son deal with his father's murder. Mike drops out of the execution, temporarily halting it.
Kate has an emotional reunion with her dad, but another guard soon volunteers. Martin receives a box of Green's belongings with a note inside: "Your son knows."
Avram watches Jake repeatedly writing "948." He calls Martin, who says that's the shop's address. At the store, Jake zeroes in on an old-fashioned clock, which Green fixed the night he was arrested. Jake removes a gear: the cipher key!
At home, Jake puts in the key. The gears begin turning. Martin answers the door and finds a shaken Trevor, who somberly says, "Lucy." The men sit on the porch in shocked silence.
The cipher stops at 318, the first numbers in the Amelia Sequence. Going to the window, Jake sees Amelia outside.