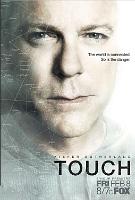 TV Info
---
Episode Premiere
March 15, 2013

Distributor
FOX

Genre
Drama

Show Period
2012 - 2013

Production Company
20th Century Fox Television, Chernin Entertainment


Cast and Crew
---
Director
Seith Mann
Screenwriter
David Eick
Main Cast
Additional Cast
Greg Ellis
Ray Santiago
Krystal Marshall
Gabriel Luna
Synopsis
---
Jake works on new designs made of numbers, and Martin notices he's using colored pencils, currently blue. It's been days since Amelia disappeared after Calvin's mom was killed. Lucy's leaving the Bohms to continue searching for her daughter.
Elsewhere, Amelia sits beside a sunny pond, also writing numbers with blue pencil, as a blue butterfly flits nearby. She tells Jake it's his moment: stay strong, and the numbers will protect him. Is he ready?
An intense thunderstorm is flooding Los Angeles. At BreakWire, Trevor's throwing a party. He warmly greets Dutch, an ex-Special Forces guy who protected him, Martin and other journalists in Bosnia. When Trevor phones Martin to find out when he's coming, he gets Lucy. Jake must have switched her phone with Martin's.
Martin and Jake arrive, and Jake resumes work with his blue pencil. The three old friends reminisce, and later Martin privately asks Dutch for help in protecting his son.
Outside, Guillermo Ortiz, disguised as an electrical worker, cuts the power. Lucy arrives just after the lights go out. Emergency lights come on, and staffers break out battery-powered lanterns and flashlights. Guillermo chains the exit doors and climbs a ladder to get in.
Trevor sends Santiago to the control room to patch him into another cell tower, and the young man takes his new girlfriend along. Santiago notices a cell phone jammer in the corner, but his girl distracts him. Then Guillermo slashes their throats!
Jake senses the murders and bolts, with Lucy following him through unrenovated parts of the old newspaper building. They hunker down in a dusty space. Amelia tells Jake they have to hurry. He finishes his drawing and shows Lucy, pointing to a mirror. She realizes it's half a blue butterfly, like the ones Amelia used to draw. Is he communicating with her?
Martin finds the bodies, informs Trevor, and grabs Dutch to look for Jake and Lucy.
In the shadowy halls, Martin finds Phil, another employee whose throat is slashed, but who's still alive. As Martin helps him to safety, Dutch finds Lucy and Jake. They bar the door . . . but Guillermo's right outside! Inside the priest's head, Jake says, "I know you're in pain. Unbearable pain." He shouts at Jake to stop it.
Guillermo grapples with Dutch, shooting him with his own gun. Lucy stabs Guillermo's leg with a shard of broken mirror. Jake runs, and the limping Guillermo pursues Jake to the roof, barring the door. He sees the numbers 10262000, which Jake scratched on a panel.
Guillermo says they both know what that date means: God took his wife and son from him that day - the day Jake was born. Jake says you also knew love before you turned to death. Martin and the wounded Dutch burst in, and the battle is on.
Martin grabs the gun, emptying the clip into Guillermo, who falls off the roof . . . and disappears. Martin finds Dutch dead. As sirens approach, Guillermo hides in an alley, saved by his bulletproof vest.
Elsewhere, someone tells Amelia that if she's done working, it's dinner time. The sunny background recedes: She's really in a room filled with computer banks.