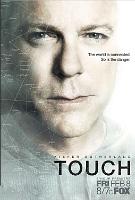 TV Info
---
Episode Premiere
March 08, 2013

Distributor
FOX

Genre
Drama

Show Period
2012 - 2013

Production Company
20th Century Fox Television, Chernin Entertainment


Cast and Crew
---
Director
Matt Earl Beesley
Screenwriter
Karyn Usher
Main Cast
Additional Cast
Synopsis
---
Martin looks for Lucy, unaware she's gone to confront Calvin. Fearing she went to the police, he rouses Jake and starts packing.
After running into Calvin with her Jeep, Lucy ties him up in his apartment. She demands to know where her daughter is, but Calvin keeps stalling - even after she stomps on his broken ribs! Eventually he gets free and pulls a gun on her. He wants her to understand the importance of his work mapping Amelia's brain.
While hiking in the Arizona desert, Guillermo Ortiz finds an injured man who asks the priest to kill him. He once was a pediatric surgeon, but his negligence caused a boy's death. Guillermo says they are both here for the same thing.
Jake tunes the kitchen radio to 89.2 but gets only static. He shows Martin a notebook belonging to Soleil. En route to returning it, Jake tunes the car radio to 89.2, still getting only static.
At Soleil's, Jake barges past her grandfather Carl and finds a snapshot of Carl and Frances in a family photo album. Martin writes down the license plate of Frances's car in the photo. Jake again tunes a radio to the static on 89.2.
Amelia listens to a man delivering a sermon on the radio. She tells Frances, "They're coming," but Frances doesn't understand. Later, Amelia screams that her mother didn't give her up, and she wants to see her! As Frances struggles to calm the girl, someone knocks at the front door.
At BreakWire, Martin learns that Trevor gave Lucy an address for Calvin last night. Leaving Jake there, he goes to Calvin's and bangs on the locked door. Inside, Calvin ignores Martin's knock and tells Lucy he'll bring her Amelia - if she gives him Jake. Lucy agrees, and Calvin says to meet him at the Valley reservoir at 2 o'clock.
Guillermo builds a fire and burns the pictures of the people he's killed. He could kill the doctor, but he's chosen a different direction. The doctor has lives yet to save, and his story has reminded Guillermo that there is acceptable loss. He takes the doctor to safety and walks away into the desert.
Lucy picks Jake up and goes to the rendezvous with Calvin, leaving Martin a message to meet her there. At the reservoir, Martin drives up. He orders Jake into his car and berates Lucy for planning to trade his son for her daughter. She insists she would never do that. Martin drives away.
Forty minutes later, Martin finds Lucy still waiting and says Calvin's not coming. Jake tunes the car radio to 89.2 and gets the same announcer Amelia heard. Martin realizes they must be closer to the signal source. Lucy goes along as he drives toward a nearby radio tower, ending up outside Amelia's house. They see Frances's car.
Inside, they find Calvin distraught. Someone killed his mother, and Amelia's gone. He points his gun at Martin and Lucy, then leaves, saying he'll kill them if they try to follow him.
Later, on a roadside high in the hills, Guillermo Ortiz gazes out across Los Angeles.