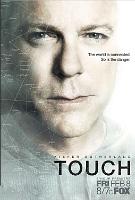 TV Info
---
Episode Premiere
February 15, 2013

Distributor
FOX

Genre
Drama

Show Period
2012 - 2013

Production Company
20th Century Fox Television, Chernin Entertainment


Cast and Crew
---
Director
Sanford Bookstaver
Screenwriter
Rob Fresco
Main Cast
Synopsis
---
Lucy gets a pile of boxes from her ex, full of pictures of Amelia and other loose ends. She thinks Jake should be in school, but Martin's not sure. Jake pulls a photograph from a box marked with the number 1075: Standing behind Amelia is Guillermo, the mysterious murderer of Frederick LeMay and Rosemary Mathis.
As Jake accompanies Lucy on her coffee run, Martin gets a text: Someone has info on Aster Corps to share.
At BreakWire, Martin tells Trevor he created a profile for his new persona, Martin Bishop, as a war correspondent for third-rate publications. Trevor offers Martin a real job.
Jake draws on a napkin and hands it to a woman, who becomes upset and leaves. Back home, Lucy realizes Jake stole a package from the woman's purse. It's addressed to a Navy sailor at a nearby base with the number 1075. Inside, Lucy finds cash, a police sketch of Guillermo and a suicide note.
Frances interacts with Amelia and starts to understand just how remarkable the girl's mind is.
The text was from Calvin Norburg. He'll help with the Aster Corps exposé, but he wants Martin to get his research back. The company keeps its most sensitive files in room 1075 of Building J, and only a red-level pass card gets in. Calvin thinks he can borrow one from a disillusioned project manager named Mallory Kane.
But Mallory's husband informs Martin she's been detained in Pakistan. She was working on T-1, a security program Aster Corps sold to the Pakistanis, but had concerns about its accuracy and threatened to go public. On her computer, Martin finds invoices for the Fibonacci Project - including a file on Adeline Danvers, the company's accounting alias for Amelia.
The sailor, Vicente Corliss, tells Lucy and Jake that the woman is his aunt Sophia, the identical twin of his deceased mother, Claudia. Mom was a savant, a brilliant astronomer with no formal training, who discovered the Corliss Comet, which is what Jake drew on the napkin. She was murdered by Guillermo four years ago while living with Sophia in Santiago, Chile.
At BreakWire, Lucy learns that the comet will be closest to Earth tonight, and she thinks Sophia might be planning to see it. Martin arrives and tells her about Adeline Danvers. The records stop three weeks ago; he thinks that's because Aster Corps no longer has Amelia. But who does?
Meanwhile, Jake contrives to connect Martin with the school his new friend Soleil attends.
That evening, Lucy finds the comet viewing canceled. She spots a sign numbered 1075, then sees Sophia walking into traffic . . . and pulls her from a semi's path.
Sophia says it should have been her. The killer talked to her about science, and she felt smart, like her sister. But at her place he became violent. She stabbed him in the neck with scissors, but he still slashed her sister's throat. Lucy realizes Guillermo mistook Sophia for Claudia.
With Calvin's and Trevor's aid, Martin helps to free Mallory.
Martin takes Jake to school, fussing like a mother hen. Jake trundles off with Soleil.
Calvin enters a passcode and goes into Amelia's house, where he greets Frances: "Hey, Mom." He asks Amelia if she's ready to do some work.
Back home, Lucy sees the photograph Jake pulled out earlier with new eyes. Why did this man zero in on her kid, six months after he killed a woman who was just like Amelia?