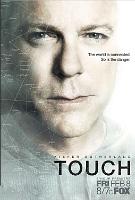 TV Info
---
Episode Premiere
February 08, 2013

Distributor
FOX

Genre
Drama

Show Period
2012 - 2013

Production Company
20th Century Fox Television, Chernin Entertainment


Cast and Crew
---
Director
Michael Waxman
Screenwriter
Carol Barbee
Main Cast
Synopsis
---
At the rented house, Lucy tells Martin that she wakes up disoriented if she's in a new place. She has to go outside, look at the stars, and figure out where she is.
Jake wants to help Lucy put up missing-person flyers for Amelia, so Martin heads to BreakWire alone. Before they part, Jake shows him the number 500.
Under a trestle in a dry concrete riverbed, an older man builds an elaborate sculpture out of junk. Suddenly thugs in a black van grab him. In voiceover, Jake says mass attracts mass: bodies moving toward each other in space will speed up as they get closer.
Amelia screams at her handler: She wants to go home! He phones someone and says they need to go back to the original plan.
High school librarian Frances unexpectedly retires, claiming she plans to travel. She confesses to her heartbroken boyfriend, Carl, that she's entering witness protection and gives him her new phone number.
At BreakWire, Trevor shows a video of Calvin's speech to Martin, who sees a potential ally against Aster Corp. Trevor stops the video at 5:00, when Vikash Nayar approaches Calvin, and offers to find out where Vikash is staying.
Vikash meets Calvin at his hotel, confirming he's taking his money out of Aster Corp. He gets a call and insists on leaving alone, but his bodyguard secretly follows. Outside, Martin contrives a story to share a cab with Vikash, but soon he's warning about Aster Corp. and asking to contact Calvin. Nearly at his destination, Vikash bails. Martin follows, paying the driver to wait.
On the pier, a bubbly girl named Soleil befriends Jake, and Lucy chats with Soleil's mom.
The black van pulls up near Vikash. Thugs demand ransom for his father - the riverbed sculptor. Martin runs up, and a shootout ensues when Vikash's bodyguard arrives. Martin hustles Vikash into the cab, saying the kidnapping is a ruse: Aster Corp. plans to kill him. They head to BreakWire.
In Barcelona, the man who killed Frederick LeMay plots a Fibonacci spiral on a map and tattoos numbers from the Amelia Sequence on his bicep. At a posh reception, he charms Rosemary Mathis, designer of a new cathedral, who has the same gift of seeing patterns. Later, she confesses she would give up her gift, choose a different path, just to be normal. Even so, he's tempted not to kill her . . . but ultimately he slashes her neck.
While Martin talks to Lucy outside BreakWire, the kidnappers nab Vikash. With Jake's help, they foil the thugs at the riverbed camp. When the sun hits the sculpture, Lucy is amazed to see an image of Amelia projected on the trestle.
Frances meets Amelia, telling the girl she's going to take care of her from now on.
Jake jumps out of Lucy's Jeep and runs to a school: Soleil's school. Nearby, Carl types Frances's number into his phone. Soleil dashes up and introduces Jake to her grandpa. Jake sees the number.
At 5:00 a.m., Martin is looking at the sky. His phone rings: Calvin says he'll be in touch, then hangs up. Lucy, who also can't sleep, asks if he's figured out where they are yet. "Closer," Martin says.