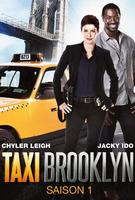 TV Info
---
Episode Premiere
July 09, 2014

Distributor
NBC

Genre
Drama, comedy

Show Period
2014 - 2014

Production Company
EuropaCorp Television


Cast and Crew
---
Director
Frederic Berthe
Screenwriter
Franck Ollivier, Stephen Tolkin, Gary Scott Thompson
Main Cast
Synopsis
---
Though Cat may not want to admit it, she and Leo are proving to be a great team. His insight has helped her close two cases. But this week, it's Leo who ends up needing Cat's help when a dear friend is murdered.
The Case of the Mysterious Mob Hit
Cat wasn't keen to be Leo's sponsor, but she's even less enthused when she learns it could mean bi-weekly check-ins with immigration for the next five years. Rest assured, the immigration officer in charge of Leo's case tells Cat it might not be bi-weekly... but weekly. Cat's anxiousness turns to outright anger when Leo, in a moment of sheer joy, doesn't pay enough attention as he drives off and runs over Cat's foot. Ouch.
Leo departs to pick up one of his regulars, an elderly man named Josef Wiesel whom Leo normally helps with his groceries. But on this day, Josef is empty-handed and doesn't want a ride. He eventually agrees to let Leo drive him, but Leo can tell something is wrong. After dropping Josef off, Leo keeps an eye on him through his rearview mirror. Good thing too, because a black car appears and a passenger grabs Josef.
The car careens around the corner, with Leo hot on its tail. A gunman shoots Leo's tire, but he manages to write down the car's license plate number. When Leo meets Cat at the precinct, she reveals the worst: Josef's been beaten to death. Cat asks Leo to identify Josef's body. During the examination, Leo learns for the first time that Josef was a Holocaust survivor.
At Josef's apartment, Cat, Leo, Esposito and Dr. Monica find that Josef's suit is freshly cleaned, his shoes are polished and he left behind $10,000, as well as a note saying the cash should cover his burial. Monica also finds Josef's diary, in which he writes about meeting with Eva, a woman Leo knows to be long dead.
The diary also mentions a Margery and a Camille, so Cat and Leo set off searching for these women. At the gallery where Josef worked, Cat and Leo learn that every Thursday, Josef would visit a nearby flower shop and pick out a bouquet. The florist points Leo and Cat in the direction of where Josef would head with the flowers. Surprise, surprise - his destination turns out to be a brothel.
According to Nadia, the woman Josef visited, he'd been coming for two years, but never for sex. Instead, Nadia would pretend to be Eva, even dressing as her, and she and Josef would eat dinner and pretend to be living in Budapest in the time before the war.
Outside, Cat gets a phone call and learns that the serial numbers on Josef's money match that of bills stolen during an armored car robbery four years ago. The theft was orchestrated by Luke Capella, a member of Brooklyn's most notorious crime family. Coincidentally, Luke was just recently released from prison. Cat instructs Leo to take her to the Capella home.
Cat and Leo are greeted by Annabella Capella, whom Cat knew as a child. Cat later tells Leo that Annabella's father was a doctor and a good man, hence their childhood friendship. Annabella's grandfather Tommy, however, was the longtime godfather of the crime family - until Cat's dad shot and killed him.
At the Capella home, Cat confronts Luke about the stolen bills and Josef's death. Luke pleads innocence, but not before implying he might've been involved with Cat's dad's murder. A hotheaded Cat is dragged from the family's home by Leo, but she soon receives a call from Annabella who asks to see Cat in private.
In a moment of lightness for Cat, she and Annabella reminisce about their younger years, like practicing kissing on a friend's brother. But the moment is broken when Cat cuts to the chase. Annabella tells Cat she overheard her uncle Luke say, "If you want Camille on her death bed, $5 million and it's done." Unfortunately, Annabella has no idea who or where Camille is.
Cat calls Leo to confirm the Capellas are involved, and that as a result, he is likely in danger. In fact, he is being tailed at that very moment. Leo steers the men following him into the pre-arranged spot Cat named, but before she can get there, they climb out of their car, threaten Leo with a gun and beat him. Cat and Esposito soon show up and bring one of the assailants in for questioning.
The suspect, Thad, is a Harvard grad with an MBA from Yale. Cat makes the connection that he perhaps became acquainted with the Capellas when Annabella attended Yale. Thad knows better than to speak without his lawyer in the room, but Leo finds a way to get him to break. Dressed up in tribal gear, he pounces on Thad with a bat - and Cat learns everything she needs to know.
Thad admits he didn't kill Josef, only that he drove him to a Starbucks, waited until he received a phone call and then presented Josef with $1 million. What did the phone call say? "We've got Camille." If Josef was murdered soon after, why had he made on a $5 million mob hit? Cat wonders. Leo guesses that Josef must've screwed the Capellas over.
Consulting Josef's diary once more, Cat and Leo read about his lunches with Camille and Margery near a mulberry tree. There are not many parks in New York, Cat says, but there is a tree at the gallery where Josef worked. There, a security guard points out Camille to Cat and Leo - she's a painting, titled "Camille on Her Deathbed." And who should be sketching right beside her? Margery.
Margery says she painted a copy of Camille for Josef, and it dawns on Cat and Leo that Josef could've hung a forgery at the gallery and kept the original for himself. Later, Margery calls Cat and Leo and informs them she just received a letter from Josef. Cat and Leo head to her apartment, only to find it ransacked. Luckily, Margery is safe and so is Josef's letter, in which he enclosed a plane ticket for Margery to visit her dream getaway, Paris.
Margery also fills in Cat and Leo on the backstory about Josef and Eva. The couple had planned to escape Auschwitz together, but mid-attempt, Eva fell and broke her leg. She sacrificed herself so that Josef could escape and was shot as a result. Deducing that Josef sacrificed himself in the present to save his new Eva, Cat and Leo track down Nadia. So does the mob.
Nadia's abductors turn out to be the same men who attacked Leo. With Leo and Cat following close behind, the men speed off, sailing around sharp corners in a bid to flee. But they are no match for Leo's skills. The getaway vehicle ends up crashing as it fails to make a turn. Cat and Leo free Nadia, while Cat and Esposito, back at the precinct, corner the pair into turning on their mobster associates.
At home, Leo receives a letter from Josef. Knowing his demise was near, Josef had put the $1 million to good use for his friends and visited the post office just hours before his death. Leo's letter is accompanied by a plane ticket from Marseille to New York. Josef knew how much Leo longed to be with his son, and in death, he hoped to grant him that wish. Cat, meanwhile, receives a shock of her own.
The Case of Cat's Dead Dad
Earlier in the week, Cat had invited her ex-husband and FBI agent Gregg to dinner. He believed it was a date; she was just looking for information. Captain Bradley had tipped off Cat that the FBI had opened an investigation into her dad's murder. Was Gregg behind it? Yes, Gregg admits, but not to get back in Cat's good graces as she suspects. Instead, Gregg also believes the internal affairs department is covering something up, especially with the only witness to the murder now missing. Cat believes the timing is incredibly convenient given Luke Capella's release from prison.
Gregg, however, investigates and learns Cat's hunch is incorrect. Luke Capella didn't order a mob hit on her father... because it is Annabella who has taken over as the crime family's godfather.
Could Annabella really be the one behind Cat's father's death? Will Cat and Gregg have to team up to learn the truth? Has Leo's life been put in danger now, too? We're hoping next week's episode gives us the answers.