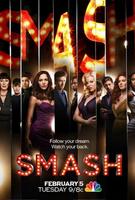 TV Info
---
Episode Premiere
May 11, 2013

Distributor
NBC

Genre
Drama, Musical

Show Period
2012 - 2013

Production Company
DreamWorks TV, Universal Media Studios


Cast and Crew
---
Director
Holly Dale
Screenwriter
Justin Brenneman, Julia Brownell
Main Cast
Synopsis
---
Since last week, Daisy has joined the cast of "Hit List," which has officially moved to Broadway. Belting out "Pretender," Karen's never been in finer form, but Ana is struggling with the bigger stage, and she's certain Daisy is out for her part. Over dinner, Jimmy, Derek and Julia attempt to figure out what's going wrong with "Hit List." It's hard to admit, but Derek thinks it might be Kyle's book - or Ana's discomfort with the transfer. Elsewhere, Eileen tells Tom that he needs to patch things up with Julia in preparation for their Tony run - if there's one thing the Tonys like more than a great show, it's a great story; Houston and Levitt are long overdue for an award. Karen and Ivy bump into each other in Times Square. They promise each other they'll be adults about the impending award season craziness.
Eileen and Tom approach Julia to ask her to sing with Tom at the Houston-Levitt tribute concert, a PR play to raise their Tonys' profile. Julia reluctantly agrees, as she owes it to Eileen after shifting her focus to "Hit List." Nevertheless, Julia tells Eileen that Kyle's death takes precedence over theater politics. Ivy, Tom and Eileen meet with Agnes to hear the Tony news. The score is a lock for nomination, but it doesn't look like Tom will get a nod for direction. Agnes tells Ivy she needs a serious PR makeover, since rumor and truth have collided in a funky impression of her around town. Meanwhile, Derek decides to give an "overtired" Ana a night off and replace her with Daisy. But when he informs Daisy that "it's taken care of," his motivation seems ambiguous...
Ana is upset at her temporary replacement, but Karen insists it's nothing; after all, Ana got such rave reviews off-Broadway! But, when Karen asks Derek about his intentions, she realizes he's planning to replace her with Daisy. Jimmy's also upset about Derek's decision, which was made without consulting him. Julia thinks the problem isn't Ana, but context. Off-Broadway, the stages are small; there's an intimacy to the experience. Maybe they should make the house part of the show with their Broadway production. Jimmy knows this is the kind of thing Kyle was good at, big ideas. After a moment of clarity, Julia thinks maybe, just maybe, Kyle can still help them...
Ivy is doing a national commercial for Ford to be shown on TV during the Tonys. On the set, she reveals to Sam that her recent bad publicity is bothering her. Sam tries to qualm her unease, but worries Tom's change of plans for the tribute concert may not help: apparently Tom's turning his soiree into a full on revue, with a central story about a struggling stripper. Ivy asks Tom to go a different direction, as she doesn't want to participate in something that will give her critics more ammunition. Just as she says this, Eileen storms in with terrible news - someone leaked Tom and Julia's writing partnership breakup to the press, and she's pretty sure it's Jerry!
Julia takes Jimmy to Kyle's place for the first time since the accident, and as the two sift through Kyle's old notes, Jimmy mentions one of his good friend's more ambitious theater ideas: live updates with the audience via texting. It's insane and impractical, but with the money to back it, Julia thinks they could pull it off. Elsewhere, Ana finds out Daisy was one of the dancers who dropped a sexual harassment lawsuit against Derek in the last year. Privately, Ana tells Karen she's afraid Daisy's blackmailing Derek for her role.
The night of Tom and Julia's tribute concert has arrived, and Julia's nowhere in sight. As Tom works the crowd, trying to excuse her absence, Julia slaves away with Jimmy trying to implement Kyle's live texting idea. During a lull in the conversation, Tom steps out to call Julia; Julia says she'll be there soon, but if everyone knows they've broken up, why do they still need to sing the duet together? Tom is offended, as he saw their performance as a representation of a decades-old friendship more than anything else. As he hangs up the phone, Derek tells Julia he wants to implement the texting idea quickly before she goes. Julia decides to stay a little longer.
Backstage at the tribute concert, Ivy's still nervous about performing her stripper-esque number. But when Eileen finds her, she's able to bolster Ivy's spirits; Ivy is young, and sure she's made some mistakes, but who hasn't at her age? Ivy was born to perform, and she'll never be a Norma Jean. She's a Marilyn through and through. With the confidence boost, Ivy goes out on stage and performs a sultry, show-stopping rendition of "Grin and Bare It" that brings down the house.
Karen and Ana confront Derek about the possibility of Daisy's blackmail. Derek tries to avoid the subject, but eventually confesses to having an unfortunate encounter with Daisy from earlier in the month. After a night of drinking, Derek told Daisy she could be an understudy on "Hit List" if it ever went to Broadway, but she'd have to show "she wanted it." Daisy took Derek up on his offer, but filmed the whole thing, and if he doesn't give her Ana's role, Derek's career on Broadway will be done forever. He doesn't have a choice. Karen is disgusted by his selfishness, not to mention his impropriety. Derek can only hope Daisy is terrible and someone higher up fires her, so he can save face. But Karen's worried - what if she's amazing?
As a brooding Ana looks on, Karen and Daisy perform "I'm Not Sorry" to a sold-out crowd. As the curtains draw, Jimmy and Karen revel at the brilliance of Kyle's texting idea. Audience members throughout the theater receive meta-fictional texts from the show's characters, engaging them in an innovative way that seems to be a total hit. Meanwhile, Julia shows up at the tribute concert in time for the last song, and Tom is clearly upset with her. As Julia and Tom perform their duet, both reflect on the highs and lows of their long personal and professional partnership. It's the end of an era, and though Julia thinks it's the right move, there are still some festering regrets. Despite their recent feuding, Tom hugs Julia afterwards and let's her know he loves her.
In light of Tom and Julia's breakup, many Tony voters have switched their allegiance back to "Bombshell" because of its sentimental value. At the party after the tribute concert, Agnes levels with Eileen: Jerry Rand wasn't the one who leaked the split at all... it was an inside job! Eileen can't help but laugh - it was a sneaky, but brilliant maneuver, and it seems to be paying dividends.
After "Hit List," Karen tells Jimmy she's proud of him and congratulates him on the performance. Jimmy appreciates the gesture. Back at the party, Julia asks Tom if they're doing the right thing. They've been Houston-Levitt for so long that she doesn't know if she can make it on her own. Tom thinks it's for that very reason they're making the right decision. Jimmy calls Julia and attempts to plan out their next couple of days with "Hit List," but Julia stops him. She offered to help with the transition in Kyle's absence, but she's not comfortable writing anything of her own for the show. Jimmy is stunned - he's not a writer, and he can't do it without her! But when Julia's decision is clearly final, Jimmy hangs up, in search of a plan B.
Jerry loves Daisy, and it seems Ana's out as The Diva. Ana and Karen implore Derek to grow a spine and stand up to Daisy, but he's too much of a coward. Besides, Ana will get another job. Derek leaves, and when Ivy shows up, Ana confronts her about why Derek fired her last year. Is it because Ivy stopped sleeping with him? Ivy tells Karen she has no right throw around accusations. Karen claims innocence, but Ivy knows deep down she's just as calculating as the next person. Irate, Ivy tells Karen she's glad "Hit List" made it to Broadway - the only thing better than winning a Tony will be beating Karen. As Karen walks away, the doctor calls Ivy about some test results... and congratulations. Ivy's pregnant.