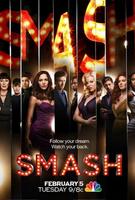 TV Info
---
Episode Premiere
April 27, 2013

Distributor
NBC

Genre
Drama, Musical

Show Period
2012 - 2013

Production Company
DreamWorks TV, Universal Media Studios


Cast and Crew
---
Director
Tricia Brock
Screenwriter
Becky Mode
Main Cast
Additional Cast
Synopsis
---
Tom and Julia's writing partnership is in shambles after she decides to move out and pursue "The Great Gatsby" as a non-musical play on her own. Julia and Scott are producing it together and have already secured a deal. But when Tom tries to mend the fence with Julia and resume their partnership, Julia's left with an uncomfortable decision to make. "Hit List" is moving full-steam ahead on the momentum of positive previews. Scott and Derek hope to have a bidding war on their hands for their show, as they've invited 10 Broadway producers. But when Jimmy's no-show ruins their shot at the cover of New York Magazine, everyone's patience for his antics evaporates.
Julia tells Scott that she can't revert on her commitment to Tom and has to do "The Great Gatsby" with him, but Scott is devastated. He's spent almost all of Manhattan Theater Company's reserve cash on pushing "Hit List" to Broadway, and now he needs a surefire hit in the pipeline or his job will be in jeopardy. If Julia doesn't follow through on her commitment to Scott, he'll be in real trouble. Julia leaves, caught between a rock and a hard place.
Due to Jimmy's erratic behavior, Derek auditions Sam to be his understudy. Furious, Jimmy bursts into the audition to scream at Derek. Karen doesn't want her breakup with Jimmy to be the reason the show goes downhill, but Kyle thinks Jimmy's behavior is ultimately her fault. Karen asked Jimmy to open up with her for months, and the minute he did, she dumped him. And now it looks like Karen brought her friend Sam to steal Jimmy's role in "Hit List." Seeing he's the only person who actually still cares about Jimmy, Kyle takes off to check on his friend.
Eileen and Agnes know this year's Tony Awards are theirs - but only if they can keep "Bombshell" open until June. Ticket sales aren't high enough to garner that kind of run, so the two pray for a miracle while working Ivy to the bone with an intense schedule of PR events. When Agnes hears about the Broadway heavy hitters lined up to bid on the production of "Hit List," she encourages Eileen to see the show, even if it's just to scout the competition. Meanwhile, Derek's still trying to hook up with Ivy, but she doesn't want their physical relationship to continue. She keeps Derek at bay for the time being with a legitimate excuse: she's moderating a Q&A for "Bombshell" writers Tom and Julia. Just before the Q&A, Tom tells Julia that he intends to fight for the rights to "Gatsby." The Q&A is rife with tension, as Tom effectively dissolves the partnership.
Kyle tries to cheer Jimmy up before the biggest show of their careers to date. If tonight goes well, they could be going to Broadway! Jimmy can't let "Hit List" go to ruins because one girl broke his heart. But Jimmy thinks Karen might've been "the one." When Kyle claims there's no such thing as "the one," Jimmy points out that Kyle just cheated on his boyfriend last week with Tom. Derek shows up to announce that he's reached the end of his rope - if Jimmy doesn't perform well tonight, and without incident, he won't need an understudy anymore... because he won't have a job.
Kyle's parents are in town, and his mother is over-the-moon excited for her son's success. But when Jimmy doesn't show up to dinner with them, Kyle's mother fears he's using again. Before the "Hit List" preview, Derek tries to butter up the Broadway producers in hopes that they'll buy the show's rights afterwards. Jimmy shows up five minutes before curtain, much to everyone's dismay, and does cocaine in his dressing room. As the show starts, Scott is shocked to see Eileen in the audience. Jimmy's a few seconds late to his mark, but still belts out "Rewrite This Story."
As Karen performs a beautiful rendition of "Don't Let Me Know," Jimmy goes off script and begins to disrupt the show's choreography by moving freely around the stage. It's a change no one in the audience notices but Derek, and he's steaming mad. Towards the end of the show, Jimmy fails to catch Karen when she falls from her "gunshot wound," and she injures her arm. Backstage, Jimmy tries to apologize but Karen refuses to talk to him. Derek is furious - Jimmy went on stage high, compromised the show, and injured his costar. Great work. Nevertheless, Jimmy crushes the show's finale performance, "Goodbye Song."
Following their Q&A, Julia confronts Tom. Did he mean what he said about ending their partnership? Tom figures Julia's been auditioning new partners for the last six months - she's planned to get rid of him all along! Julia reminds Tom that he just told her all he wanted to do moving forward was direct. She begs him to let her do "The Great Gatsby" with Scott, as it's the first thing that's made her truly happy in a long time. Off of this comment, Tom realizes everything that's needed to be said has been said. He walks away, their friendship now in as much jeopardy as their working relationship.
Following the show, Derek tells Karen and Kyle that Jimmy will no longer be in the show - they'll shut down for a few days as Sam prepares to assume the role. Outside, the Broadway producers discuss "Hit List," with Agnes on hand to sway their conversation in the direction she wants it to go. They think the show's "edgy," but they can't see it as a Broadway production - it's just not right for their Uptown crowd. At the after party, Kyle tells Jimmy he's been fired. Jimmy hops on the bar - drunk - and tells off his friends one at a time. He rips Karen for being scared of her emotions on and off stage, and calls Kyle out for being "disloyal" before announcing Kyle's infidelity with Tom. Crushed, Kyle's boyfriend Blake takes off.
Ana yanks Jimmy off the bar, and scolds him for burning the bridges of friendship. Karen and Kyle love Jimmy! Why would he do that? Jimmy walks off, saying only one of those two is "in love" with him... and it's not the one he wants. Kyle tells Karen he ought to go talk to Jimmy, but Karen knows that won't solve anything; Jimmy will just say all the right things and patch things up, but nothing will change. Kyle has to kick him out for good - now. Despite how hard it is, Kyle packs up Jimmy's stuff and delivers it to Adam. But on his way back home, Kyle accidentally steps in front of a car...
Derek's disappointed in the producers' reactions to "Hit List." He calls Eileen as a last resort, but she's in too much of a bind with the financials on "Bombshell," so she can't afford to take on another major risk like "Hit List." But when she hangs up the phone, Agnes comes in with exciting news: sales are up seven percent. It seems like all that publicity paid off after all. Back at the bar, Karen hangs out with a miserable Derek, whose personal life is falling apart along with his professional one. Ivy won't return his calls. But after a few drinks and flirtatious conversation, Karen asks Derek to take her home...