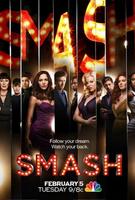 TV Info
---
Episode Premiere
April 13, 2013

Distributor
NBC

Genre
Drama, Musical

Show Period
2012 - 2013

Production Company
DreamWorks TV, Universal Media Studios


Cast and Crew
---
Director
Mimi Leder
Screenwriter
Julia Brownell
Main Cast
Synopsis
---
Ivy wakes up next to Derek, and lets him know he has to go - today is the first invited dress rehearsal for "Bombshell" and she needs to prepare. Elsewhere, Tom has a nightmare in which he's naked on stage in front of a full house; the anxiety of the show's looming premiere is weighing on him. Julia tries to calm him down on their way to work, but Tom's still freaking out. Nevertheless, Eileen thinks they're in great shape.
Julia and Kyle run over the changes to "Hit List," particularly the expansion of Ana's role of The Diva. Everything seems to be in line, but Jimmy worries to Karen that Derek is decreasing their roles in the show on account of their relationship. Karen can't imagine Derek would sabotage them like that two weeks before the premiere, but Jimmy isn't so sure. He seems on edge, but when Karen asks if he's on anything, all he'll say is, "Adderall and Red Bull." At the "Bombshell" dress rehearsal, Tom's anxiety is overwhelming. He meticulously notes all the minor mistakes as the show plays, though Julia thinks he's overreacting. But when Ivy's bra accidentally drops during an intimate scene with JFK, everyone's worst fears are realized.
Ivy and Sam discuss the fallout regarding her nipple slip during dress rehearsal. When fellow cast members report glowing reviews of Ivy's performance as Marilyn, the clouds part. It seems her accidental nude scene left a memorable mark on the Broadway press. Inside the theater, Tom, Julia and Eileen discuss the various mistakes that occurred during dress. Eileen thinks it's best they cancel the next preview to make needed fixes. Tom insists the show has to go on - a cancelation is an obvious sign of doom. Eileen agrees to not cancel the show if Tom can fix everything by 3:00 p.m. As for Ivy's nude scene, both Julia and Eileen think it should remain in the show. It's an honest moment... and ticket sales have never been higher.
Jimmy is a no-show at "Hit List" rehearsals. After seeing him so strung out, Karen is a little worried, especially since she found cocaine in his jacket a week earlier. She thinks Jimmy's recent delicate condition isn't related to drugs but Derek and his manipulation of the show. Derek insists he's not holding anything against Jimmy or Karen. When Jimmy finally does show up, the cast and director begin to run his new songs, but when Derek notices Jimmy kissing Karen good morning, it's clear there's tension festering.
At "Bombshell" rehearsals, Eileen and Tom ask Ivy's opinion regarding onstage nudity. Ivy doesn't want it to overshadow her performance, but Eileen thinks it only adds to her character. Later on, the run-through still has its share of kinks, but when 3:00 p.m. rolls around, Tom lies to Eileen to ensure the show runs as scheduled for that night. It's nowhere near ready; but a cancellation could mean the end of his directing career, and he doesn't want to risk it. When Eileen leaves, Tom orders the cast to run the show again. Come hell or high water, they're going to get this right.
Julia approaches Derek and asks how he's doing; he doesn't seem himself. Derek can't embrace his connection with the show's story anymore, and though he doesn't say it, it seems like Karen's on his mind. Julia encourages him to run the show through once before their dress rehearsal - maybe he'll see something new. But when the cast does, Derek's new vision is in defiance of Jimmy's. Derek wants Ana to start the show in a cappella, singing the refrain of Karen's song as she foreshadows the shocking conclusion of the show. Karen tells Derek that's her favorite song; he can't just give it away to Ana like that. Derek replies with a curt, "I just did."
Later on, Derek informs Scott of the structural changes he's made to "Hit List." Jimmy uses the opportunity to accuse Derek of blowing up the show to punish him and Karen for their relationship. Derek gave up Broadway for this show and wasn't aware he'd be going back to junior high when dealing with Jimmy. This play is Scott's first as an artistic director, so he demands everyone act professionally; the show must go on. Regarding the changes, Scott asks Kyle what he thinks - and in an act of perceived backstabbing - Kyle tells Scott he agrees with Derek's new opening. It works better. Jimmy is stunned. Once alone, Jimmy rips into Kyle for being disloyal. Kyle counters: Jimmy's the one who's fallen out of touch with the direction of the show.
Ivy's warming up to the idea of baring her breasts onstage. Sam wants her to promise him she won't do it, but she doesn't give him an answer. He feels it will detract from her performance, as that's all anyone will remember her for, but Ivy thinks it might be a bold artistic decision. Just when all seems lost with the "Bombshell" dress rehearsal, Julia comes up with a brilliant idea involving actors moving through the audience. A desperate Tom immediately implements Julia's idea. It's a risk, but Tom hopes it's just the right amount of risk to succeed.
Richard from the New York Times stops by "Hit List" to see a preview of the reworked show. Backstage, Ana tries to talk to Karen about the song, but when Karen remarks that Derek did it out of spite for her relationship with Jimmy, Ana's hurt by the implication Karen doesn't believe in her. After the performance, which is well received by Richard, Karen confronts Ana and asks her why she went back on her promise not to turn down Derek's offer of more songs. Ana's worked hard for her shot and believes it's well deserved. As for Karen... well, maybe she should have slept with Derek when she had the chance.
"Bombshell" goes on as scheduled, and Julia's new introduction to the second act is borderline genius - the crowd eats up Ivy's rendition of "Dig Deep." As the cast rushes backstage for a costume change, the actor who plays JFK asks Ivy if she plans to go topless on stage or not; she still hasn't decided. When the time comes, Ivy keeps her camisole in place on as the lights go to black. Julia's a little disappointed, but Tom doesn't care - she nailed the scene. However, in the following scene during a major emotional moment for Marilyn, Ivy seizes the moment and fully exposes herself to the audience. It's a shocking, but it's raw and real. The crowd seems to appreciate the honesty of the narrative.
Karen asks Derek if he cast her as Marilyn because of her talent or because he wanted to sleep with her. He says it was her talent, but Karen doesn't like the pause before his response. She doesn't think they should work together ever again. But as she's leaving, Derek lets her know Scott paid Jimmy in cash because he doesn't have a social security number, and the New York Times fact checker uncovered that Jimmy Collins isn't Jimmy's real name. Karen doesn't get Derek's angle, so he continues. Last week Derek lent Jimmy money to pay off his drug debt. Derek warns Karen to be careful, as she doesn't know really whom she's dealing with.
After the show, Tom runs into Sam outside the theater. Due to a last-minute change, Tom had to cut Sam's character out of the performance. Sam knows he's in flux career-wise, but he never wants to work with Tom again. Later on, over drinks, Tom reads the online reviews despite Julia's warnings. The first review that pops up is from the New York Times - glowing praise of "Hit List" as the musical of the season. The article praises the little-known show for portraying the themes of Marilyn Monroe's life better than "Bombshell," and not-so-subtly mentions Julia's involvement as dramaturg. Tom is devastated by what he thinks is Julia's deceptive personal affront.
At the "Hit List" cast party, Karen challenges Jimmy about Derek's accusations. What did he use the money Derek gave him for? And how did he really stay up for three straight days? Was it drugs? Jimmy tries to avoid the conversation, but it's no use. Karen knows he's hiding things. But when the group hears word of the New York Times article, they're ecstatic. This is just the boost they need to put them over the top. Riding the positive wave, Jimmy apologizes to Kyle for being a jerk. Karen asks Jimmy once more to open up to her, since she wants to be with him for a long time. But all Jimmy can say is he's sorry. Outside the theater, Jimmy's drug dealer Adam approaches Ana and asks her about Jimmy. He just missed him. Adam leaves, but Ana's gaze lingers.
In her office, Eileen scolds Richard for his review of "Bombshell." Richard doesn't get it. The article appeared on the front page of the Arts section and was generally appreciative of the show. Eileen asks Richard to leave; she doesn't want to talk to him for a while. Derek waits for Ivy outside her apartment to congratulate her on an awesome performance. Ivy asks if the thing between them is just casual. Derek says of course and even shows her the alarm he's set on his phone to leave promptly at 3:00 a.m. But Ivy turns it off. She wants Derek to stay all night long.