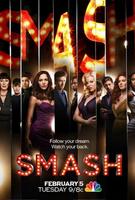 TV Info
---
Episode Premiere
February 19, 2013

Distributor
NBC

Genre
Drama, Musical

Show Period
2012 - 2013

Production Company
DreamWorks TV, Universal Media Studios


Cast and Crew
---
Director
Larry Shaw
Screenwriter
Bryan Goluboff
Main Cast
Additional Cast
Synopsis
---
Eager to get new talent off the ground, Karen is persistent with Derek about Jimmy and Kyle's new musical. Though he's a fan of the music, Derek's reluctant to touch anything so early in its brainstorming stages, but Karen convinces him to meet with Jimmy and Kyle. In her office, Eileen sits Tom and Julia down to inform them that a professional dramaturg, Peter, will be working with them to help breathe life into Bombshell's book. There will be no ifs, ands or buts, and their first meeting is set for this afternoon. Derek pays Veronica a visit. When she mentions that the producers on her upcoming show "The Wiz" haven't yet found a director who can deliver the excitement she's hoping for, Derek asks if she'd be willing to stage a scene. Yes, it will be an audition - of sorts.
Julia and Tom take a seat at a table for three. Julia's not happy about the dramaturg and ticks down a long list of worries. If the news they've hired a dramaturg gets out, people may think she's lost it or that Bombshell's in trouble! Just as she's railing that people who make their living off the work of others are parasites, handsome Peter Gilman takes the third chair at the table. He knows it's going to be awkward, but he wants to reassure them that he loves their work and won't meddle. It turns out Peter has worked with many of their friends and fixed many shows while remaining totally anonymous. Karen stops by the restaurant to tell Jimmy and Kyle about the meeting with Derek the following night. The two friends are nervous, but excited. One shot is all they need!
Julia meets Peter at his enormous apartment. Not only has Peter not seen the play, but the only thing he really likes about Julia's book is the fact that it's about Marilyn! After the meeting she calls Tom in a panic. Peter blindsided her and she's going to Eileen's right now to insist they're not working with him! At the apartment, Kyle is in a panic over the Derek pitch. Their book is all over the place, with scenes out of order and songs missing. Maybe the scenes were misplaced in their recent move? Suddenly, Jimmy remembers his notebook, which has all the scenes in it. He left it behind - in a place that neither of them can return to.
Karen reminds Derek about their meeting with Kyle and Jimmy directly after rehearsal. That's when Veronica calls with news that one of the producers on "The Wiz" is in town for a short time and is open to his idea. Derek suggests bringing him to a staging of one of the Bombshell numbers the next day. Ivy delivers exciting news to Tom: she landed an audition for the coveted role of Cecile in the revival of "Liaisons." Tom insists she's perfect for the part: this could be her breakout role! Julia storms into Eileen's office to rant about Peter, only to learn Eileen hired him all the way back in Boston, after he saw the show four times. Julia may not want to work with Peter, but if she doesn't want to do her job, Eileen will find someone who does.
Mid-rehearsal, Derek grows frustrated with Karen. She's understands the song in her head, but isn't feeling it in her heart. When Ivy accidentally interrupts the rehearsal, Derek sits her down to watch and critique, stunning Karen. Ivy delivers a lovely version of "Dancing On My Own" as she tearfully watches Karen and Derek move on, platonically and professionally, without her. When Derek asks what he can do to make the number better, she advises him to stop doubting himself.
In a rage, Julia seeks out Peter at a fancy restaurant and lets him have it. He lied when he told her he didn't see the show! She's not one to be trapped into working with someone! In his haughty way, Peter tries to reason with her. The musical is missing something essential: heat. Marilyn was one of the greatest sex symbols in America and the show barely reflects that. Maybe Julia can't write heat because she's never truly experienced it...? When Julia insists she knows heat better than anyone, Peter challenges her to prove it - so she tells him to go straight to hell. That night, Jimmy enters a rundown house in a bad neighborhood through a window. He rifles through some drawers to find the notebook pages he's looking for, which is when a scary guy named Adam looms in the doorway. Jimmy makes a run for it.
Jimmy walks into a restaurant to meet Kyle with a fat lip and a copy of the musical's reworked scene. Kyle begged him not to go back for the pages but Jimmy reminds him it's their one shot! Karen calls with bad news: rehearsal with Derek is running late. She'll call tomorrow to reschedule their meeting. Energized with fury, Julia stomps into Tom's apartment. He needs to get his butt in the studio now, because they're going to be working all night! The next morning, Tom yawns while Ivy reads the part of Cecile. Feeling her performance is crap, Ivy's thinking about pulling out of the audition, but Tom won't hear of it. He talks her through the character to the point where Ivy can really feel her. Cecile is just like Marilyn and pretty much just like Ivy.
The following morning, Tom, Julia and a guy named Matt rush into Derek's rehearsal studio: they've got a new number to rehearse, featuring Matt as John F. Kennedy, along with a steamy sex scene. Peter will be on hand to gauge the number's success. Derek quickly realizes this won't help create a wholesome image for "The Wiz" producer that'll be swinging by, but he runs with it. Kyle's staying positive about the cancelled meeting with Derek; he's convinced Karen will call and reschedule. Jimmy, on the other hand, entertains no such fantasy.
When Veronica shows up with Henry, a producer on "The Wiz," Derek tries to warn her there's been a change in plans. The new number is so racy, Veronica might want to take Henry out for a drink and Derek can catch up with them afterwards. But she insists they've come to see Derek's work. At the end of the number, "Our Little Secret," Marylin and JFK wind up in bed, which doesn't impress Henry. The feeling in the room becomes even more tense when Jimmy pops in and begins applauding - all by himself. When Derek fails to recognize him, he storms angrily out into the street, Karen at his heels. Henry follows. But Eileen turns to Peter with admiration and kudos for a great job. Julia wants Peter to tell Eileen that she wrote the number on her own, so he can get lost. But he insists she never would have written it if it weren't for him.
Overjoyed, Ivy calls Tom with terrific news: she's landed the role of Cecile and headed to Broadway! She thanks Tom for his help in finding herself in the role and asks if he's ever considered directing? He knows how to get the best out of people without torturing them - he'd be great at it. Karen runs after Jimmy to apologize for the craziness of the last few days, promising Derek really does love his songs. Jimmy doesn't want to hear it. He doesn't care what Derek thinks, but to Kyle the musical means everything. Karen has Kyle believing that his dreams might come true. If this isn't the case, then she needs to tell him.
After rehearsal, Julia, Tom and Karen walk through Times Square. Now that Julia's proved she can hit a scene out of the park, she thinks it's time to review the book with a broader view. Peter disagrees. The scene was good but it wasn't right. Julia got it backwards, depicting Marylin as prey rather than predator. It's not long before Julia and Peter are at each other's throats and Tom has to step in to make peace. Veronica's waiting for Derek outside the studio to explain how jealous she is of the work he's doing. She's never taken chances like that, and now she's stuck being Broadway's sweetheart. The big news is she's dropped out of "The Wiz." She wants Derek to help her put on a one-night showstopper, that will rebrand her as a new kind of Broadway icon.
That night, Derek and Karen show up at Jimmy and Kyle's apartment, keeping their promise. Jimmy's a little drunk and doesn't want to answer the door, but Kyle does it anyway. Jimmy is surly, so Derek throws the attitude right back at him, then plops down on the couch. Jimmy has to admit it's cool Derek kept his promise. Jimmy and Kyle deliver an intriguing, passionate pitch (which sounds like it's all about Jimmy's life), and it's not long before Derek's on the hook. The new team settles back with a few beers and begins to discuss the project, tentatively titled "Hit List."