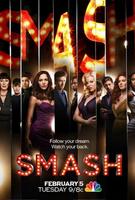 TV Info
---
Episode Premiere
February 05, 2013

Distributor
NBC

Genre
Drama, Musical

Show Period
2012 - 2013

Production Company
DreamWorks TV, Universal Media Studios


Cast and Crew
---
Main Cast
Additional Cast
Jennifer Hudson as Veronica Moore
Harvey Fierstein
Thorsten Kaye
Brian d'Arcy James
Synopsis
---
The cast of Smash has returned from Boston and is back in the New York groove! Things are looking up for newly christened starlet Karen, who gets a ride back to the city in a private car and now shares an apartment with her friend, Ana. The cast and crew get back to work immediately, but not before Eileen warns the cast members that not everyone's contracts will be getting renewed. Privately, the creative team discusses what needs to be altered in "Bombshell" as Eileen plans a soiree for the press. Ivy realizes that since Karen now has an upper hand in the show, Ivy's place in it is in danger.
Derek and Karen attend "Beautiful" together, a musical starring the powerhouse and Tony Award-winning Broadway actress Veronica Moore. Veronica is a close friend of Derek's, and the two of them are teaming up for a production of "The Wiz." After the show, Veronica gives Karen some essential advice: as a star, someone's always ready to take you down. However, if the work is good, they won't be able to. That night, Ivy suggests to Tom that she and the girls sing "Smash" at Eileen's party, in addition Karen's solo. Ivy claims it's so that the press gets a wider scope of the show, but in reality she's fighting hard to cement her place in the production.
As Eileen waits for Jordan Roth at a restaurant, she's intercepted by her ex-husband, who tells her he wants in on the successful show. Eileen flat out denies his request and just then Jordan stops by with amazing news: he's offered the St. James Theatre to "Bombshell." The following day at the rehearsal for the party, Ivy flat out asks Julia if her contract is in jeopardy. Julia explains that Ivy needs to apologize to Karen not for what she did, but for why she did it. At a restaurant, Derek meets with a reporter, who grills him about Rebecca Duvall's exit from the show. Later, Karen admits to Derek that she can't protect her work if Ivy is constantly getting in the way. In a surprising turn of events, Derek tells her that if she wants Ivy out, Ivy's out.
While taking a stroll around the block, Tom tries to convince Sam to accept a starring role in the touring company of "The Book of Mormon," but Sam's reluctant to leave Tom and "Bombshell" behind. Tom also admits his fear of telling Julia about the reviews she refuses to read: Tom has received wide praise, while Julia was absolutely slammed. Just as they're turning a corner, the couple spots Julia's husband, Frank, putting an attractive woman in a cab. Could it be that Frank is now betraying their already rocky marriage? It certainly looks that way...
On the night of the party, the guests are buzzing about the latest article surrounding "Bombshell," which claims that Rebecca's sudden exit from the musical was on account of Derek's sexual harassment. Derek's worried; he's got a lot on the line and the last thing he needs is more smudges on his reputation. In the midst of all the chaos, Eileen finds out that Jordan Roth won't be coming to the party. As a distraction, Karen and Veronica sing the classic song "On Broadway" for the guests. Enamored with the performance, Derek takes Karen aside and the two share a charged moment, one that might have led to a kiss had they not been interrupted by Ivy.
When Ivy asks Derek why he called her, he admits that she's being let go. Later, in the hallway, Ivy comes clean with Karen that firing her was the right thing to do. Even so, Karen can't possibly detest Ivy as much as Ivy detests herself for what she's done. She admits that she did something really stupid during Karen's first preview, and for what? A role? Karen is taken aback by Ivy's honesty. After Tom tells Julia about seeing Frank with another woman, Julia confronts Frank. Stunned that Julia would even have the nerve to bring this up after everything she's caused, Frank causes a scene in the middle of the party. Maybe he SHOULD sleep with someone, to even the score! After all, it seems like everyone in this cast sleeps with one another!
Outside, Tom comforts a crying Julia. Not only is her marriage over, but Julia admits that she read the reviews, only pretending to be in the dark because she was so mortified. Everything she's done has turned out so wrong. Tom promises to help her. He's her partner, after all, through thick and thin. At the party, a somber Eileen announces to her creative team that the show is officially frozen. The government found out about the borrowed money Eileen's been using to support the show, and now the entire project is under investigation.
The following day, Derek and Karen come to terms with what's happened. How could everything they have worked so hard for fallen apart overnight? Derek tells Karen he hopes she finds something that hits her as hard as "Bombshell" has hit him. Over at Tom's apartment, him and Julia decide be roommates just until Julia figures out her marriage and gets back on her feet. There's just one condition: Tom has to stop hiding things from her. That includes a New York Post article stating that Julia's book needs a great deal of work.
A disheartened Karen finishes up her drink at an empty bar. The bartender, Kyle, recognizes Karen from "Bombshell" and begs her to sign his Playbill. It's closing time, and as Karen gets ushered out, she hears someone playing the piano and singing a gorgeous song. It's Jimmy, a handsome waiter at the restaurant who Karen has bumped into before. The song he's singing, Kyle tells her, is from a musical they've been writing together. Karen cannot peel her eyes away and gives Derek a call, letting him listen in. As Jimmy belts his final few notes, Karen realizes she's found something. Something else.