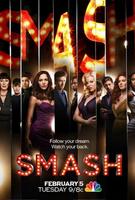 TV Info
---
Episode Premiere
May 14, 2012

Distributor
NBC

Genre
Drama, Musical

Show Period
2012 - 2013

Production Company
DreamWorks TV, Universal Media Studios


Cast and Crew
---
Director
Michael Morris
Screenwriter
Theresa Rebeck
Main Cast
Additional Cast
Synopsis
---
The company anxiously waits in the theater lobby while Derek, Julia, Tom and Eileen talk out the future of their show. They can't afford to lose any more money; SOMEONE is going on tonight as Marilyn. The question is... is it Karen or Ivy? Ivy seems like the obvious choice; she knows all the numbers and is groomed for the part. But Karen IS the understudy, and there's just something about her that tells Derek she's the right choice. When Derek has another vision of Karen as Marilyn in that same purple dress, he goes with his gut and calls in Karen with the shocking announcement! Julia and Tom put on smiles for a very nervous Karen, but later they sideline Derek, insisting that she's too green for the part. But Derek's determined and won't let anyone stand in the way of making his vision a reality.
After the news breaks, Ivy has (unsurprisingly) got a piece to say about the decision. Ellis takes Eileen aside, insisting that she cannot let this happen; the part belongs to Ivy! Ellis goes off on a heated rant, admitting that HE was the one who poisoned Rebecca to get her out of the way so Ivy could take the lead! Eileen has finally had enough, and tells Ellis that he's flat out fired. But Ellis isn't fazed and threatens that this isn't the last she'll hear from him.
On top of all the staging that Karen now needs to learn, Julia and Tom still need to come up with a new song for the ending! They're able to put their differences aside and their heads together during this time of crisis, realizing that the show needs them.
Rehearsal definitely has some speed bumps, but things start looking up with Karen kills it during the patriotic number "I Never Met a Wolf Who Didn't Love to Howl." Ivy coldly watches offstage, overcome with jealousy as she pictures herself performing the same number at Lyle West's birthday bash. Her anger gets the best of her, and Ivy finally confronts Derek: why didn't he just give her the part? Derek hesitates, but then tells Ivy the truth: he looks at Karen, and he sees Marilyn come to life. She just has something that Ivy doesn't.
It's ALL about Karen, and Ivy's pushed over the edge when Dev pulls her aside to ask again about the ring. Ivy tells him no and storms off to the dressing room, where we see her pull said ring out of her purse, quietly plotting. Ivy leaves the ring on Karen's vanity, and when Karen discovers it, the truth quickly begins to unravel. Ivy explains the truth of their one-night stand, telling Karen that she couldn't bare keeping it from her any longer. A shocked and confused Karen confronts Dev, returning the ring.
Just as Ivy had hoped, Karen has a bit of a mental breakdown and runs from the show during its most critical period. After searching high and low, Derek finally finds Karen hiding in her closet. The two share a tender moment, as Derek encourages Karen to harness these emotions and channel them into Marilyn onstage. Karen already has so much of Marilyn at her fingertips, and now she has the heartbreak as well. Karen takes this advice to heart and pulls herself together to tackle the role.
The curtain rises and Karen goes on as Marilyn, in her big, life-changing moment. We see a montage of stunning musical numbers as Karen takes Marilyn head on... and it looks like she may just be pulling it off! Perhaps Derek's instinct was right, and Marilyn is the role that Karen was born to play.
As Karen prepares to go on for the final number, Derek reassures her backstage as the two share an intimate moment. He tells Karen that whatever happens next, she should never doubt that she's star. Additionally, he tells Karen that he does understand love, despite what she may think. Meanwhile, Ivy mourns another opportunity lost backstage and mulls over a handful of prescription medication as she gazes longingly at a photo of her idol, Marilyn.
Despite the fact that Karen's only had a matter of hours to learn the new number, she absolutely kills it, belting Tom and Julia's original song "Don't Forget Me." The crowd goes wild as the show closes on Karen's big finish.