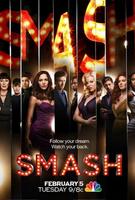 TV Info
---
Episode Premiere
April 30, 2012

Distributor
NBC

Genre
Drama, Musical

Show Period
2012 - 2013

Production Company
DreamWorks TV, Universal Media Studios


Cast and Crew
---
Director
Roxann Dawson
Screenwriter
Jason Grote, Lakshmi Sundaram
Main Cast
Additional Cast
Synopsis
---
"Bombshell" moves to Boston as it finally finds its way to the stage. The cast and crew are all bubbling with anticipation, bracing themselves for the chaos associated with "tech."
As Karen leaves home for Boston, Dev has a hard time accepting her absence. It seems like everything's really taking off for Karen, while Dev's career is completely falling apart. Desperate, Dev gives Karen an early call suggesting he pop over and visit, but Karen insists that they wouldn't be able to spend any time together in the midst of everything that's going on. Dev's insecurities continue to grow.
The show's thrown into crisis when their DiMaggio bails to film a TV pilot. Derek and Eileen insist they have no choice to bring back Michael Swift; he's the only one who can take on the role with such short notice. Meanwhile, Julia's family is slowly piecing itself back together, with Frank at home and everyone getting along. Tom calls Julia, but can't bring himself to tell her that Michael's coming back to the show since Julia seems in such good spirits.
When Rebecca finds out that her DiMaggio bailed on the show, she understandably has a bit of a mental breakdown during rehearsal. Rebecca insists that Derek refuses to take her seriously; how could he fail to mention such a hugely important issue? Derek sits Rebecca down, giving her a surprisingly sincere pep talk, insisting that he does, in fact, take her seriously. Ivy's caught eavesdropping by Ellis, who assures her there's nothing going on between Derek and Rebecca. If he hears anything suspicious, she'll be the first to know.
Since Tom couldn't man up and tell Julia about Michael Swift's return, Eileen goes back to New York to deliver the bad news. Julia takes it even worse than she could have anticipated, sticking by her guns and insisting that she'll up and leave the show if they bring Michael back. Eileen explains that they've run out of options, but Julia won't hear it.
Home wrecking reporter RJ shows up at Dev and Karen's apartment, a bottle of whiskey in tow. Dev hesitates at first, but decides to indulge in a drink. RJ's intentions are far from subtle, and the two quickly end up in a passionate kiss. But Dev stops before it goes too far, insisting that he can't.
Rebecca overhears Ivy talking about her birthday dinner plans with Derek and decides to contrive some plans of her own. Rebecca puts on a surprise birthday performance of "Happy Birthday, Mr. Director" as Marilyn, which clearly has some sexual implications. Ivy's jealousy is palpable as Rebecca sensually feeds Derek a bite of birthday cake.
Later in Rebecca's dressing room, Derek thanks Rebecca for the birthday surprise. But apparently Derek has another birthday present coming... as the two share a passionate kiss. Meanwhile, Ivy wonders why Derek is late for their birthday dinner. She finds Rebecca's assistant guarding her dressing room door... insisting that Derek and Rebecca aren't to be disturbed. Hearing whispers and giggling from inside, it's no secret that something's going down.
After his incident with RJ, Dev surprises Karen by showing up in Boston. Somewhere in her crazy schedule, Karen finds some time to have a romantic dinner with Dev. He's nervous and on edge and tells Karen they have something important to discuss. He's clearly ramping up to something... and it seems as though Dev is about to break up with Karen. But instead, Dev surprises Karen with a proposal! Karen's completely caught off guard, and she tells Dev that she can't make such a major decision like this during such a stressful time. Dev takes this as rejection, and Karen, overwhelmed, storms out of the restaurant.
A confused Karen returns to the hotel, hoping to find someone to talk to. The whole gang's getting drunk and having a party, and insists on a sing-off between Karen and Ivy. A drunk and very depressed Ivy takes the reins with an emotional rendition of "I'm Going Down," channeling her frustration with Derek. Dev walks in on all the madness, horrified to find Karen partying right after she stomped on his heart.
Karen chases after Dev, and in the heat of the moment, Dev spills the truth about RJ to Karen. He explains that he stopped anything more serious from happening because he knew he only wanted to be with Karen. Karen has a hard time digesting all of this information; she can't handle a proposal from her cheating boyfriend during tech!
Dev goes to the hotel bar to drown his sorrows and sits next to none other than Ivy. He offers to buy a drink for this stranger before proper introductions. But when the two find out each other's true identities, the flirtation doesn't stop there... these two are playing with fire!